A partnership that provides a seamless online/blended learning experience and unique opportunities for participants to obtain practical knowledge and certifications from the University of Lagos through LearnDeck's online learning management system.
The Human Resources Development Centre (HRDC), University of Lagos, one of Africa's leading institutions have entered a strategic partnership with LearnDeck; a smartly integrated global educational delivery institution that fosters online learning and allows educators, entrepreneurs and online course creators to customize, deploy and track online courses/programs. The partnership provides a unique opportunity for participants to obtain practical knowledge and certifications from the University of Lagos through LearnDeck.
Flagging off this partnership with the HRDC, University of Lagos Learndeck is offering a unique online/blended learning through their flexible Learning Management System platform as well as deep insight into personal development.
The scope of the partnership covers five (5) relevant and highly in – demand courses, each course takes a pragmatic approach and exposes participants to a road map to mastery, practical sessions, as well as solving problems from real-life scenarios.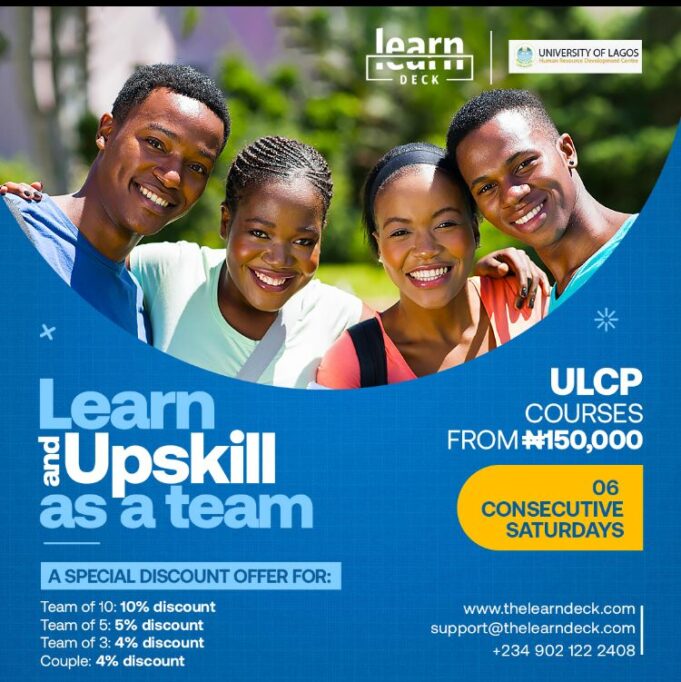 The courses under The University of Lagos-LearnDeck Short Course Certificate Program (ULCP) include;
Digital Marketing; A Short Course designed to provide a practical introduction to Digital Marketing, participants will learn the most effective ways to get results and ROI from digital channels available today.
Data Analytics; Become an expert in Data Analytics, The scope covers fundamentals on how to work with raw data; clean it and preprocess it to gain key business insights, learn how data is transformed, organized in order to draw conclusions, make predictions, and drive informed decision making.
Product Management; Takes participants through the planning, development, and production of products that meets customers' needs as well as the strategy around pricing and marketing and launching products to the market.
Risk Management; Equip participants with the necessary knowledge to gauge different risk types, set risk limits and estimate risk. By the end of this course, participants will be able to measure, assess, and manage risk in organizations.
Lean 6 Sigma (Yellow, Green and Black) belts: The Lean Six Sigma certification from the University of Lagos will produce professionals who are skilled in identifying risks, errors, or defects in a business process and removing them. Participants will be exposed to a set of tools and techniques used to improve production processes, eliminate defects, and guarantee quality.
The duration of each course includes 6 consecutive Saturdays of learning and practical sessions, solving problems from real-life scenarios. To register for this program and to get more information, click on https://thelearndeck.com/programs
About LearnDeck
Learndeck is an online and blended education platform that offers quality higher educational programmes in collaboration with leading universities across the world. Learndeck is committed to making access to quality education easier, more flexible, and well suited to the needs of a wide range of professionals and young school leavers. Log on to www.thelearndeck.com for more information.