Packed with a great display, a powerful chipset, and a large battery, the TECNO POVA 5G will be for the lifestyle consumer with a pursuit for performance.
Phone enthusiasts reading this will know that the future is 5G. With a full understanding that consumers all over the world are looking to future-proof their phones with 5G support and technology, TECNO, a premium smartphone brand committed to giving the masses access to the latest technology at accessible prices, has announced that its very first 5G phone - POVA 5G - will soon be available on the market.
TECNO is known for its innovation as well as technological and artistic progression. True to TECNO's mission and vision, the POVA 5G will feature a MediaTek Dimensity 900 chipset, a Full HD+ display with a 120Hz refresh rate, a triple rear camera unit, and even more exciting features that will get fans talking.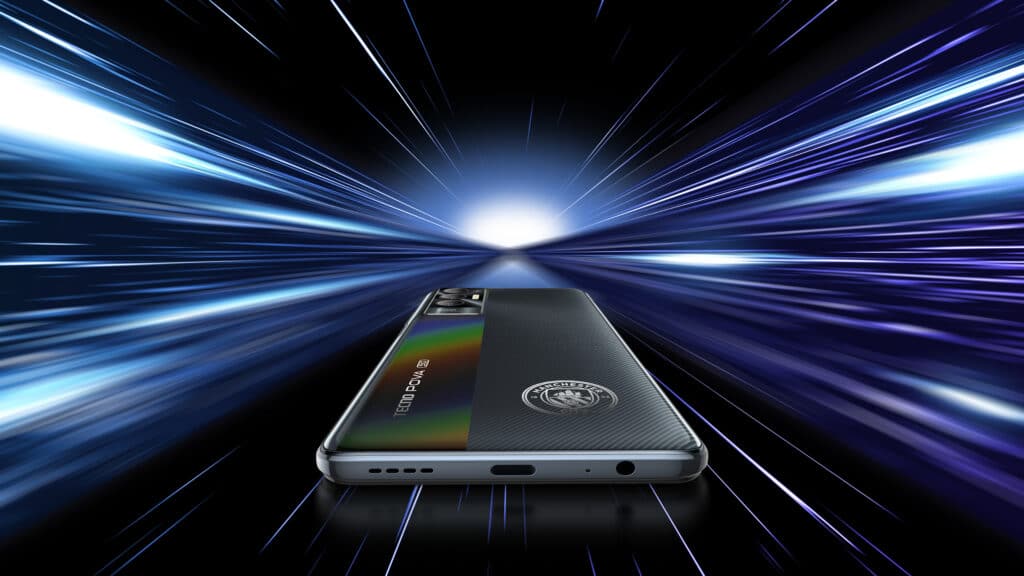 Packed With the Powerful Mediatek Dimensity 900 Chipset
Under the hood, the TECNO POVA 5G is powered by a MediaTek Dimensity 900 chipset. In other words, the high-end 5G smartphone will be equipped with the latest Arm Cortex-A78 CPU cores for longer-range connections, exceptional power efficiency, and snappier responses.
The 5G modem integrated into the chip provides a faster, wider coverage 5G network connection, and at the same time, has excellent 5G communication power consumption performance.
For even more power, the TECNO POVA 5G is fitted with a 6,000mAh battery with 18W fast charging capabilities that will provide enough battery life for 3 hours of gaming in just 15 minutes.
Full HD+ Display to Display Your Confidence
TECNO will furnish the TECNO POVA 5G with a 6.9 inch Full HD+ IPS LCD display. More than that, the large screen will also feature a 120Hz display rate for buttery smooth performance not just for gamers but also for daily web scrolling and application animation.
On the outside, the POVA 5G shines in the same way. With a familiar punch-hole design, the phone will sport thin bezels all around its slim frame. The rear of the POVA 5G will see a unique Kevlar pattern along with an attractive iridescent belt that houses the phone's state-of-the-art camera system.
Triple Camera System With 50MP Main Sensor
TECNO's smartphones have always made waves for their camera technology. In true TECNO fashion, the brand's first 5G phone will come with a triple camera system that packs in a 50MP main snapper that will excite smartphone photography users.
While not much is known about the front camera sensor and the other two rear camera sensors, we can expect that the POVA 5G will continue to allow TECNO to excel in bringing forth the latest camera advancements.
TECNO POVA 5G - For Lifestyle Consumers Who Value Performance
Clearly, the TECNO POVA 5G is made with consumers in mind. The phone's powerful chipset, large battery, full HD+ 120Hz display, advanced triple camera system, and slim and sleek design is the perfect phone for lifestyle consumers who are always in pursuit of high-performing devices.
About TECNO
TECNO is a premium smartphone and AIoT devices brand from TRANSSION Holdings. With "Stop At Nothing" as its brand essence, TECNO is committed to unlocking the best contemporary technologies for progressive individuals across global emerging markets, giving them elegantly designed intelligent products that inspires consumers to uncover a world of possibilities. TECNO understands the needs of consumers from different markets and provides them with localized innovations and design breakthroughs demonstrated through their mastery of serving consumers who are "young at heart" and never stops pursuing excellence. TECNO's portfolio spans across smartphones, tablets, smart wearables and AIoT devices made for consumers in over 70 emerging markets world-wide. TECNO is also the Official Partner of Manchester City, Premier League Champions 2020-21. For more information, please visit: www.tecno-mobile.com.