Mintyn Bank is a digital bank made of its customers, and it has always delivered on this promise since inception. Through its products, features, and overall service, Mintyn Bank has ensured customers enjoy better experience and quality in financial services. In a bid to further provide support and improved financial services for its customers who range from individuals, entrepreneurs, merchants, business corporations, sole proprietors, and so on; Mintyn Bank is introducing a few more exciting products.
As part of its strategic planning to create innovative solutions for customer's financial needs, Mintyn Bank is introducing the Mintyn Bank Virtual Dollar Card. This product is an effective solution to a problem that has been plaguing different sectors of business, especially in e-commerce. As a bank for the future, this product brings numerous benefits to freelancers, entrepreneurs, merchants, and sole proprietors who do business home and abroad. Additionally, we'll touch on other products which add value to our customers and ensure maximum scalability.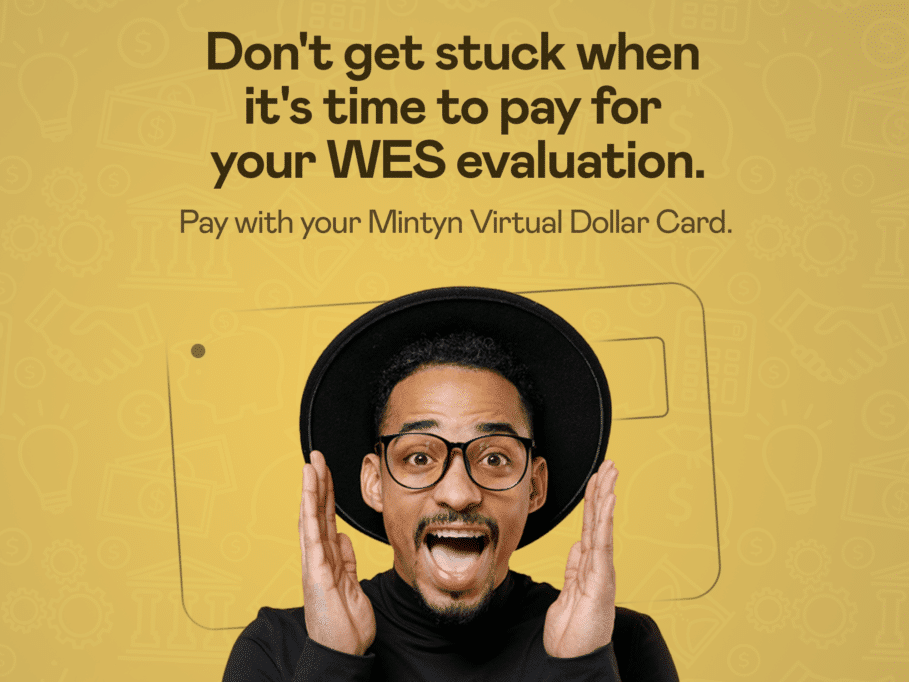 Mintyn Bank Virtual Dollar Card
"The integration of new, innovative products such as the bank Virtual Dollar Card, Mintyn for Corporate (Business) is a monumental moment for the company following the new product offerings. We want our customers to enjoy the ultimate experience never offered elsewhere, whether it's in banking, transactions, security, convenient digital technology, hospitable customer experience; it all reflects the Mintyn bank mission to 'Put you in Control.'"
Due to the obvious difficulties and challenges that the average Nigerian, entrepreneurs, merchants and business owners encounter in executing international transactions, Mintyn Bank is introducing the Virtual Dollar card to customers. This is an innovative product and the first of its kind in the Nigerian banking space. A lot of Nigerians are unable to smoothly run international transactions, and those who are able to usually experience glitches such as trapped funds, lost transactions, or incomplete payments.
With Mintyn's Virtual Dollar Card, a non-physical dollar-denominated card, customers can pay for international services like Amazon, Apple Music, Netflix, eBay, WordPress, and many more.
To enjoy the many benefits which Mintyn's Virtual Dollar Card offers, all customers need to do is log into their account on the Mintyn app and activate a personal Virtual dollar card which takes less than a minute. For potential customers intending to also be part of this experience, all you need to do is to register an account through the Mintyn app. After registration is complete, you can proceed to activate a personal Virtual Dollar card without much hassle.
As a bank which gives its customers total control of their assets, our customers can manage their virtual dollar card in a way they see fit. From activation, deactivation, security to freezing; you are just one click away. So what are you waiting for? Join the crowd to enjoy endless opportunities and potential in International transactions with the Mintyn's Virtual Dollar card today!
Mintyn for Business
This is an additional product that provides greater value to customers, especially for business enterprise, entrepreneurs, merchants, and all other positions that cut across the business sector. Featuring robust tools in their varieties, business owners can worry less about investments in personnel to execute administrative tasks and shift focus to the major parts of business.
The Mintyn for Business product obviously provides a great deal of incentive for our customers who are into business, both online and offline. It is simply a product tailored for all kinds of businesses available in Nigeria.
Some of the amazing features and benefits which our customers stand to enjoy by signing up for the Mintyn for Business product includes:
Free current business account
Send money for free to other banks.
Schedule your transfers for free
Reduced account maintenance fee
Seamless Vendor Management
Manage your transactions seamlessly
Assign roles and permissions to signatories
Are you a business owner, entrepreneur or sole proprietor who needs the Mintyn Virtual Dollar Card and Mintyn for Business product to boost the efficiency and performance of your business? Sign up for the Mintyn for Business (Corporate Accounts) product by setting up an account on the Mintyn app. This will be the beginning of a seamless journey to where your business needs to be.
. In a recent development at the company, it was declared that the company will change its name to "Mintyn Bank". In our push to bring innovative digital banking services to the Nigerian consumers, showing the versatility of the product and drive its frequent consumption, we present a strong product brand architecture, looking to address the banking needs of every Nigerian, not just in terms of finances, but also in Business and commerce with different products suited for the different needs.
Mintyn Officia Website : https://mintyn.com/
Mintyn Official Blog : https://blog.mintyn.com/