Edves is an edtech company with the vision to reimagine education to make learning easy. The company has a platform that digitizes K-12 (Creche, Primary and Secondary) School learning and administration, and it is currently being used by over 700 schools in Ghana, Nigeria and Zimbabwe.
The premier edtech company has won many local and international awards including the 2018 Seedstars Global Education Prize in Switzerland with a grant of $50,000 USD from Jacobs Foundation in Geneva. 
The Cofounders, 'Dimeji Falana and Dare Adebayo have physically visited over 150 schools and classrooms in Nigeria to understand daily activities and they discovered  time-wasting routines of the teachers and administrators. According to Benjamin Franklin "Tell me and I forget. Teach me and I remember. Involve me and I learn" Learning requires involvement and if the teachers and administrators can not invest their time to actively engage the students using any prefered pedagogy and curriculum, the students will only mark attendance without learning. So, Edves digitizes learning and administrative operations of schools inline with Student academic journey, from enrolment to graduation. 
Among many challenges experienced by Nigerians during the Covid19 Lockdown was the education stagnancy that bewildered many communities in the country and across SubSaharan Africa. There were several interventions to enable brick-and-mortar schools to continue teaching and learning virtually but internet connectivity cost prevented many from achieving an efficient migration and learning delivery.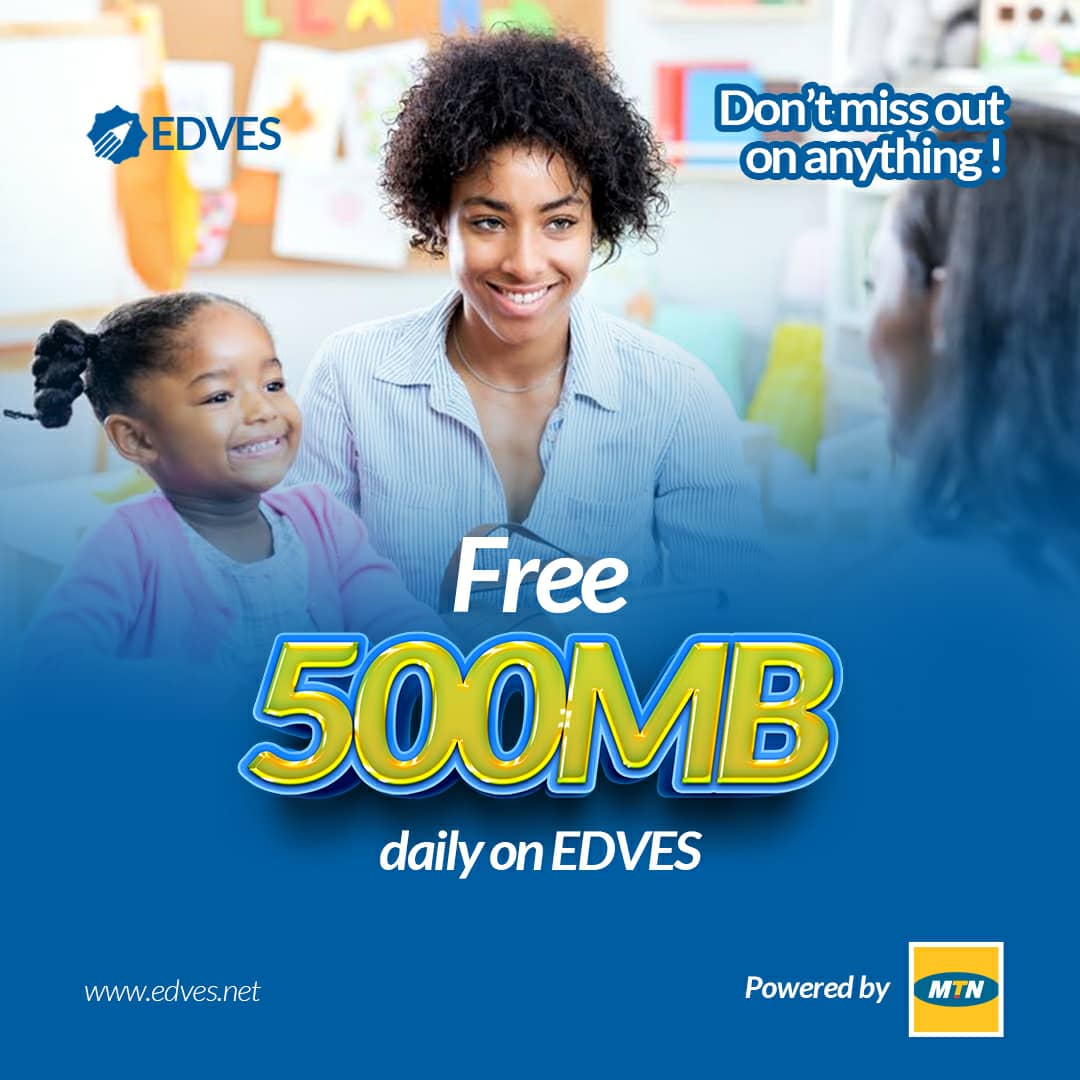 In the third quarter of 2020, Edves engaged a couple of Telcos to support physical-online learning migration. The first response came from MTN Ghana, the firm zero-rated Edves on their data network to avail free browsing and virtual learning sessions. The partnership showed the possibility of what could happen in Nigeria. 
A few days ago, MTN Nigeria PLC got  approval from the Nigerian Communication Commission to Zero-rate to Edves by creating a free daily data bundle of 500MB for every student, teacher, and parent to achieve learning, administration, and monitoring goals on the digital infrastructure. MTN Nigeria PLC has about 45% of the GSM and Internet Data Market in Nigeria making this partnership a needed and beneficial feat for the ecosystem that comprises over 700 schools. 
The benefits are immense because this partnership would enable more learning collaboration between the Parents, Administrators, and Teachers on learners' education and avail learners opportunities to access lesson contents created by the teachers and testing capabilities to assess learning outcomes. 
The parents and administrators will be able to track formative and summative learning outcomes, discover students with tendencies of falling behind so necessary interventions can be created. 
This partnership will also increase technology adaptation for a lot of schools and also catalyze digital adoption as we currently see a growing trajectory in mobile broadband penetration. 
This is the right step towards the reinvention of education across the Nation.