Infinix and Samsung are two major players in the African smartphone market. Both brands have managed to maintain their edge over other competitive brands through the consistent production of exceptional smartphones that meet the varying needs of gadget lovers within the space. Phones like the Infinix HOT 10 and the Samsung Galaxy A12 are one in the number of stellar products offered by both brands.
Both devices fall within the same range (the mid-range) and it might get a little tricky deciding which to pick if you walk into a store and are faced with both of them. We hope that we can give you a bit of clarity for your next shopping expedition through this comparison of the Infinix HOT 10T and Samsung Galaxy A12.
In terms of looks, we know that both brands always bring their A game. The two smartphones are designed with beautiful frames and colours that are easy on the eyes. If we were to judge by looks, you'd definitely want to go home with both. But since we know that you'd prefer to walk away with either one of the two devices, we'd drill a little further.
Let's start with something of interest to all our mobile game and Netflix lovers.
Display
This is an all-important feature for smartphone entertainment. Whether it's movie watching and game blasting, you want to be able to enjoy that from a big and sharp screen. To a large degree, both devices offer amazing displays. They both use a drop-notch screen that allows for a higher screen-to-body ratio and a better viewing experience. But here's where the difference starts to kick in.
Screen size
The Samsung Galaxy A12 uses a 6.52-inch HD+ screen while the Infinix HOT 10 pushes its screen size up to 6.82 inch. The Infinix HOT 10's display is also high definition (just like Samsung's A12) but it's also specified that it has a 90Hz refresh rate. This translates to smoother images on the Infinix HOT 10T.
Resolution
Another metric with which users can determine the quality of display is the pixel count also known as resolution.  Higher resolutions equals higher quality pictures. This explains why the 1080 movie on your laptop shows more detail than the 720p movie you downloaded from…you know where.
ALSO READ: Infinix Launches All-New Hot 10T, The Ultimate Smartphone Entertainment Experience
Now that we've established that, here's the pixel count for both devices. The Samsung Galaxy A21 has a pixel count of 1600 x 720. On the other hand, the Infinix HOT 10's resolution equals 1640 x 720. Now here's where this could get a little tricky. Although Infinix has a higher resolution, Samsung fits 1600 x 720 pixels into a relatively smaller screen, while Infinix fits 1640 x 720 (a slightly higher amount of pixels) into a bigger screen. The result? Samsung is left with a higher pixel density which could very well contribute to better display quality.
Processing power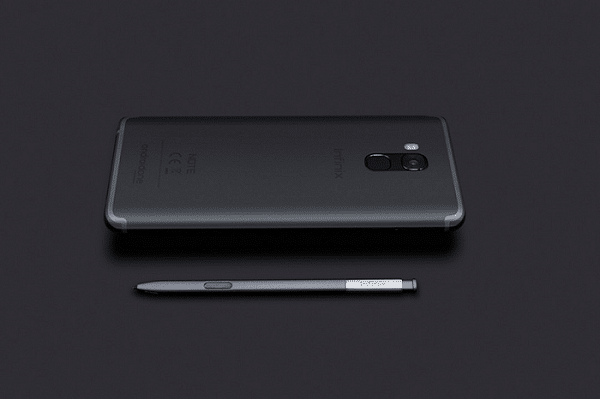 Here both devices bring entirely different offerings to the table. Although both processors are designed the same company MediaTek, the devices use processors from different families under MediaTek. Samsung Galaxy A12 uses the MediaTek p35 processor while the Infinix HOT 10T uses the MediaTek G70 processor. Both processors are 8 core processors but according to a Nano review, here's what you get out of them.
From the breakdown above, it seems like the MediaTek G70 rules flawlessly over the MediaTek P35. Overall CPU performance for multitasking is better, gaming performance is also better and to cap it all up, the MediaTek G70 works at a faster clock rate of 2.oGHzcompared to Samsung at 1.8GHz.
Battery
In this next round, we talk battery capacity. Both brands seem to be fairly pitched against themselves with 5000mAh batteries a piece. However, the Samsung Galaxy A12 provides better charging ability with 15w fast charging technology against Infinix HOT 10's 10W charging technology.
Operating system
Both devices run on the Google sponsored Android OS. However, Samsung uses an older version android 10. Well, it wasn't old until the 8th of September last year when Android 11 hit the market. Infinix HOT 10 on the other hand, runs on Android 11 the most recent version.
Fingerprint unlock
Over the years, this has become another important smartphone feature. Using PINs and passwords have now been termed as taking the longer route. The only alternate solution to fingerprint unlock which has also gained attention is the facial unlock feature. However, it has been reported to be less secure in comparison with fingerprints.
Infinix uses the common rear mounted finger print censor. Meaning its sensor is positioned at the back of the device and easily accessible with a touch from the pointer. However, Samsung uses a placement that I and a lot of other tech bros have come to enjoy better. Samsung A12 uses a side mounted fingerprint sensors. Side mounted fingerprint sensors are perfect because of how they're used to replace the power button (a button that we've already become accustomed with). It's a lot easier and seamless.
Camera
Samsung is known to be a king in the area of smartphone photography. At the rear side of the Galaxy A12 Samsung uses a 48+5+2+2MP camera while the Infinix HOT 10 uses a 48+2+AI camera. Both cameras perform brilliantly under varying light conditions. However, the Infinix HOT 10 focuses on night life photography and performs exceptionally well in that regard. Using its Seper night mode and support from its QUAD led flash, Infinix brings more light into the beauty of the night life as contrasted below.
Selfie comparison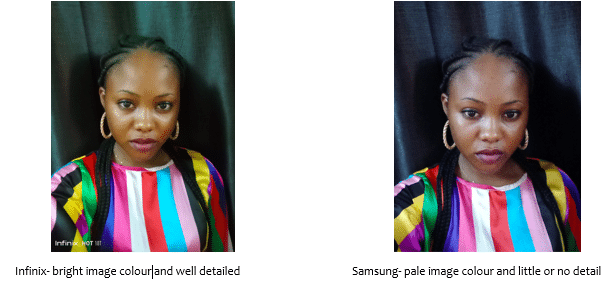 The Infinix HOT 10T is available across all authorized retail stores nationwide at a retail price of 64800 while the Samsung A12 is sold at 67,200. Now that you have more information on what they offer, you can walk into any store and pick whichever one perfectly suits your need.