The ASUS range of laptops has shown me that style can meet performance but with the ASUS 2021 ZenBook Duo 14, you can get everything you need in optimum laptop technology. This device comes with a wide range of new features and key upgrades on features we are already familiar with across the board. 
Exceptional Look and Feel
If you're looking for a device with a cool and sophisticated finish, ASUS 2021 ZenBook Duo 14 is what you should watch out for. It comes in a distinct interior that creates more efficient functionalities; some of which comprise an ErgoLift, an AAS plus hinge, along with numerous high-performance components.
Another feature that makes the device a true beauty is the minimalist design and setup. For one, the ASUS 2021 ZenBook Duo 14, though built with more top-end components, is smaller and lighter in size. It weighs only 1.6 kg and is 16.9 mm slim, which is 50gr lighter and 3 mm slimmer than the previous version.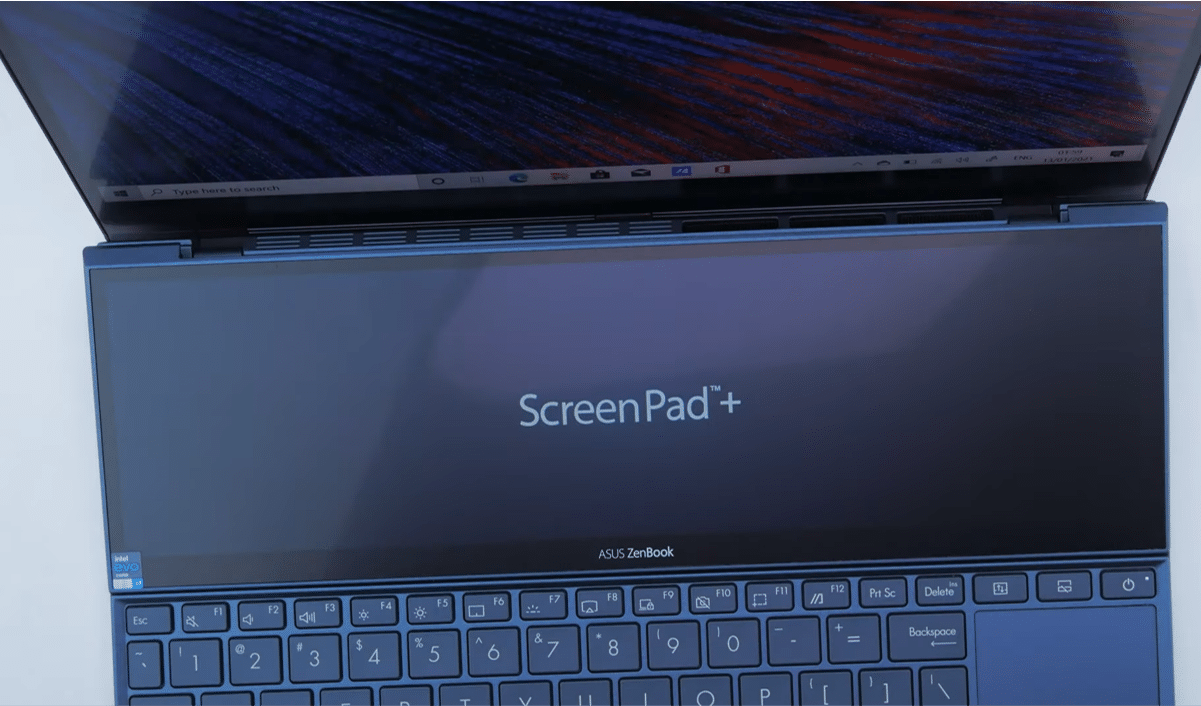 Improved ASUS ScreenPadTM Plus
Let's talk about the ScreenPadTM Plus. The ASUS ZenBook Duo 14 comes with a screen upgrade; something to really get you curious as to how it was done and how it would work. The engineers keyed into the perception that most laptop users like to multi-task hence why they cracked the code of creating 2 screens in one device – the Main Display Screen and the ScreenPad Plus. While the Main Display screen can flip to 120 degrees, the ScreenPad Plus is 12.6 inches in size, 400 nits in brightness, and elevates at a 7-degree radius, giving you the chance to view both screens at the same time when working on both displays.
All of this won't be possible without the hinge. This laptop comes with a Zinc Alloy Hinge which enables both the Main Screen and the ScreenPad to move seamlessly. That's made possible through the 3-linked structure that enables the laptop have a better thermal efficiency and unique visual experience. This hinge is 30% smaller than the previous ASUS ZenBook version and this makes this current laptop 3mm smaller.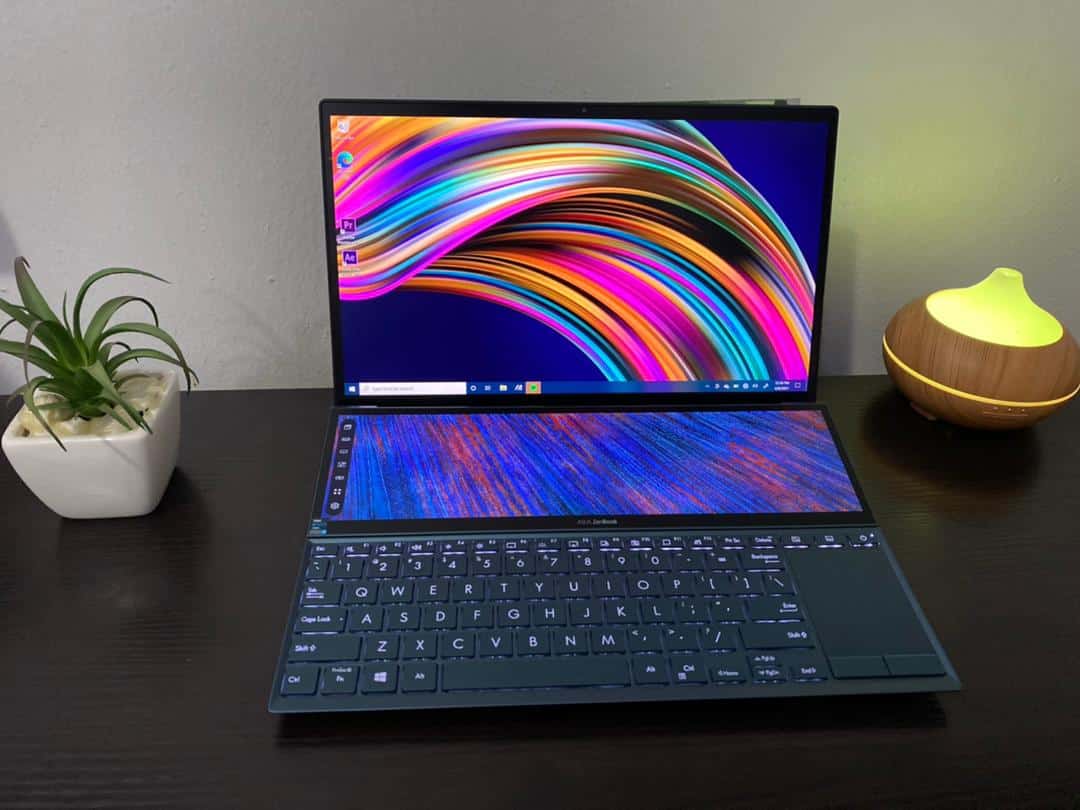 One of the best things you will enjoy about the ScreenPad is the ScreenXpertTM Control Center which gives you the ability to minimize tasks on the task bar seamlessly. The Control Center can also be manually adjusted to sit in any position on the screen and can also be customized to include more buttons – all at your preference. Some of the features you'll see on this Control Center include Brightness Control, App Navigator, Task Swap, Activate Touchpad, Task Group, Link to MyASUS, Keyboard Lock, and Settings. Did I also mention – the ScreenPad also comes with a Handwriting feature that recognizes handwritings and transcribes it to typed text.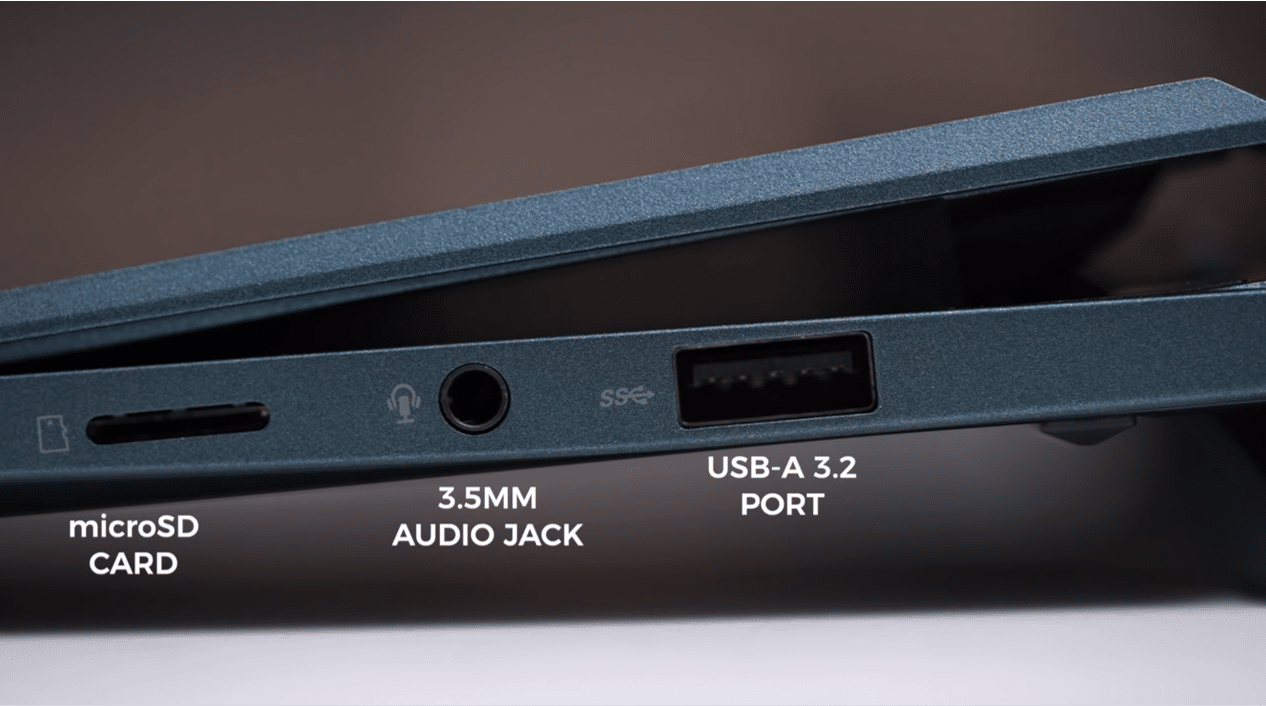 Improved Ventilation
The ASUS ZenBook Duo 14 has been designed to increase airflow by 49%; that makes it more than the previous versions. One reason is the hinge which makes the screen better elevated; another reason is the Active Aerodynamic System (AAS+) which makes the touchscreen responsible for the improved cooling system. The improved ventilation system makes it possible for you to use your laptop for as long as you desire without the laptop wearing out.
The thermal functionality of the ASUS ZenBook Duo 14 is another reason why it can barely ever heat up. When you open your laptop for use, you can see the new thermal design that accommodates 2 blades each with 59 blades and a wider heat pipe at Ø10mm that improves airflow.  
Frameless Display
The ASUS ZenBook Duo 14 also features a 14-inch FHD display bound by 4mm NanoEdge bezels – one of the slimmest edges you'll ever come across which also gives you a screen to body ratio of 93%. It also comes at a maximum brightness level of 400 nits as well as PANTONE validation for colour accuracy. With all of these, your eyes are safe as the device passed the TUV Rheinland Eye Care Certification.
Stronger Wi-Fi
The ASUS ZenBook Duo 14 features the Wi-Fi Master technology as it possesses an in-built Wi-Fi 6 for faster network transmittance and also a Wi-Fi SmartConnect feature which gives you a strong network connection from longer distances, with reduced fluctuations, and seamless work experience.
AIPT – The Secret to Performance
What makes the ASUS ZenBook Duo 14 boost its CPU Power Settings from the standard 15W to 28W? it's clearly the ASUS Intelligent Performance Technology (AIPT) component which it possesses. This feature adjusts power consumption according to loading status and temperature such that your laptop works effectively given any kind of workload and temperature. The AIPT also comes with smart sensors that not only possesses AAS Plus for heat dissipation but also possesses smart sensors that detect any form of heat within any part of the device real-time and adjusts the power consumption output to prevent any form of overheating.
A Webcam with The Perfect Position
One other thing that makes the ASUS ZenBook Duo 14 a device worth using is its webcam and that's obvious as 76% of laptop users use webcams at least once a month. This key component stands at a top bezel position and supported with a bottom-mounted camera to give you the perfect view whenever you use it.
Surprisingly, this webcam is ultra-thin but possesses a 4-element lens, giving you sharper images as well as lower noise in the graphics and resolution.  It has an Advanced Infrared feature embedded in to enable you to be seen when using the webcam in a dark place. This IR component also possesses a facial recognition technology that enables you login to the device with just your face; even at dark spots.
Amazing Audio
The audio system of the new ZenBook Duo 14 has been carefully tuned by experts from the ASUS Golden Ear team and certified by audio specialists Harman Kardon to ensure the very best sound for all kinds of content. The dual speakers of the ZenBook Duo 14 are driven by a dual-channel "smart" amplifier that allows the maximum volume possible while preventing long-term damage to the sensitive voice coils of the speakers. It also possesses an AI optimized noise cancelling functionality which works best when you're having a virtual meeting in a noisy environment. This feature doesn't allow anyone to hear the noise within your location whenever you stream.
MyASUS – Your reliable guide
This device, like any other ASUS spec, gives you unrestricted access to the MyASUS portal where you can ask any questions and access any kind of resources online about how to use your device and achieve the best results from it. MyASUS is accessible 24 hours of the day and the support responds real-time.
Cutting-Edge Specifications
 There are a lot of things that speak for the distinctness and functionality of the ASUS ZenBook Duo 14 which also proves that it's a device you need to have around you. Here are some key facts you must know about the device:
CPU: The laptop comes in 11th Gen Intel® Core™ processors, particularly at Intel® Core™ i7-1165G7 and Intel® Core™ i5-1135G7 both of which possess AIPT sustained TDP boost to 28W as opposed to other devices which come at 15W. The new processors improve modern creative workflows with Intel® Deep Learning Boost AI acceleration and AV1 media encoding and decoding technology.
High Speed Memory: The ASUS ZenBook Duo 14 supports up to Up to 32 GB LPDDR4X 4266MHz and fast 4266 MHz LPDDR4X clock speeds to provide plenty of processing power.
Display: In addition to the NanoEgde functionality, the ASUS ZenBook Duo 14 also possesses a 14-inch FHD anti-glare touchscreen with 100% sRGB colour gamut and 400nits brightness level.
High Speed SSD: The device comes with up to 1TB PCle 3.0 x4 NVMe SSD.
Graphics: The NVIDIA GeForce MX450 component of this device gives you a crisp and clear look and feel. In addition, it's capable of accelerating workloads as well as faster, smoother gaming and content creation. It also works seamlessly with NVIDIA® Optimus® technology to give you the perfect balance between long battery life and performance.
Ports: Accessibility is one of the key benefits you get from using the ASUS ZenBook Duo 14 as it comes with 2 x Thunderbolt™ 4 USB-C (of up to 40Gbps), 1 x USB 3.2 Gen 1 Type-A, 1 x full size HDMI 1.4, 1 x 3.5mm audio jack, 1 x microSD card reader, Intel® Wi-Fi 6, Bluetooth 5.0. This makes it possible for the device to easily output to a projector, monitor or TV, connect to storage devices or expand connections, all without dongles or adapters.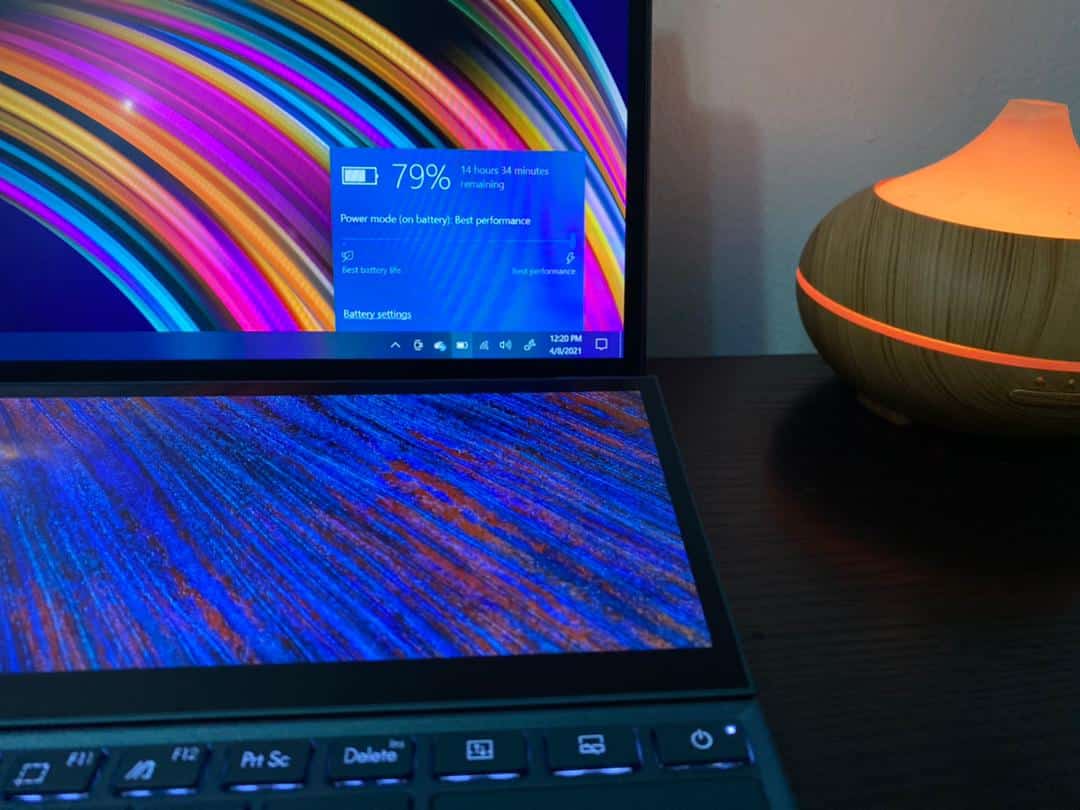 Battery: This device can last you for as long as 17 hours without a power source. Thanks to the 70 Wh lithium-polymer battery it possesses. It has a 70-watt-hour battery and also offers a fast charge function that charges the battery from 0% to 60% in under 49 minutes.
Dimensions: Compact and portable, the ASUS ZenBook Duo 14 comes at a dimension of 324 x 222 x 16.9mm and weighs approximately 1.6kg.
Learn More: https://www.asus.com/wa/Laptops/For-Home/ZenBook/ZenBook-Duo-14-UX482/
#ASUSZenbookDuo14 #ZenbookDuo14 #ASUSZenbook #ZenbookDuo