Close your eyes for a second and imagine what day-to-day financial transactions would look like in the next few decades.
There's a good chance you thought of some sort of cryptocurrency.
Whether we're ready or not, the future of money is unfolding right before our eyes. 
Let's take Nigeria for example.
In the heat of the coronavirus pandemic, Nigeria's the economic landscape became more uncertain than ever.
Inflation and the devaluation of the naira made the cost of goods and services skyrocket. 
But something interesting happened.
Early in the year, several crypto-based startups came up with innovative products to help Nigerians make sense of digital currencies.
And by the end of March 2020, Nigerian had rankedsecond highest in the global adoption of cryptocurrency.
In October 2020, Nigeria traded $32.3 million worth of Bitcoin, 247% higher than South Africa and 303% higher than Kenya which recorded $9.3 million and $8 million respectively.
These remarkable events have led us to a new conversation about digital currencies and how it can help secure Africa's future. 
How do we ensure seamless trade, commerce, and payments across borders? What role will regulators play? How do we build the money of the future?
To answer these questions, Techpoint Africa will be hosting the brightest minds in decentralised finance, fintech, and international trade on March 25 at the first edition of the Digital Currency Summit tagged "Building the money of the future."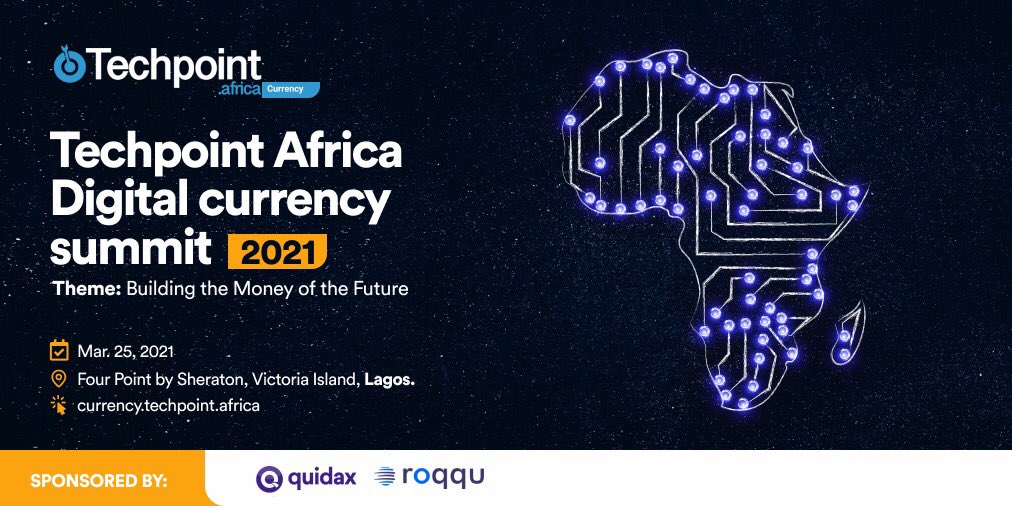 AT #DCSummit 2021
🎙️ We'll be joined by: Buchi Okoro, CEO of Quidax (and several speakers to be announced soon).
✍ What to expect: Discussions focused on critical areas in novel applications of digital currency, disruption of international trade and payment, regulations, and the intricacies of fundraising for crypto startups.
🤔 Who can attend: Crypto users/enthusiasts, blockchain developers, designers, founders of crypto startups and their teams, crypto education hubs, students, policy experts, fintech/banking executives, top eCommerce players, investors, and so on.

📅 When and where will it take place? The Digital Currency Summit will be held on March 25, 2020, at Four Points by Sheraton, Victoria Island, Lagos.
If you haven't registered, GET YOUR TICKET TO ATTEND HERE

Tickets
General Badge: ₦ 2,000
Online Badge: ₦ 1,500
VIP: ₦ 20,000 (includes lunch with speakers, reserved seats, and access to the VIP room)
PS: We want to deliver the best value in a safe networking environment, so the number of seats available are limited. Please register now to secure your space.