If you happen to be a smartphone enthusiasts, then you'd definitely be excited about this head-to-head review of the Oppo Reno3 and Infinix Zero 8. For one, both smartphones offer amazing camera features which, of course, is a major point of interest for a higher percentage of smartphone users all over the world. 
In addition to sporting high camera technology, both devices also come with several other unique features. Although, Oppo seemed to have concentrated more on its camera with the Reno3, Infinix pulled a couple tricks out of their hats, adding some cool touches to every element of the Zero 8. 
Let's start with design.
Design
In comparison with the outlandish design of the Reno2, Oppo Reno3's design is very simple and basic. Considering how many smartphones are beginning to take on futuristic designs, we all expected to see something truly inspiring on the Reno3. However, Oppo opted for a modest design which is said to be inspired by nature – the variety of moods and light captured in the skies to be specific. 
On the other hand, the Infinix Zero8 slid in with an awe-inspiring gem cut design. The arrangement of the camera array at the back of the device is quite pristine. As smartphone makers continue to add more rear cameras on their devices, they've had to try out new placement options. This one was quite novel and it really catches the eye especially with the diamond white color variant. 
The Infinix Zero 8 uses a stroke-like gradient design that runs from the bottom to the mid area of the device and then cuts into a smoother surface that houses the protruded camera platform. Each of the color variants have a unique color accent on the edge. All of this creates a very sophisticated look for the Infinix Zero 8.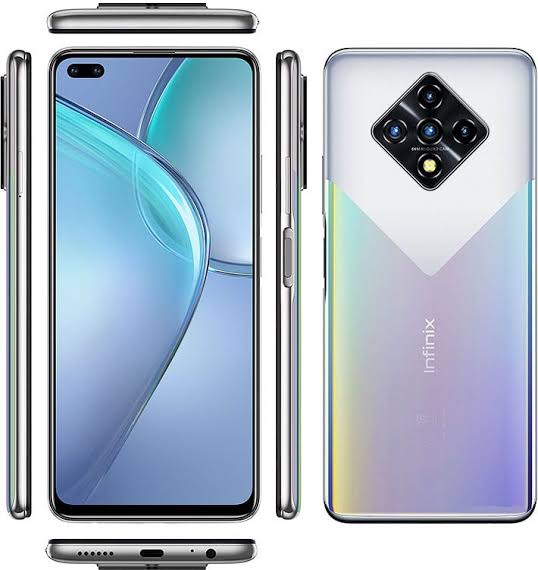 Display 
In terms of display, Oppo uses the more advanced AMOLED display. The AMOLED display is known for its vivid and truly deep colours. Another advantage of this display – that's maybe not so popular – is its ability to manage the use of power. Although AMOLED displays have some cons of their own too, users seem to enjoy this type and won't mind having it on their devices. 
This feature puts the Oppo Reno3 in a favourable position in the market. The Reno3 comes with a 6.4inches screen. The devices screen packs 1080 X 2400 pixels with 411ppi density which is quite commendable. Users will surely enjoy a wonderful viewing experience on this device. 
Interestingly, the Infinix Zero8 comes with a few improvement on its display. First, the device comes with a preset refresh rate of 90Hz. This means that users will get to enjoy smoother display and better screen responsiveness in comparison with the Oppo Reno3. There's also an option to switch back to the usual 60Hz refresh rate if you feel the need to. This is certainly a huge leap forward for Infinix. 
As is customary with Infinix, the Zero8 sports a massive screen. The screen stretches to 6.85 inches, which is obviously bigger than Reno3's display. Screen to body ratio for the Zero8 is also pegged at 86.8% which is quite impressive. 
Also, Zero8's screen resolution is as high as 1080 x 2460 which is slightly higher than what we have on Oppo Reno3. However, considering the size of Zero8's screen, its ppi density stands at 392 which is a little lower than Reno3's 411ppi. 
Front camera
Dual selfie cameras are beginning to pop up more in the market and the Infinix Zero 8 sports one. The device's dual camera is made up of a 48MP main camera + 8MP ultra-wide camera. The cameras are equipped with an ultra-steady feature that helps to maintain balance during video recordings. 
As regards video recording, the Zero 8 selfie cameras are capable of shooting 1080p videos at 30fps. The cameras also comes with an Eye Tracking + AI Detection feature that helps users to automatically focus on the major subject of the picture without any delay. 
Also, with the 8MP ultra-wide camera, users can capture more details in their selfies. Group photos can now become all-encompassing. 
In addition, the cameras produce outstanding nighttime/ lowlight photography, bringing beauty into nighttime photography. Overall,  the selfie cameras on this device performs brilliantly. 
On the other hand, the Oppo Reno3 comes with a single 44MP high resolution camera. Reno3's camera is capable of capturing images with life-like beauty. With advanced camera technology, the 44MP camera captures detailed textures and creates a perfect representation of hair, skin tone and other facial features. 
Also the Reno 3 comes with an Ultra Night Selfie Mode that helps to ensure that pictures taken in the night time or under lowlight are lit up beautifully. The Reno 3 also features the Ultra steady video feature and is capable of recording 1080p videos at 30fps. 
Main/ Rear cameras
In the main camera section, both devices come with four cameras which have similar functions. Interestingly, both devices are able to record very steady videos courtesy of the video stabilization feature.  
While recording on either of the devices, users can switch between recording modes for better quality. 
Both the Oppo Reno 3 and Infinix Zero8 are capable of shooting 4K videos at 30fps, 1080p videos at 60 and 30fps, and also 720p videos at 30fps.
However, for differences, The Oppo Reno3 comes with a 48MP main camera + 13MP telephoto lens+ 8MP ultra wide camera + 2MP depth sensor, while the Zero 8 comes with a whooping 64MP main camera + 8MP ultra wide camera + 2MP depth sensor + 2MP macro shot camera.  
When it comes to Night shots, the Infinix Zero 8 performs better.  Zero8's Quad- LED flash helps to make pictures much brighter compared to Reno3 which uses a single LED flash.
Processor
Both devices use MediaTek Helio processors. Oppo Reno 3 uses the MediaTek Helio P90 processor, while Zero 8 uses the MediaTek Helio G90 processor. The MediaTek Helio P90 processor was released in November 2019 while the G90 processor hit the shelves in July 2019. 
Based on several reviews, the G90 Processor allegedly performs better than the P90 processor. The G90 processor was specially built for gaming and it gives an all-round excellent performance, making it a preferred option for many smartphone users who use smartphones that are powered by Helio processors. 
This gives the Zero8 an edge over the Reno3. 
Battery life
The Reno3 comes with a 4025mAh battery which is complemented by a 30W fast charger. However, the Infinix Zero 8 offers a stronger 4500mAh battery and a faster 33W charging technology. With this it's safe to say that Infinix outperformed Oppo in this section. 
Having considered all the features discussed above, it's safe to say that the Infinix Zero 8 comes out on top in this head-to-head comparison.  Both devices are available for purchase at all authorized stores in Nigeria and also on online stores.