The year 2020 sprung the coronavirus surprise on the whole world, a surprise it is yet to recover from.
After a year without a cure, two clinically tested and globally approved vaccines were released early in December 2020. One is manufactured by American pharmaceutical firm -- Pfizer -- and German BioNTech SE, while American biotech company, Moderna, is responsible for the other.
However, two African countries had taken steps to provide a cure before the release of the vaccines in December. Madagascar's President, Andry Rajoelina, unveiled Covid-Organics -- a herbal remedy for the virus consisting of Artemisia and other Malagasy plants.
Although not approved by the World Health Organization (WHO), the drug has been distributed to many people in the country, including school children, and shipped to other African countries.
Despite the hope the remedy gave people, infection cases rose on the Island. Four months after the launch, coronavirus cases spiked and spread to more regions.
Meanwhile, sometime in October 2020, a group of Nigerian scientists developed a possible COVID-19 vaccine but lacked the funds to take it to the clinical trial stage.
By December 2020, the world had to contend for the available WHO-approved vaccines.
Compared to Europe and North America, Africa's figures -- death cases -- are low. Consequently, African leaders have so far been applauded for containing the spread of the virus in their countries through early intervention. This might be one reason getting vaccines to the region isn't treated as a matter of urgency.
Amidst allegations of exclusion, WHO explains why many low-income nations have been pushed to the back of the queue, with the second half of 2021 the earliest projected time for vaccines to reach Africa.
Despite funding intervention from establishments like Gavi and Africa Centres for Disease Control and Prevention for up to 60% of the region's population, concerned countries still have to share the procurement cost.
A dose would cost between $1.6 to $2, and about 1.4 billion doses are required to achieve herd immunity. However, their economies are yet to recover from the effects of the pandemic.
WHO uses a metrics scale to determine countries that get the vaccine with countries needing to reach the 80% mark to be considered. Unfortunately, the African region's average score of 33% is dictated mainly by its preservation and distribution capacity.
Information about the vaccines reveals that they have to be stored and transported at temperatures as low as ~80°C. Sadly, many of these countries cannot achieve this as electricity is either unreliable or inadequate. The situation isn't any different when it comes to logistics, especially when shots should be taken three to four weeks apart.
Meanwhile, British-Swedish pharmaceutical company, AstraZeneca and American multinational, Johnson & Johnson are working on vaccines that can be stored at room temperature. Currently made available in the United Kingdom, it has been approved for Pakistan and Brazil for emergency use.
Still, it holds no promise on how soon it will get to the low- and medium-income countries.
However, if technology is effectively harnessed, it can facilitate COVID-19 storage and distribution just as it helped survive lockdowns.
Logistics in the skies and engaging tech companies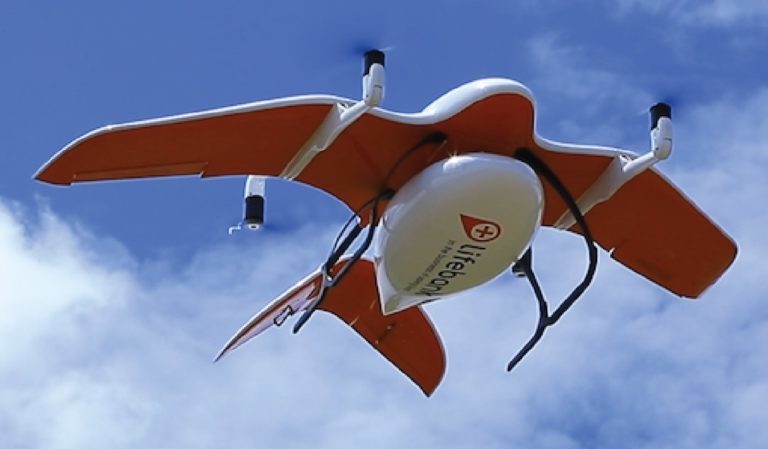 Despite the popularity and acceptability drones enjoy across the globe, adoption is still low in Africa. Where regulatory framework isn't the problem, the operating cost is.
While some African countries are warming up to it by relaxing restrictions or bans placed on unmanned aerial vehicles (UAVs), others are indifferent about it.
Experts believe that this is because governments are either not fully aware of its potential -- such as healthcare delivery -- or are averse to innovation. However, with proper approval in place, this technology can help with the swift supply of vaccines.
Although not commonplace in Africa, drones are used for healthcare delivery. For instance, in Rwanda and Ghana, Zipline, a US-based company, has been delivering drugs with drones for four years. And Matternet is also doing the same in Malawi, East Africa.
In Nigeria, medical logistics startup, LifeBank added drone delivery to its means of transportation in 2019 to become the first African-led team to implement Beyond Visual Line of Sight (BVLOS) flights for healthcare logistics.
Apart from healthtech startups, agritech startups also contribute to human sustenance. This Techcabal expository article on how food supply is sustained in the middle of a pandemic presents some notable mentions of tech solutions -- like InspiraFarms and Gricd -- adopting cooling technologies to preserve fresh produce in transit in the Eastern, Western, and Southern Africa regions.
With adequate funding and the use of alternative power supply sources, partnering with these companies could facilitate the proper distribution of the vaccines.
Africa has successfully put the Ebola virus behind it using vaccines, and some African countries like the Democratic Republic of the Congo (DRC), Burundi, Ghana, and Zambia have licensed the Ebola vaccine -- Ervebo -- manufactured by American pharmaceutical company, Merck.
Interestingly, the Ebola and coronavirus vaccines have similar storage specifications. With successful vaccinations already taking place in Africa, the hope is that the region will get its supply of COVID-19 vaccines sooner rather than later.
Featured image credit: Lucio Patone on Unsplash. онлайн займ без звонковзайм денежным переводомзайм на карту маэстро с плохой кредитной историей