Stephen Michael was looking for ways to improve himself and upskill but COVID interrupted his plans. During the lockdown, he searched for online courses and most of them cost over $300. Then he came across Ingressive For Good (I4G), a non-profit equipping young Africans in need with tech skills to help them impact and contribute to the development of Africa, socially and economically. At this time, I4G had partnered with Coursera, the world's leading online learning platform to offer scholarships to 5000+ African youths in tech. He took advantage of it and some of the $300+ courses were available for free. After one month of learning and practicing, he landed his first big client and the experience changed his life forever. He shared the opportunity with his sister and in less than 2 weeks, she was building functioning landing pages.
Two key indicators of a country's GDP are the economic power of citizens and the percentage of gainfully employed youth. However, 30% of African youth are unemployed. Ingressive For Good (I4G), a non-profit,  is looking to change that with their mission to increase the earning power of African youths through tech training, job placement, and community. 
In the last 3 months, I4G has aided the training of over 20,000 African youth, built a community of over 17,000 youths, provided tech tools and resources for over 10,000, and placed over 100 in jobs.
"The I4G community collectively has the strategy, the network, and most importantly, the passion to actually change Africa." Sean Burrowes, the COO and Cofounder of Ingressive for Good said. "The more our community grows, the less I4G feels like a charitable foundation. It feels more like a Pan-African talent development revolution, powered by Africa's tech-enabled youth."
With collaboration at the heart of Ingressive For Good, is impacting the lives of Africans, one youth at a time. During this pilot phase, I4G partnered with Coursera, Facebook, Datacamp, HNG Internship, Enye, SemiColon, Tekedia, CareerBuddy, FindWorka, Live Your Dreams Africa (LYDA), Covenant University, Babcock University, StudentBuild, Bankole Williams, and so many amazing organizations to reach the Africans in need and provide training, scholarships, job placements.
"Ingressive For Good has not only distributed the most licenses of all of DataCamp's Giveaway Partners so far, but their learners' adoption and engagement levels on the platform are some of the highest as well. This exemplifies the enormous impact a nonprofit run by caring and talented people can have on communities big and small, local, and abroad." Nathaniel Taylor-Leach, Community Partnerships Manager at Datacamp, the leading interactive learning platform for data science and analytics
"Stephen's success story is one of many young Africans who have been impacted through one or more of the Ingressive For Good programs. Many have gotten access to  courses that were cumulatively worth thousands of dollars for free" Blessing Abeng, Director of Communications at Ingressive for Good
Watch the success stories of the I4G x HNG Internship finalists who received new MacBooks from Ingressive for Good to help them improve their tech skills:
In the last 3 months, I4G has surpassed its pilot goals in tremendous ways. This is the impact so far: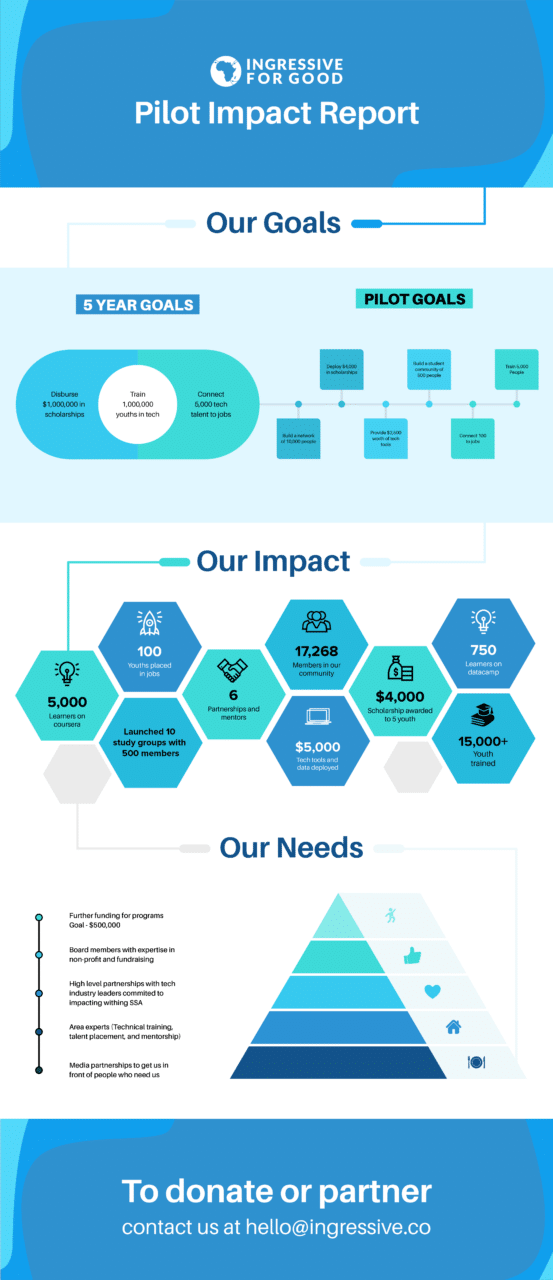 View the full report here.
To join I4G on this mission to increase the earning power of African youths and eradicate poverty from Africa, send an email to [email protected] and Follow @ingressive4good on social media to stay updated
About Ingressive For Good
Ingressive For Good (I4G) is a non-profit organization dedicated to creating and increasing the earning power of African youth through tech training and resources. 
For more info, partnership, or donation, contact: Blessing Abeng, Director of Communications, Ingressive for Good on [email protected]
Find out more about Ingressive For Good here.
https://zp-pdl.com/apply-for-payday-loan-online.php
http://www.otc-certified-store.com/beauty-products-medicine-usa.html
https://zp-pdl.com
http://www.otc-certified-store.com/antidepressants-medicine-usa.html
https://zp-pdl.com/emergency-payday-loans.php
получить беспроцентный займ
займ на банковскую карту мгновенно
займ онлайн на карту 30000