Uzoma Dozie started out wanting to become a medical doctor but instead went into the banking industry where he rose to the top as CEO of a major Nigerian bank. Now he leads Sparkle, a financial technology startup. On this edition of How I Work, Uzoma talks about career transition, his life philosophy, and the tools he uses to stay productive.
---
Current role: Chief Sparkler/Chief Servant of Sparkle
Location: Lagos
Current computer: Surface Book and a Surface Studio
Current mobile device: Samsung Note 20 and iPhone 11
Describe how you work in one word: Passionately
Tell us briefly how you started out and how you got where you are today
I started out wanting to be a doctor and ended up working in the bank. I don't know if I started in the university wanting to be a doctor to please people or because studying medicine, law, or engineering was the in thing. But I ended up working in a bank for 20 years; then again, I guess my intention was always to help people, and that has been the underlying theme of my career. I've always wanted to make an impact and be part of a change for the greater good.  
I found my passion in the retail space because I believed that's where the opportunity was, that's where the gaps were. And now I'm leveraging technology to further that commitment to help people in the retail space -- and that's what Sparkle is about. Sparkle is about leveraging technology to provide a platform where people can do what they want. We can have small businesses achieve their objectives and focus on their business while we provide the support service that they need.
What does your job entail?
We're an office of 20 people who've brought Sparkle to where it is. My job involves continuous learning and coaching people on the brand, where we want to go, and the environment that we're working in. The people I work with are tech experts, so I do not coach on technical capabilities; I'm just a user. There is also networking, selling the story, mentoring, and what I like to call evangelism because a leader's job is to continuously sell their story to all stakeholders: colleagues, customers, partners, and regulators. 
Walk us through a typical workday
Today, there's no typical day anymore because of COVID-19. But usually, I wake up, workout, and then I go to my office -- wherever my laptop and mobile phone are. Like most people, we do a lot of video conferencing these days, but it's mostly connecting and engaging with people. And of course, at the end of the day, I don't believe in nine to five because we're a 24-hour organisation with customers in different parts of the world. The start of my day can be 12 midnight or 9 a.m., but the most important thing is that I try to fit in ensuring that I wake up, workout, and attend my meetings. I socialise and also have fun with my people -- my family and close friends.
What apps, gadgets, or tools can't you do without?
That's very easy: my phone, iPad, camera, and GoPro.
My phone is my work tool. At Sparkle, we have a mobile-first philosophy, so as long as I have my phone, I have access. 
I have about three day's worth of movies downloaded on my iPad, so if I'm somewhere and I need to relax and cool down, I can watch movies.
Photography is one of my hobbies, so my camera helps me capture moments. 
And my GoPro also helps me capture moving moments.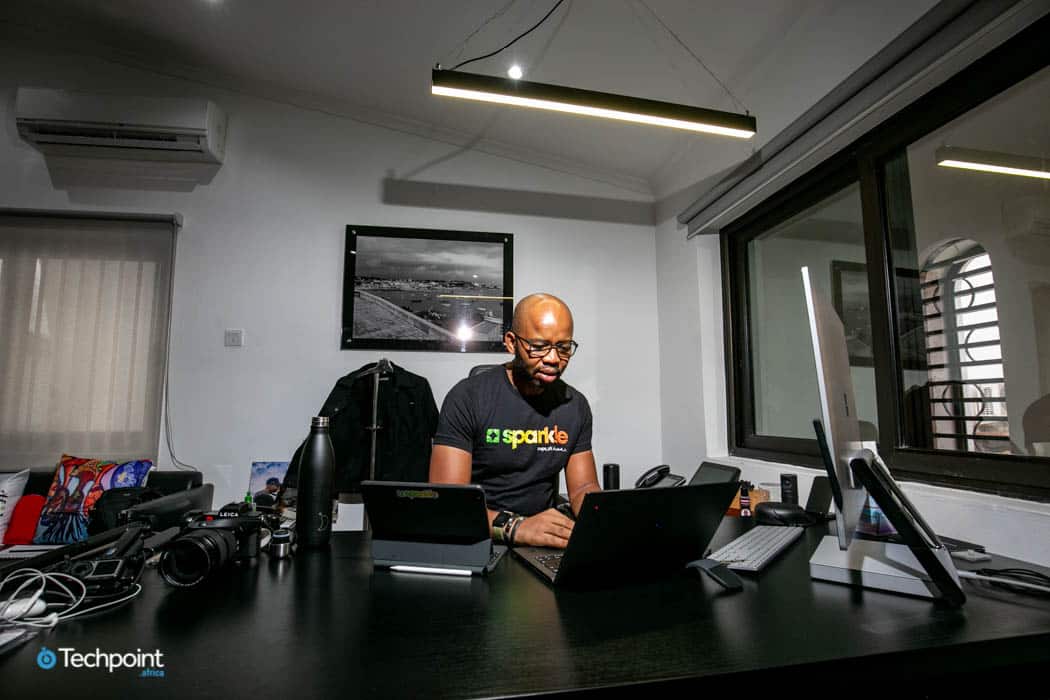 What's your favourite shortcut or hack?
I don't have any because I feel like in the end, shortcuts just mess you up. I remember doing cross country in school, having to run for two or three kilometres, and then my friends and I would find a way to make that 2km become 500m. Consequently, we didn't benefit from the running, which was meant to get us fit. So I don't have any shortcuts or hacks because I'm not in that space, but I also know that shortcuts, in the end, would remove the edge. I think, the more you do a particular thing, the better you get at it, and that is the shortcut.
What tasks do you dislike but still do?
Documentation, record keeping, and keeping my diary. I dislike doing those because they are mostly manual and it would be nice just to have something or somebody capturing my day. But then again, the whole idea of having a dairy is to reflect, so it's painful but it's beneficial. Also, it requires discipline, so I either do it at 2 a.m. when I want to sleep, or I do it first thing in the morning so that I still have a memory of what happened in the last 24 hours. It's still a process you have to go through but in going through it, you put your thoughts together, reflect on what has happened, and generate new ideas.
How do you keep track of what you have to do?
This is very simple because I'm very digital. I don't have any manual processes in my life, so I can look at Google today and find out exactly what I did yesterday by knowing where I went. I wear a digital watch, so I know if I was sitting in a chair or working out. I try to capture most of my activities in the background by using instruments, and where I can't, I take a lot of pictures to capture moments where there are blanks.
How do you recharge or take a break?
I watch a lot of TV. I like watching science fiction because it fascinates me, and I believe it gives an idea of what might happen in the future. Some of the things I saw in science fiction movies 30 years ago are today's realities. I also play tennis.
Besides work, what do you spend time doing? What do you enjoy?
I like to connect with different types of people in different segments of life; one of the segments that I've always drawn inspiration from are my children. They're the next generation so you get an idea of the types of services or solutions that they're going to require just by interacting with them and seeing how they use existing tools. You'll find that what is important to me is completely irrelevant to them. I remember being interested in learning how to drive when I was 17 so I could get my car and be free. But today you have Uber, so my son is not interested in learning how to drive or buying a car because he already has a means, and that's the whole idea.
We acquired assets during our time so that we could do some activities but today those assets are there to use. And this makes a big difference in people's mindset and how they see the world, and that's what you get from interacting and engaging with people like that.
What are you currently reading, watching, or listening to? What do you recommend? 
I'm reading a book called The Soul of an Entrepreneur: Work and Life Beyond the Startup Myth by David Sax. It looks at entrepreneurial people from different perspectives and different conditions of life.
I'm watching a TV series on HBO Max called Raised by Wolves. 
I recommend that everyone watches Star Wars. I know people would find it heavy but think it is a movie about life and about good and evil -- about humanity.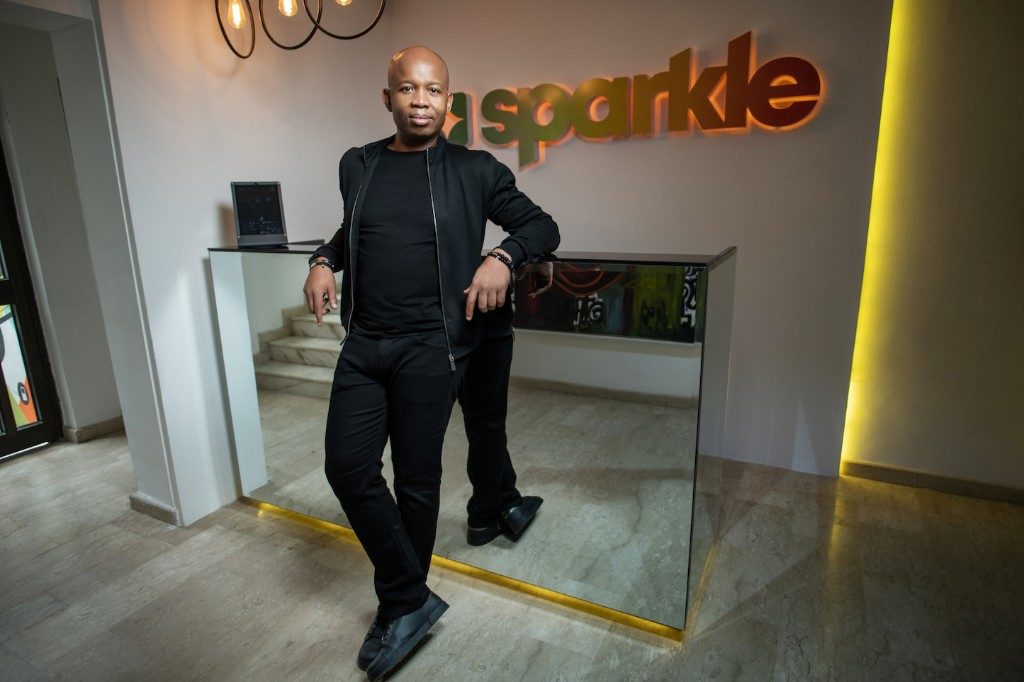 What's the best advice you've ever received?
Think big, start small, act quickly. It's important to have a vision, but it's also important to know that you can't get there today or maybe in the next week. You can start taking steps to get there, but you must move very quickly because just as you have a vision, other people might have a similar vision, so you must act quickly and deliberately.
With what you know now, what piece of advice would you give to your younger self?
I had many opportunities to try many things, taste many foods, go to many places, talk to many people, experience many activities and hobbies, and I didn't do those things. And now we live in a world where diversity is essential and just having a taste or knowledge of something is crucial. So, the advice I would give myself is to try everything and try to stay out of my comfort zone.
What's a problem you're still trying to solve?
There are so many problems to solve, so I guess the problem I'm trying to solve is that of prioritisation. I'm always trying to prioritise my problems; the problem that is important is the one that would make a more significant impact and remove some of the other problems. And sometimes, there are problems that are beyond your control so you have to go outside your platform to collaborate with other people to deal with the problem.
Who would you like to see answer these questions?
My father, Pascal Dozie; Warren Buffet; and Bill Gates.
female wrestling
https://www.zp-pdl.com
www.zp-pdl.com
www.zp-pdl.com
займ с открытыми просрочками
получить займ онлайн
займ экспресс адреса