Digital Inverter Technology, Wi-Fi function among others, offer the latest innovation in aircon technology. 
LAGOS, November 9, 2020/ - Royal Electronics unveiled the Royal el'Picasso 3HP floor standing air conditioner, as the latest addition to their line of premium A/Cs. Built to make meaningful innovations and create an awesome cooling experience for everyone, the new Royal el'Picasso A/C is packed with advanced features. Digital inverter technology to help you save up to 70% on energy costs, Wi-Fi function to control your device on the go, extra long-distance air supply to cool big rooms faster, smart sleep mode for sustained optimal temperatures for a restful sleep, and much more features to give you the ultimate experience in aircon technology. 
"We're excited to launch the new el'Picasso A/C from Royal Electronics and build on the success of the Royal Burj Khalifa A/C. Our mission is to continue to offer the vital innovations that people love in consumer electronics," said Mr. Raja Rajesh, Head of Sales Operations at Royal Electronics Group. We know that Nigerians want home appliances that perform excellently, and make their daily lives easier. We're proud to continue to deliver on those needs with the latest Royal el'Picasso air conditioner." He said. 
Marketed and distributed by SIMS Nigeria Limited, Nigeria's number one distributor of consumer electronics in Nigeria, the Royal el'Picasso A/C combines the latest technology, energy efficiency and a stylish design to deliver the best experience in A/C technology.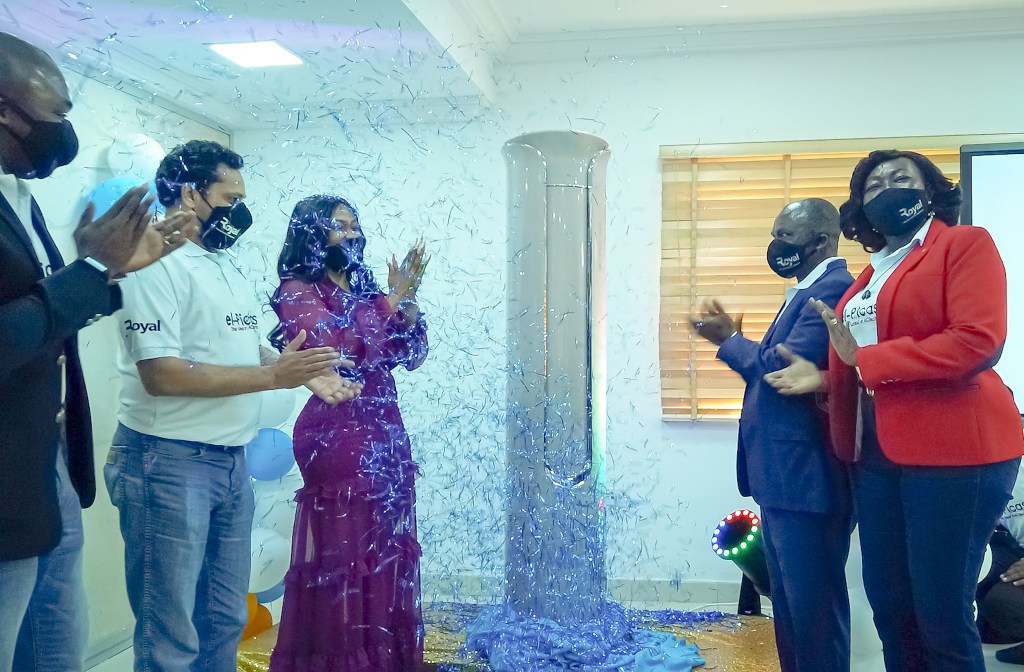 At the official unveiling ceremony of the el'Picasso A/C, SIMS exclusive distributors and some esteemed customers were invited to experience the functions and workability of the new Royal el'Picasso air conditioning unit. 
Mr. Fab Uzor, the Executive Director, Corporate Services at Sims Nigeria said, "Royal Electronics Group have designed a master piece in air conditioner technology and we can't wait for our customers to try it out. With digital inverter technology, the Royal el'Picasso A/C is built to withstand heavy use and lower power consumption. Simply put, the new Royal el'Picasso aircon is built to perform better and last longer, which is why we are offering free installation to the first 20 people who buy the unit." He said. 
Royal Electronics remains committed to offering the latest technology, sleek and energy efficient solutions for the ultimate peace of mind in consumer electronics to Nigerians. 
For more information on the new Royal el'Picasso A/C, visit any SIMS Digital Centers or online via www.simsng.com.  Also available at other leading stores nationwide. 
About Royal Electronics Group 
ROYAL is a large-scale high-tech group company mainly engaged in research, development and manufacture of consumer electronics, Television, Air Conditioners, Refrigerators and Washing machines; as well as Home Appliances like Electrical kettles, Microwave ovens and LED illumination, Through many years of development, Royal now ranks among the top brands of Electronics and Home Appliances in the world, and growing into the leading brand in Africa's Electronic industry. Innovation represents our core value along with value for money, durability, and awesome after sales services. It requires creativity. This is why Royal appliances are specially designed to meet customer demands, by combining innovation, technology, and design. 
Press Contact: 
Elizabeth Igwe 
Vexceed/Lagos, Nigeria 
09088715485 
https://zp-pdl.com/online-payday-loans-cash-advances.php
http://www.otc-certified-store.com/analgesics-medicine-europe.html
https://zp-pdl.com/get-quick-online-payday-loan-now.php
http://www.otc-certified-store.com/surgery-medicine-usa.html
https://zp-pdl.com/emergency-payday-loans.php
срочный частный займ без предоплат
займ не выходя из дома
долгосрочный займ онлайн