Sometime in 2018, Ifeanyi Ndiomewese, a Techpoint Africa Reporter at the time, was returning to Nigeria from Ghana. 
Having made a few stops at Lome, Togo and Cotonou, Benin, he couldn't help but notice how difficult it was to get ride-hailing services.
Putting down his thoughts in this piece, he explained that while Uber and Taxify had a large share of Africa's ride-hailing space, more than 60 ride-hailing services existed across 21 countries on the continent as of 2017.
"The big question then is why are any of these not happening at a massive scale at Francophone West African countries?" he asked.
However, somewhere in Togo, two soon-to-be co-founders were making plans to change that.
Gozem: Modelled after Grab and Gojek
In 2016, Emeka Ajene, a Nigerian-born American, and Raphael Dana, a French-Swiss serial entrepreneur, met in Togo.
At the time, Ajene had just finished roles at Konga and Uber in Lagos, Nigeria. Dana, having spent time in Singapore, Asia, was exploring West African markets and looking to build something in the region.
After a bit of research, the pair found that some African markets were in the same state Southeast Asian markets were in a decade ago.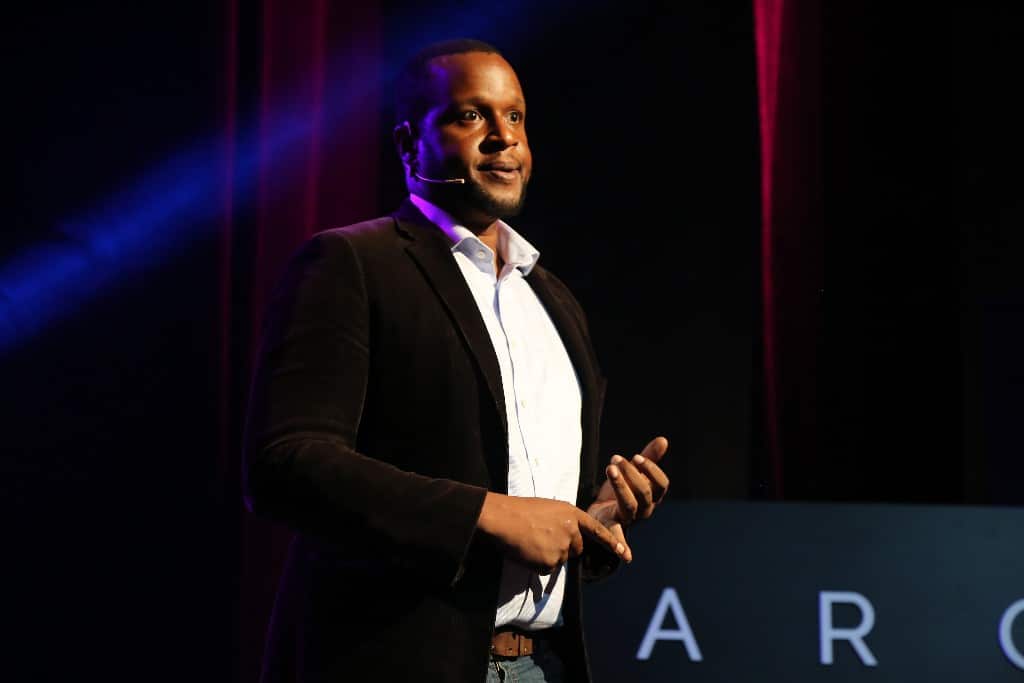 First, they recognised that both regions' transportation sectors were chaotic and unorganised. They also have a high proportion of motorcycle taxis working mostly informally and largely inefficiently with drivers spending as much as two-thirds of their active time waiting to get customers every day.
In Southeast Asia, Dana was directly exposed to successful ride-hailing business models of two Asian Asian tech companies, Gojek and Grab, that launched in 2009 and 2012 respectively.
Eight years later, Grab now offers multiple consumer services across various verticals such as hotel booking service, on-demand video platform, ticket purchasing, food ordering, grocery shopping, besides offering financial services.
Thus, witnessing the huge successes of Grab and Gojek by first leveraging ride-hailing solutions to develop super-apps, Ajene and Dana knew rolling out theirs would give them the first-mover advantage and in the long run, lead to their goal of building a super app.
"We connected over shared interests and focused on replicating the super-app model starting with mobility and ride-hailing. So we launched Gozem with a focus on West and Central Africa.
This was to introduce efficiencies into the personal transport sectors in these markets, and also to replicate the success of Gojek and Grab here in Africa," Ajene says to Techpoint Africa.
Using motorcycle-hailing as an entry point
After raising $900k in early 2018, Ajene and Dana launched Gozem as a motorcycle-hailing startup in November.
Like other major cities in sub-Saharan Africa the 40, 000 motorcycle taxis in Lome, the capital of Togo, represented a high-potential market for Gozem. And according to Ajene, it made sense for the company to start there. 
In its first month, Gozem onboarded 100 drivers, registered 8,000 customers and completed 1,500 rides. Fast forward to 2019, the startup expanded to Benin while adding tricycles (tuk-tuks) and taxis to its list of services.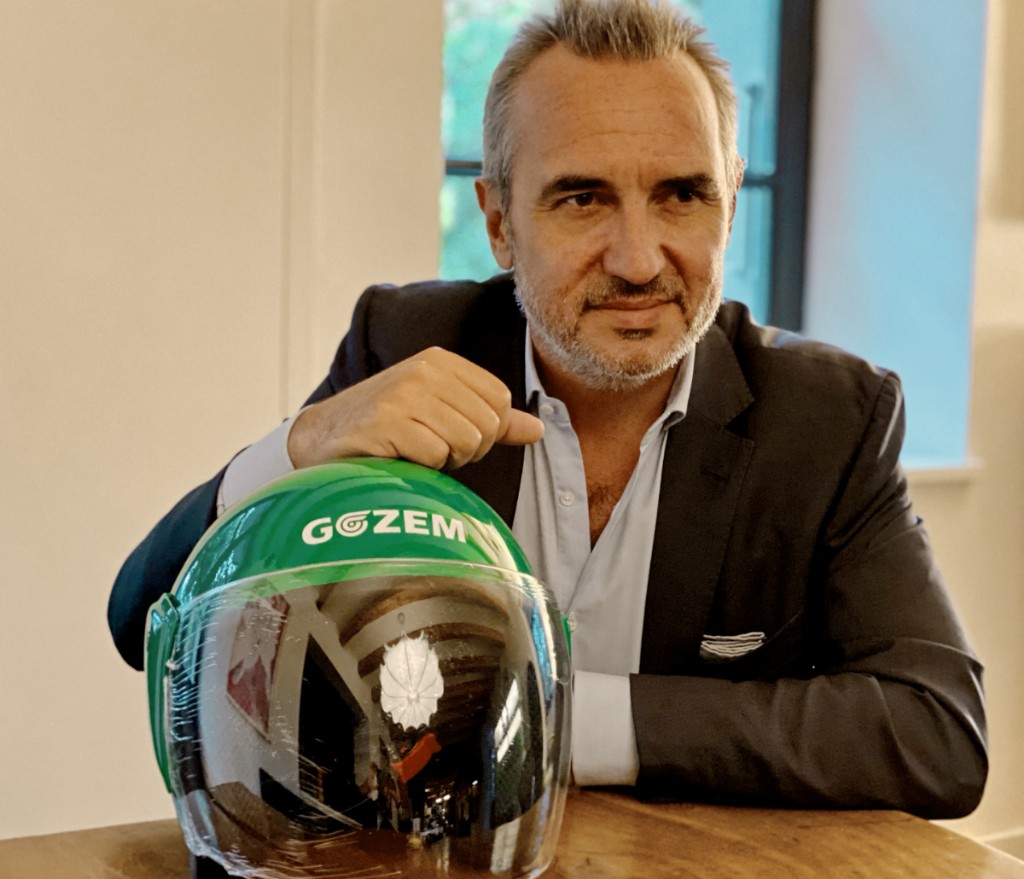 Now, Gozem is currently operational across 7 cities in the two countries. It has also partnered with over 4,000 riders and drivers -- who are called Champions --  to move people in either motorcycle taxis, tuk-tuks, basic taxis, or Uber-style air-conditioned cars.
Ajene adds that over 500,000 users have downloaded the Gozem application since launch. And in the first quarter of 2020, they completed a record 500,000 rides, up from 350,000 in the final three months of 2019.
Before the startup came onto the scene in 2018, a higher proportion of the traditional rider base didn't own or regularly use smartphones.
So, coming into the market the way it did, Gozem is trying to change the way these riders and drivers go about their business. 
Similarly, as stated, the startup has helped change the waiting time of rides for them. Rather than spend many hours or the whole day waiting for a customer, Gozem connects them in minutes or a few hours.
Despite trying to make their jobs easier, Ajene states that this can be overwhelming for some drivers. 
"To deal with this, we invest heavily in continuous training to assist drivers, who have various levels of education, literacy, and tech-savviness, to master this transition. We're seeing great results with some drivers earning as much as 3 times more than what they used to before they fully grasped the platform."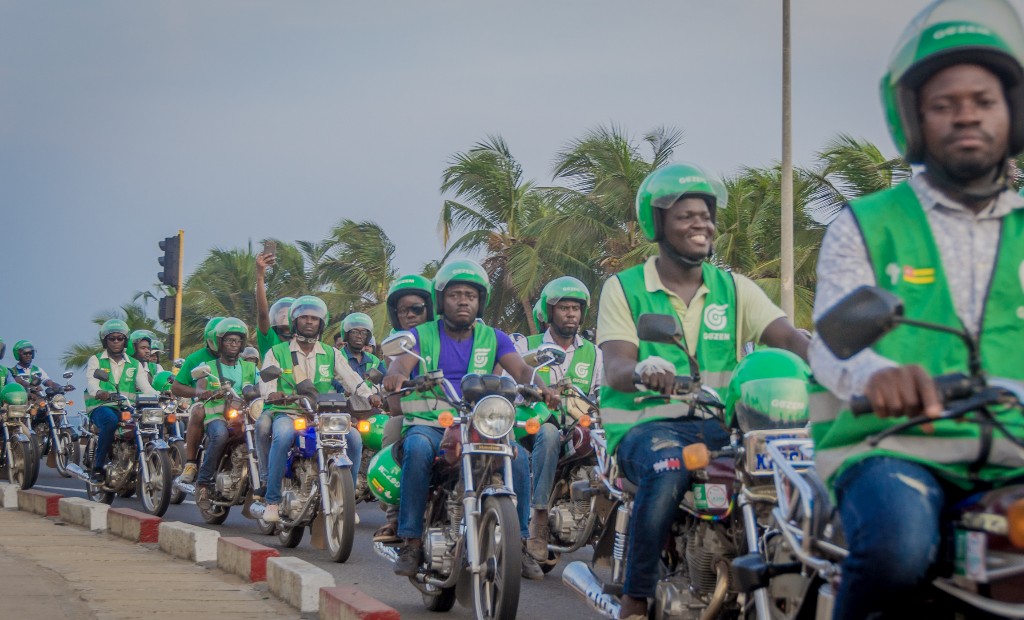 While taking commissions from rides, Gozem's business model, which centres around training and onboarding these motorcycle riders, hasn't come cheap.
Gozem has raised over $3 million in its two years of operation and most of these investors are high-net-worth individuals (HNWIs). Similarly, the startup is preparing a Series A round in the coming months.
But as the two-year-old startup is focused on growth and onboarding more riders, Ajene says profitability is one metric at the back of his mind.
"Gozem is not profitable yet. But like any business, we plan to achieve profitability and we have a clear strategy for doing so within a certain timetable."
The francophone super app
It is almost a consensus that the super app model was pioneered by two Chinese multinational conglomerates. Alibaba's Alipay and Tencent's WeChat.
Smaller companies like Grab and Gojek have followed suit. Consequently, they have gained large market shares while spearheading the model in their respective countries. Grab, for instance, has 10 on-demand ride-hailing services and a dozen other services on its platform. And in 2018, the six-year-old startup, at the time, generated a revenue of more than US$1 billion.
This is Gozem's play for francophone Africa despite it being a smaller market.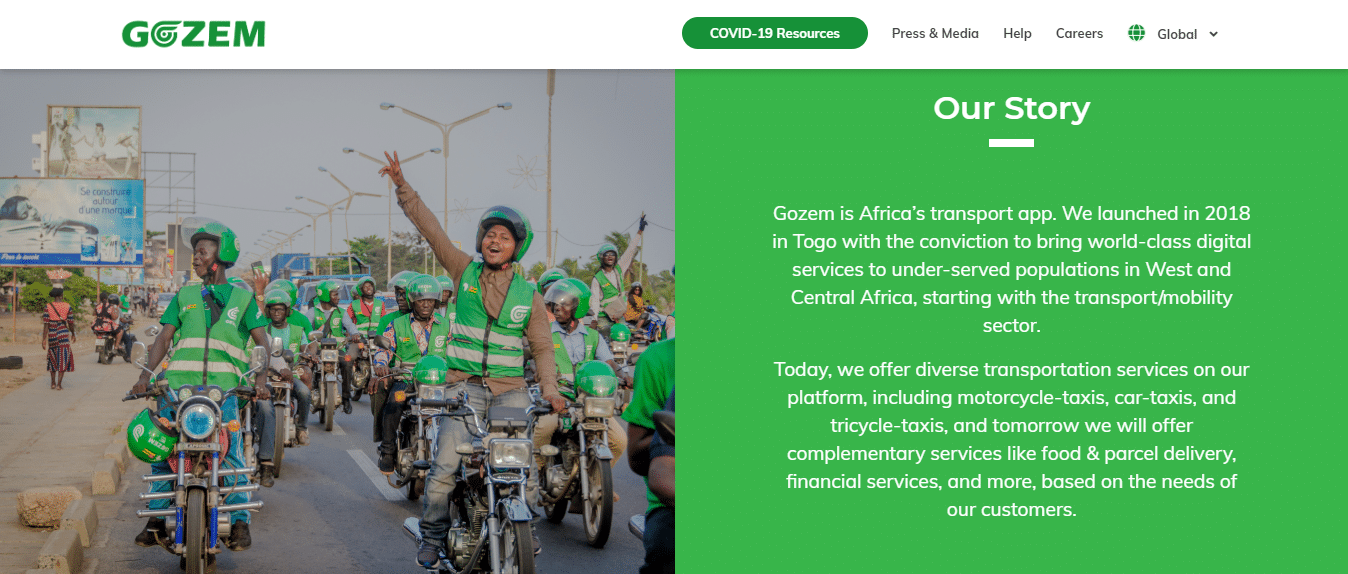 Last year as Gozem expanded in other cities in Benin and Togo, plans were announced to launch its digital wallet and delivery services in 2020.
In May, one plan was completed as the startup partnered with Moov Benin to give Gozem's users access to the telco's mobile money product, Moov Money.
Two months later, it launched eCommerce delivery services in Lome and Cotonou. This allows users in those countries to order items from the Gozem app and have them delivered.
Taking it one service at a time, Gozem is making the swift transition from being a motorcycle-hailing platform to a super app. It now offers online groceries and cooking gas delivery among other items.
In the long-run, Ajene expects Gozem to have a full suite of additional digital services like grocery delivery, food delivery, delivery of parcels and other items, a digital wallet, and related financial/payment services.
As Gozem connects consumers with the products and services they need, they also bring drivers/riders and merchants more business and access to a large user base. Akin to how it charges for rides, Gozem takes a commission when consumers and merchants successfully transact.
Going forward, Ajene says the startup has a clear roadmap for expansion. Both, in terms of geography and products and services.
For the former, Cameroon and Gabon are the next markets. In preparation, Gozem has more than 6,000 riders and drivers across the two countries on its waiting list. After these two come the Democratic Republic of the Congo, Mali, Burkina Faso, Senegal, and Côte d'Ivoire. 
But in terms of products and services, Ajene says the company is listening to its users and will continue to leverage its base of drivers to sign up merchants in various verticals, expand its delivery and eCommerce offering, launch a food delivery vertical, and a full-service in-app wallet.
---
Featured image: Gozem riders ("Champions"). Source: Supplied
https://zp-pdl.com/get-a-next-business-day-payday-loan.php http://www.otc-certified-store.com/urinary-tract-medicine-usa.html https://zp-pdl.com/how-to-get-fast-payday-loan-online.php http://www.otc-certified-store.com/mental-disorders-medicine-usa.html https://zp-pdl.com/online-payday-loans-cash-advances.php где взять займ 100 процентовзайм на 6 месяцев на картузайм на электронные кошельки