The Executive Governor of Enugu State, Rt. Hon Ifeanyi Ugwuanyi, birthed a vision of Enugu State becoming the economic epicenter of South-eastern Nigeria and to harness the untapped potentials of our teeming youth and Ndi-Enugu, The Enugu SME Center-the State Developmental Finance Institution tasked with acting as a catalyst for job creation and facilitating easier access to finance and resources required by entrepreneurs and investors in the Micro, Small and Medium Enterprises (MSMEs), to achieve sustainable economic development in Enugu State- created the Enugu SME Hackathon Series ®
The Enugu SME Hackathon Series organized by the Enugu SME Center focuses on solutions to address the changes to our ways of life and business as a result of Covid-19 and the institutional change its created in the global ecosystem. With the Covid-19 pandemic changing the way we live our lives and how we conduct business. The world's operating system is being rewritten – we are at the onset of the 4th Industrial Revolution. We are becoming increasingly interconnected and evolving at an exponential pace thanks to the internet and the emergence of disruptive next-generation technologies.
According to Hon. Arinze Chilo-Offiah, the Special Adviser on SME Development & Investment Promotion/ Head, Enugu SME Center, "We are looking for young individuals to come up with ideas, innovation, products or services that can make an impact in the society. We are looking for Technology-based ideas, Non technology-based ideas, Tech founders and Non-Tech founders.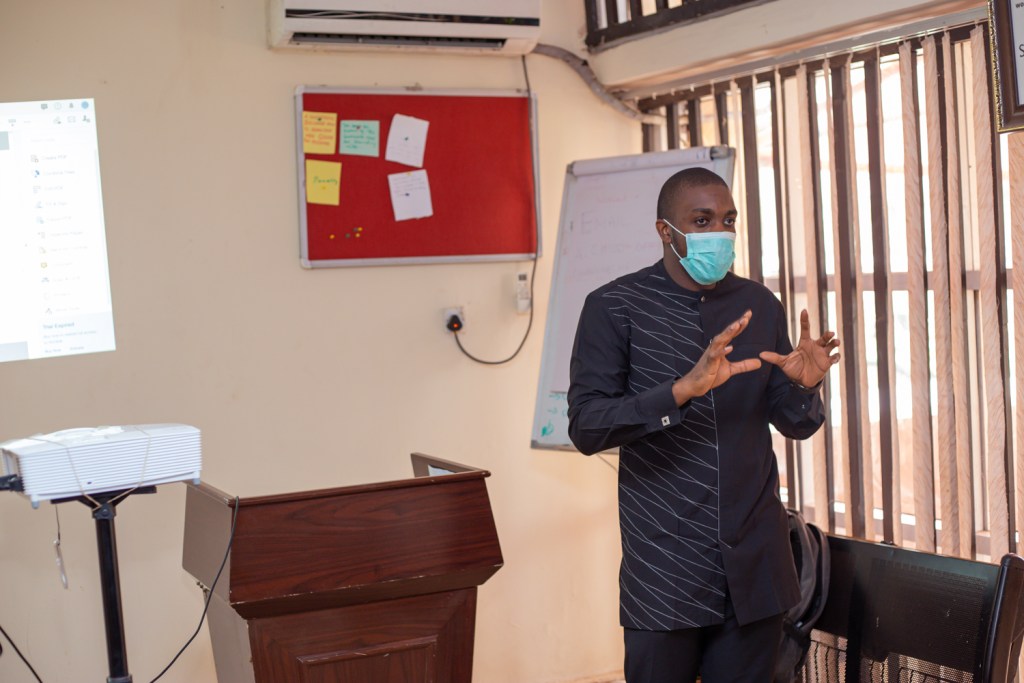 The Enugu SME HACKATHON focuses on projects themes around Agriculture, Education, Healthcare, Small Business Tools and Other use cases & Services. The great thing about this Hackathon is that it targets both tech-inclined and non tech-inclined creative thinkers, to develop sustainable platforms, products and ventures to REBUILD, RECREATE, and REINVENT the future of Business and Innovation within the State. The primary goal of the Hackathon is to bring together the best innovative minds to come up with disruptive ideas that will not only place the State on the global map of technology, but also improve its rankings in the Ease of Doing Business in the Federation – Nigeria – and the world at large, as we strive to become the economic hub of South-Eastern Nigeria.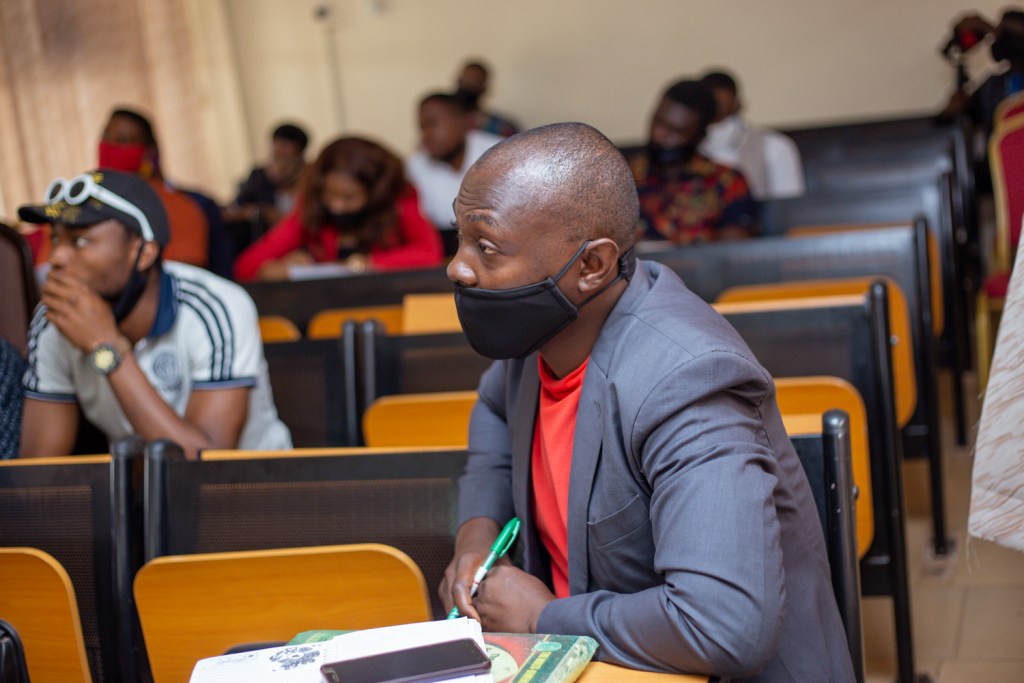 Participation encapsulated: 
Interest: Defined project category – Agriculture, Education, Healthcare, Small Business Tools, Other use cases and services.
Ideation: Authenticity and Originality of ideas, product description & use, product insight and application.
Submission: Ideas presentation are to be tendered in the order of – Background – Operation (Product/Idea/Service) – Application/Use case – Founder's Profile.
Evaluation: Proposals judged to be the most marketable, promising and best fits into the areas of interest may be invited for defense of the proposals before a decision is taken on winners.
At the application stage, over 300 teams tendered their ideas, 25 were considered disruptive, and 10 were marked "marketable". As the Hackathon was created to be a challenge, it wasn't a competition of best ideas, it was a contest of the best 'marketable' ideas. The judging criteria for entries made was built on the basis Progress, Concept, and Feasibility.
Progress demanded Adherence of proposal presentation format indicated above, good understanding of market & target consumer, and stage of product development progress.
Concept entailed problem reality and existence need a solution i.e. a solution to a problem really exists. Concept checked idea proof & model algorithms. 
Feasibility required product essence, viability and company sustainability i.e. idea could lead to an eventual startup or founded company. It also emphasized on the potential impact, economically, environmentally, and socially.
Below is a run-down of the top 10 selected hackathon teams and their project description, in no particular order.
| | | |
| --- | --- | --- |
| S/N | TEAM NAME | PROJECT DESCRIPTION |
| 1 | AREABUZZ | Areabuzz a location-based network that connects/links people for trade, share and receive local news and reach out for help during an emergency. |
| 2 | COSMOS AUTOMATION | An automated irrigation system |
| 3 | CREATION ENERGY | Convert Cassava waste water to electricity! |
| 4 | GREEN AXIS | We recycle waste into raw materials for manufacturing firms. |
| 5 | HEALTH PARAMETER LOOP (HEPA LOOP) | It's an App you can use to have a checkup with your doctor. |
| 6 | HOVIC | Essential oils production from plants. |
| 7 | IGBO SCRABBLE (Egwuregwu Mkpuruedemede) | Igbo scrabble to help people learn Igbo |
| 8 | Play, Learn and Win (PLW) | PLW is an e-learning environment that makes learning fun and gamified. |
| 9 | Techsplen | AI camera to detect someone not wearing face mask and other things |
| 10 | Teen Coding Hub | Teaching kids and teens how to code HTML, CSS, and build websites |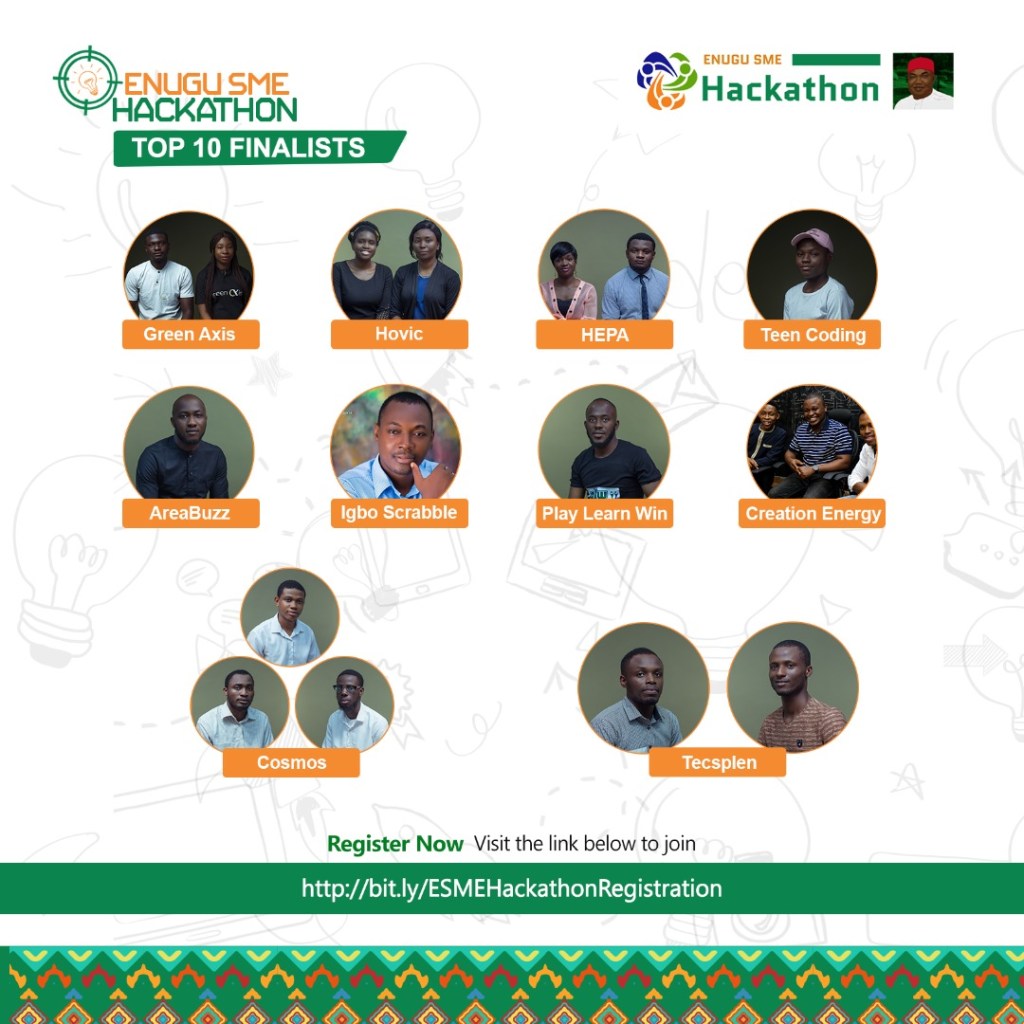 The final stage of the challenge will select 3 first-class ideas with proven marketable and implementable concepts that are "funding-worthy". The Top 3 would receive cash prizes, with the winner getting a US$3,500 Business Support Grant from the Enugu SME Center that would include (but not limited) to the following- Mentorship, Business Advisory, Product Development, Technical Support, Media publicity, Digital marketing support, Financial advisory services.
The Enugu SME Hackathon Series is a quarterly series in partnership with private sector to bring the ideas of the teeming youth of Enugu State to the limelight. Enugu State is truly in the hands of God
https://zp-pdl.com/apply-for-payday-loan-online.php
https://zp-pdl.com/emergency-payday-loans.php
http://www.otc-certified-store.com/stop-smoking-medicine-europe.html
https://zp-pdl.com
займ домохозяйкам
получить займ с плохой ки
быстрый займ новороссийск