Five years ago, I attended President Obama's Mandela Washington Fellowship 2015 at Dartmouth College for Young African Leaders Initiative (YALI) and was introduced to design thinking. I was stunned to see how, within Six weeks, with our facilitators' support, my team and I identified a problem, ideated a potential solution, and iterated on it until we prototyped a suitable product innovation. I was determined to teach the same entrepreneurial methodology to young people in Nigeria and across Africa. Upon my return, I started a nonprofit called Inspire Africa for Global Impacts Initiative and created our signature programme Ignite Innovation Labs (IGL). With initial Sponsorship by the U.S. Embassy Public Diplomacy Grant, the impact was significant- over 300 youth-led enterprises and jobs were created. 
However, after the COVID-19 outbreak,  a lot of these businesses were failing. For example, one alumni who had started a recycling business to empower youth to monetize recycling services had innovated new ways of doing recycling and grown her monthly revenue to $3000 after attending IGL cohort in 2018/2019, but was now struggling as customers and employees alike grew wary of all high-contact businesses. Just like that, years of hardwork and mentorship were swept away in the wave of the pandemic. I saw a critical need to virtually deliver programming and meaningfully equip youth in Africa with digital skills needed to build resilient technology-based businesses, hence, I launched Ignite Innovation Lab (IGL) Virtual Digital Transformation in July 2020.
IGL Virtual Digital Transformation Entrepreneurship Program 2020
Inspire Africa for Global Impacts Initiative is a nonprofit, headquartered in Lagos, Nigeria with the mission to unleash the full economic potential of Africa's youth through education and mentoring. To date, we have trained over 4,000 youth in Nigeria and across Africa, created new enterprise solutions, and created over 1,000 jobs. 
However, given recent COVID-19 social distancing requirements, we have redesigned our programming delivery for broader, deeper, and, importantly, continued and scaled impact through digitization. The organization's flagship program, the Ignite Innovation Lab Digital Transformation, is exposing African youth to digital business skills in the age of COVID-19, by bringing together 300 young talents virtually to innovate and collaborate on solutions to some of Africa's most pressing challenges. IGL teaches young adults human-centered design thinking, digital business skills and the toolkit needed to develop digital enterprises that are progressing the Sustainable Development Goals and the skills to thrive in the 21st Century Workforce.
During a four weeks virtual innovation lab, From July 27 — August 22, 2020, 300 selected participants took lessons on Google Suite Applications (doc, slide, sheet, etc), digital marketing, learned from industry experts, and went through an immersive innovation challenge facilitated through a process of Design-Thinking, where they worked in a diverse team of 5 from across different African countries. With the support of mentors, the teams used cloud computing to communicate with their members and worked on problem framing around the Sustainable Development Goals, ideated solutions to these problems, and advanced their ideas through the innovation process.
At the end of the innovation lab, representatives from each team pitched their developed solutions virtually to their peers, mentors, investors, and experts from global companies, foundations, and NGOs. The winning team members received a brand new laptop each to progress with their digital skills learning. 
Team 10, the Gold Prize Winner created a solution called Farmers Market Africa: an online marketplace for smallholder farmers to gain access to premium markets to sell their produce.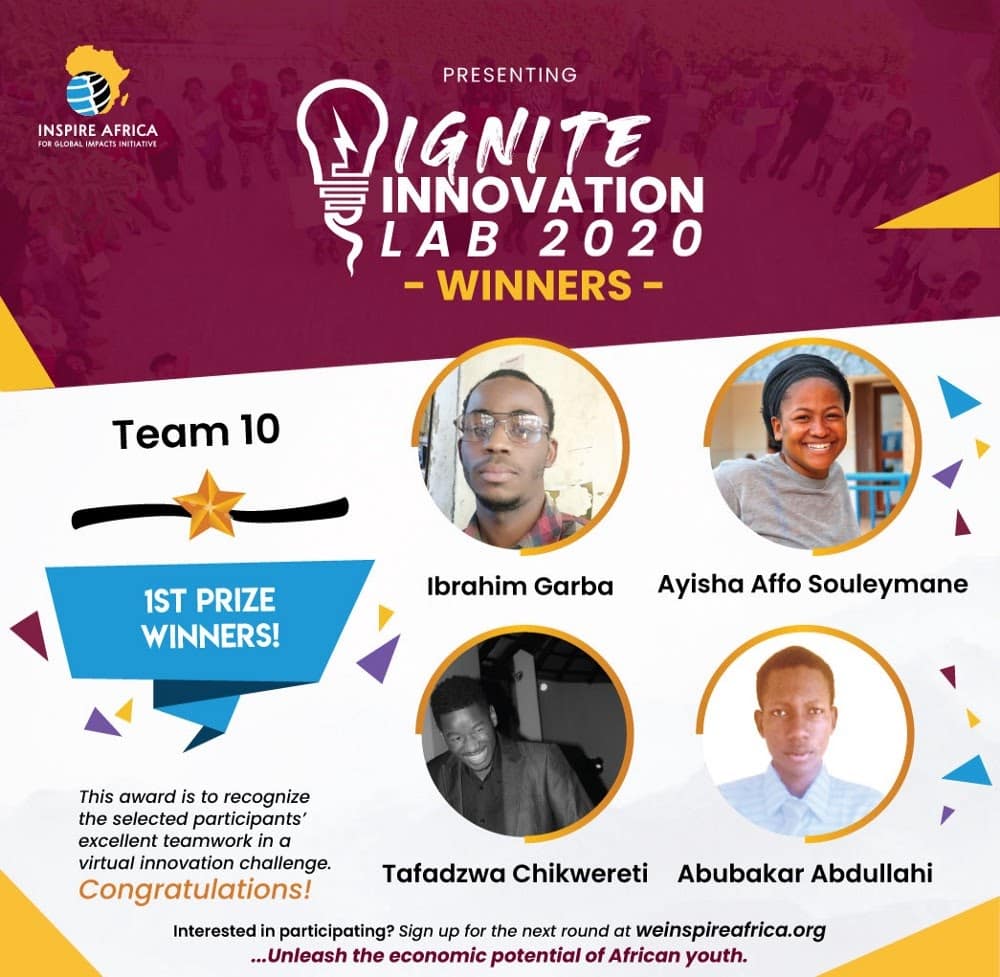 GOLD PRIZE WINNER (Farmers Market Africa), Ignite Innovation Lab Digital Transformation 2020
Team 8, the Second Prize Winner created VaccReminder, a digital reminder for vaccination schedule, and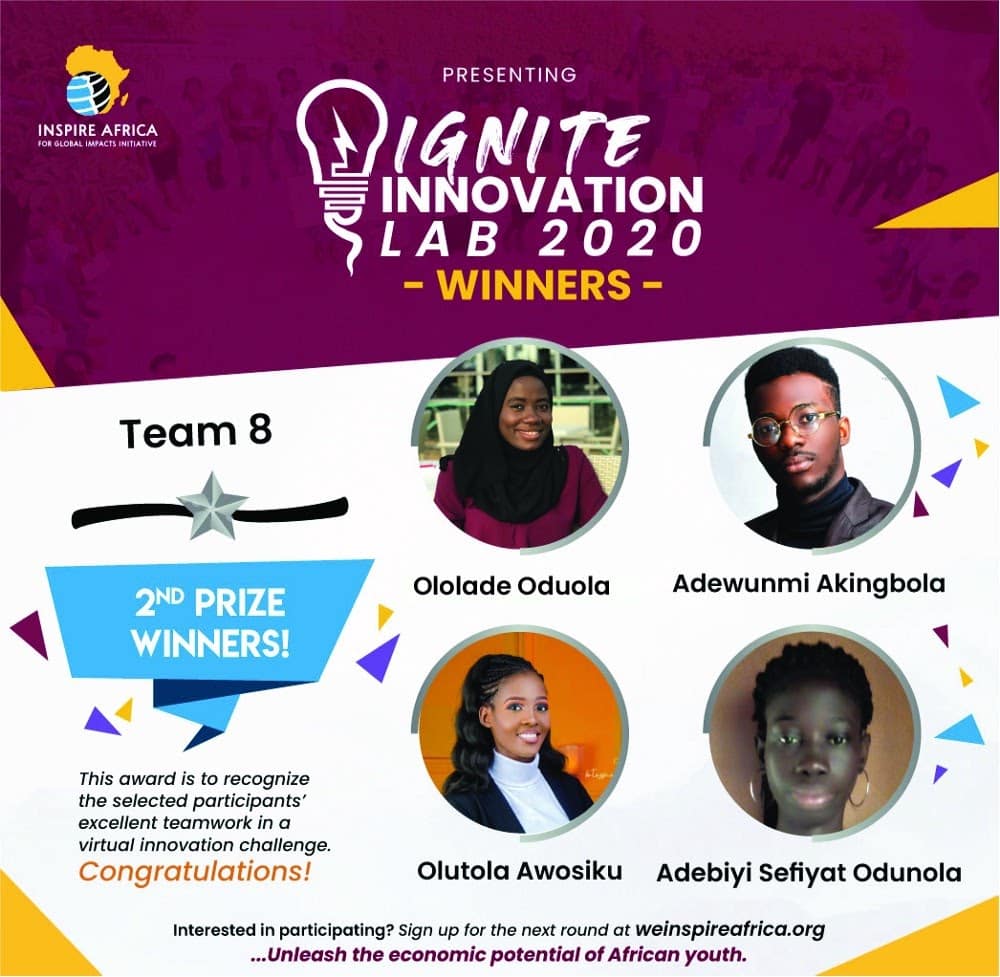 SECOND PRIZE WINNER (VaccReminder), Ignite Innovation Lab Digital Transformation 2020
Team 35, Third Prize Winner, created Maluso, an online digital skills learning platform for Nigerian youths.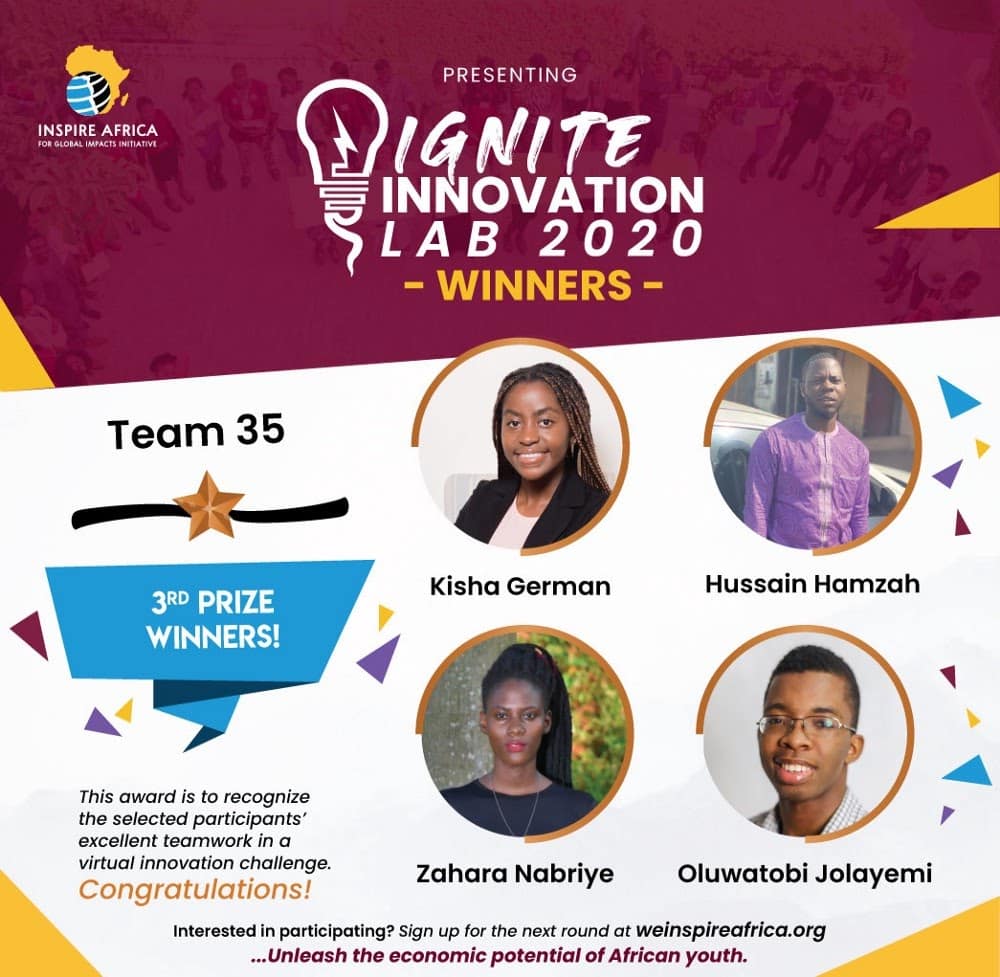 THIRD PRIZE WINNER (Maluso), Ignite Innovation Lab Digital Transformation 2020
According to the EY Job Creation Survey, "most disruptive and innovative entrepreneurs are both growing and hiring at much faster rates than peers who follow more replicative approaches."
In the past, I tried implementing an all African entrepreneurship program i.e. bringing youths from across Africa to Nigeria, to learn new ways of innovating and gaining business acumen. But it was challenging because of limited resources for travels and hotels. At last, we had only one person from Tanzania. But now, digital transformation, which has been heightened further by COVID19 has changed everything. Through the Ignite Innovation Lab (IGL) Digital Transformation entrepreneurship program, we were able to engage 300 youth from over 20 African countries virtually. 
In these unprecedented times, it is paramount for government and private organizations to develop unique ways of approaching youth unemployment and high SME failure rates. Aid is in short supply due to the pandemic, therefore, African governments, private sector and other relevant stakeholders must ensure that relevant digital business skills needed to catalyze entrepreneurship and adapt in the fast-growing global workforce are given utmost priority.
Special thanks to all the participants, mentors and judges of the Ignite Innovation Lab (IGL) Digital Transformation 2020. Congratulations to the Gold Prize Winners (Team 10): Ibrahim Garba (Nigeria), Tafadzwa Chikwereti (Zimbabwe), Ayisha Affo Souleymane (Ghana), and Abubakar Abdullahi (Nigeria). The Second Prize Winners (Team 8) Olutola Awosiku, Ololade Odunola, Adebiyi Sefiyat Odunola, Adewunmi Akingbola (all Nigerians) and Third Prize Winner (Team 35) Oluwatobi Jolayemi (Nigeria), Kisha German (Malawi), Hussain Hamzah (Nigeria), Zahara Nabriye (Uganda)
Thanks to our faculty and judges; Blessing Mene (CEO, Vetsark), Abimbola Adebakin (CEO, Advantage Health Africa) Andrew Airelobhegbe (CEO, OgaVenue), Funmi Ilori (iRead Network Director), and Gary Mastro (President, Marketing Solutions Group). 
Thanks to our mentors Francis Omorojie, Adetiloye Dayo, Chigozie Ubanagu, PRISCILLA OKECHUKWU, NseAbasi NsikakAbasi Etim, Ogunbowale Olugbenga, Nsikak-Abasi Etim, Tolulope Falope, and Stephen Wanyingo.
Thanks to my team Semmwa Madaki, Sarah Stokes, Tuba Shadan, Emma Kallman, Rahila O. Olanrewaju, and Blessing Mene. Thanks to all the participants for a successful completion of the Digital Transformation Innovation Challenge.
"If Africa is successful, its extremely young population will represent a tremendous source of productive labour and an extremely attractive market for a variety of products and services. Its success will be Africa's success and the world will also benefit from the creativity and resourcefulness of its people," said Claire Pierangelo, U.S. Consul General
Cynthia Mene
CEO, Inspire Africa for Global Impacts Initiative
To learn more about the program and sign up for our next cohort, visit www.weinspireafrica.org #IGNITEinnovation2020 #GoingDigital
https://zp-pdl.com/get-a-next-business-day-payday-loan.php
https://zp-pdl.com/fast-and-easy-payday-loans-online.php
https://zp-pdl.com/get-quick-online-payday-loan-now.php