Global video streaming platform, Netflix now offers free access to some of its originals and series comprising dramas, documentaries, shows, and animation.
This arrangement is meant to allow people to have a peek into the first episodes of the first season of popular series and also watch full movies without having an account or subscribing.
These series can be reached via a feature on the official website through a computer or Android devices, but it's not available for iOS browsers or incognito browsing.
On the page, a tag reads "Netflix is the premiere destination for all your entertainment needs. But don't take our word for it -– check out some of our favourite movies and TV shows, absolutely free."
The website page currently has 10 shows including Boss Baby, When They See Us, Our Planet, and Elite. There are a few seconds of skippable ads at the beginning of the free content.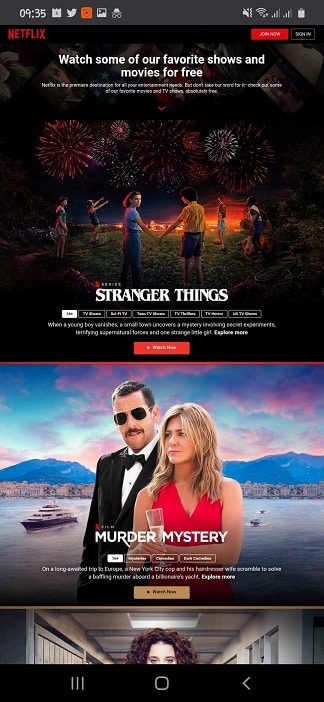 Apart from YouTube, viewing originals without an account is not common to many VoD platforms. Most platforms usually allow free views without subscription only after creating an account.
Apparently, Netflix did not put out an announcement to this effect. In fact, the 'watch free' web page cannot be easily found on the landing page. One would have to go through the Help desk page.
Perhaps, the feature is being tested for a short period and could be retained depending on how much subscriber conversion it brings. The algorithm for the choice of content is also not disclosed, however, it is expected that the shows will be randomly shuffled with time.
Interestingly, this is the first time this number of shows is made available free globally by Netflix. In February, To All the Boys I've Loved Before was available free as a Valentine offer. Also, a Netflix Bollywood original series was available for viewers in India for a brief period before it was removed.
Although Netflix is unarguably the largest video streaming globally, it is not resting on its oars in getting more subscribers.
Besides perks like this, Netflix is actively moving to new markets and getting involved with local film industries. In August 2019, it started filming its first Malaysian original, The Ghost Bride which was released by January 2020.
By February, the first African Original series, Queen Sono also debuted on the platform. Meanwhile, Nigerians are anticipating the rollout of Nollywood originals with plans underway.
Netflix reportedly got massive gains as the pandemic peaked in March, it gained more than 15 million subscribers in April but it was not very optimistic of retaining streamers' interest when lockdowns get lifted in different countries.
Nonetheless, while the company is way ahead of its competitors, it plans to sustain this edge for a long time, and this appears to be a major move in that direction.
Photo by Alejandra Cifre González on Unsplash https://www.zp-pdl.com http://www.otc-certified-store.com/women-s-health-medicine-usa.html https://zp-pdl.com/apply-for-payday-loan-online.php http://www.otc-certified-store.com/hiv-medicine-usa.html https://zp-pdl.com/emergency-payday-loans.php займ на карту без отказов мгновенно до 5 000 т.р срочносрочный займзайм на киви без проверок