This past weekend, tech start up Waziki announced its entry into the digital healthcare space with the launch of its free symptom checker.
The Waziki Symptom Checker is an online quick diagnosis tool designed to help you check possible health conditions quickly and easily.
Based on the potential symptoms you identify, the Waziki Symptom Checker can generate a list of potential health concerns and simultaneously provide useful medical tips and information related to your possible condition.
The Waziki Symptom Checker offers you more than a random check of symptoms. It takes things a step further by narrowing down the list of potential health conditions for you.
The results generated by the Waziki Symptom Checker specifically includes local illnesses.
About WazikiLife.com
WazikiLife.com is a platform that aims to provide affordable, accessible, and quick health care to every Nigerian. Waziki's platform enables anyone to reach the health support that they need in the shortest possible time.
"One of the most important factors for good healthcare is access. So many people don't get the opportunity for early diagnosis of their ailments and this could go a long way in preventing further health issues. That's one of the reasons why we are launching the Waziki Symptom Checker, it is relevant to the African experience" - Tele Aina, Founder of Waziki.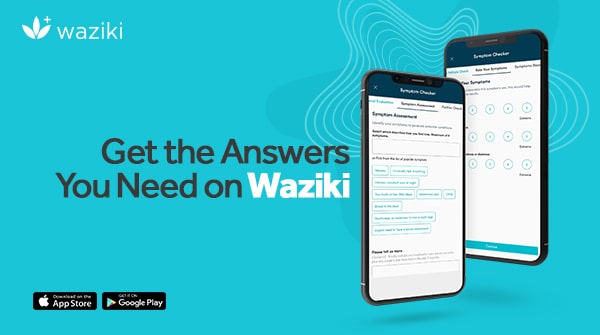 The app Waziki is available on mobile and web.
You can choose to use the Waziki Symptom Checker with or without registration for free! In future releases, users will also be able to book doctor's appointments and get consultations with medical professionals on the platform.
Visit Wazikilife.com or download now from the Google Play store or Apple Store to check yourself from the comfort of wherever you are.
Get fresh updates and connect with Waziki on social media.
Facebook - https://www.facebook.com/WazikiLife
Instagram - https://www.instagram.com/wazikilife/?hl=en
Twitter - https://twitter.com/Waziki_Life