Goatti is an online livestock investment management firm that is attempting to tackle meat shortage in the country using modern technological devices that is available to almost any adult in the country.
With the Federal Government of Nigeria expressing concerns about the fear of red meat shortage projected in a few years time due to the population growth rate, more private players are needed to enhance the production and manufacturing of processed meat to meet quality standards and use technology in facilitating the rearing and supply of red meat to Nigerians.
Livestock farming has long been an area that interests a lot of Nigerians, but many are faced with the stress and hassle involved. Goats, cattle were chosen specifically for their durability and ease of rearing. With over 2000 Goats sold within its first year of operation, Goatti has continued to ensure it creates the largest marketplace of Livestock in Nigeria with the focus of ensuring red meat protein surplus to the growing population in Nigeria.
Not just an online livestock investment company, Goatti offers other services such as retailing of traceable and well processed goats and cattle in a popular marketplace, red meat delivery to households, Food Chain Outlets, and haulage services of goods and livestock within Nigeria..
EARLY DAYS
Goatti started off as a physical livestock farm in 2017. Coming from an agric-centric background, CEO of Goatti, Oniyide Ifedayo has always been passionate about farming - livestock farming in particular. Having been in the media and entertainment sphere for a while, he saw an opportunity to be explored in the agric sector.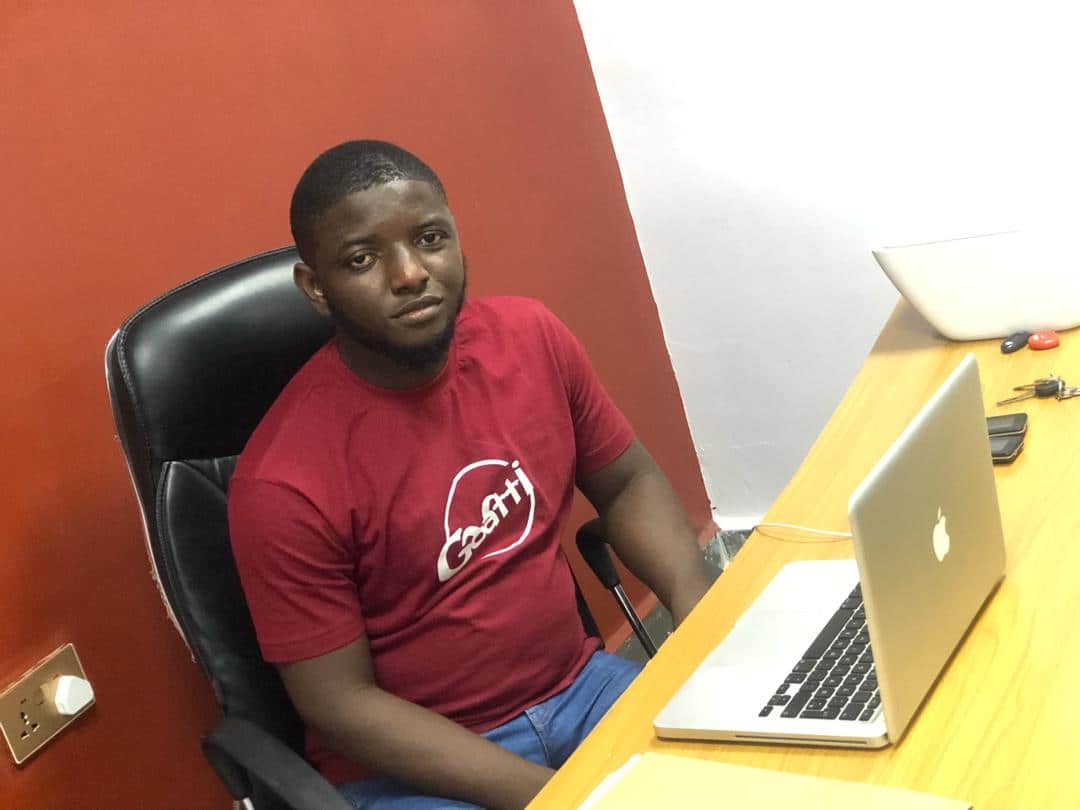 Starting with little capital and a great deal of commitment, he alongside a small team started out by selling goats in a local market as well as supplying a few restaurants with goat meat. With the business growing at a fast pace, he came up with the idea of using available technology to make livestock farming accessible to Nigerian from the comfort of their smartphones and desktop devices. .
BUSINESS MODEL
With the complications involved in livestock farming, Goatti allows Nigerians to invest in a virtual livestock farm without the stress associated with a physical farm and gives a certain return on investment after maturity. Goats & cattle were chosen specifically for their durability and ease of rearing. With over 2000 Goats sold within its first year of inception, Goatti has continued to take strides to ensure it creates the largest marketplace of goats in Nigeria.
Goatti offers its services to stem the declining production of red meat. With the web app, people can open a livestock farm (goats and cattle) for as low as N50,000 for Goats and N100,000 for a cow.. The initial investment includes the cost of feeding, vaccinations, treatment of livestock and farm labour. Goatti also offers a return of 22-30% to its investors for each goat or cattle sponsored after six months of offtake. With this, Goatti has brought about a renewed interest in livestock farming with the youth and working class as its targeted demographic.
The company has three physical farms - one in Lagos, one in Abeokuta and another in Katsina state. A bigger stall was acquired in Lagos biggest livestock market market as the company keeps growing to accommodate the growing increase in demand of red meat by Nigerians.
Recently, Goatti launched its haulage investment scheme. In this plan, investors are offered a 45% return on initial capital of N1.5 million which is paid after 12 months.
Delving into Logistics, the company recently acquired five new heavy duty trucks to facilitate the transportation of livestock across the country. The logistics sector is thriving in NIgeria currently and is estimated to be worth around N460 billion. Hauling and supplying major meat markets across the country has made the company even profitable. Not just supplying markets, the company also acquired delivery motorbikes to aid in supplying households in Lagos state with meat. This is to bridge the gap between the increasing demand for meat and supply.
The pivot into logistics was partly influenced by the recent COVID-19 pandemic which has affected businesses worldwide. With open markets closed following lockdown by the Federal government, Goatti products which include meat and milk can be delivered to the doorsteps of customers after placing an order on the website.
With Nigerians consuming over 90,000 Cows & 22,000 goats and rams daily according to estimates from the Ministry of Agriculture, Goatti also is expanding its supply chain supplying large retail aggregators (Supermarket & malls), Quick Service Restaurants & Local vendors with fresh goat meat and beef. Their client. Portfolio has only increased since they started a couple of years ago.
In a recent statement put out by the company, in order to better serve their customers, Goatti intends rolling out new services on their web app which includes; Save on Goatti, Buy on Goatti and Pair with Friends. Explaining the features, the statement read, "These new features would be introduced to ensure users can save towards purchasing a cow for any forthcoming event after a satisfactory inspection at our marketplace while we deliver to their doorstep. Pair with friends will give users the option of an equal sharing plan for up to 12 people."
FINANCING
The firm was initially bootstrapped by the founder and CEO, Oniyide Ifedayo in its early stage, but is currently funded by a pool of investors/sponsors. So far, Goatti has generated over N250 million as investment from Nigerians and aims to reach an investment bandwidth of N1billion Naira before the end of 2020. In the past 3 years, Goatti has been well received by thousands of Nigerians. The recently completed cycle has been the biggest. The company recorded an increase in its number of investors. Also, over 5000 livestock (goats and cattle) were sold with the sum of over N300 million paid out to investors.
These figures reveal the wide acceptability of the platform that allows ease in owning a farm in Nigeria. It has rejuvenated a nationwide interest in farming and hopes for the economic growth of the country. For years now, the country has relied heavily on its crude oil exports as the mainstay of the economy. However, dwindling oil prices has brought about a need for diversification, with agriculture being an excellent alternative.
TACKLING CHALLENGES
It has not been all rosy for the company though. Running an agritech firm in Nigeria can be quite challenging and Goatti has also faced a number of difficulties according to the CEO. He cited lack of funding and sponsors as one of the early challenges faced by the firm. In addition, he said, "The cost of taking care of the animals can often be expensive. Providing good leguminous feed that ensures proper growth can also be difficult since they are often gotten from the Northern part of the country.
This increasing cost of rearing livestock & transportation of livestock from the farm to the marketplace has been a major challenge." By leveraging on the trucks though, the company has reduced cost of transportation.
EXPANSION PLANS
With operations primarily in Lagos, Goatti plans to expand its delivery chain to other states across the country. That means getting more delivery bikes and also increasing its fleet of haulage trucks. There are also plans to expand the area of its physical farms while increasing herds of cattle and goats.
Furthermore, Mr Ifedayo said, " At the moment, the company is developing a 100 feet (500 Tonnes) cold room and storage facility to ensure better preservation of beef for easy and fast distribution of red meat within the state and country at large. Other logistics and physical  infrastructure are currently ongoing to ensure we contribute our quota to the livestock industry at large."
Still expanding, the company recently moved to a bigger office space in Lagos to accommodate its increasing staffing strength.