The Camon series is one of TECNO Mobile's best smartphone series. The series focuses on equipping a smartphone with the best camera technology possible. And in today's phone market, camera is an essential feature of smartphones. They say "Moments don't last forever, so make it memorable", one of the many ways to make it memorable is by capturing the moment. Taking photos and videos of our precious life's moments with the help of our smartphone's front-facing camera. The TECNO Camon smartphones usually have the very best of camera technology in the Africa market.
The TECNO Camon Camera Evolution
Over the years, we have witnessed the evolution of TECNO's Camon camera. The latest being the TECNO Camon 12, which was released in September 2019. The first Camon smartphone was launched back in 2015 - the TECNO Camon C8. The selfie camera of the Camon C8 features a 5MP sensor, which was quite good at the time.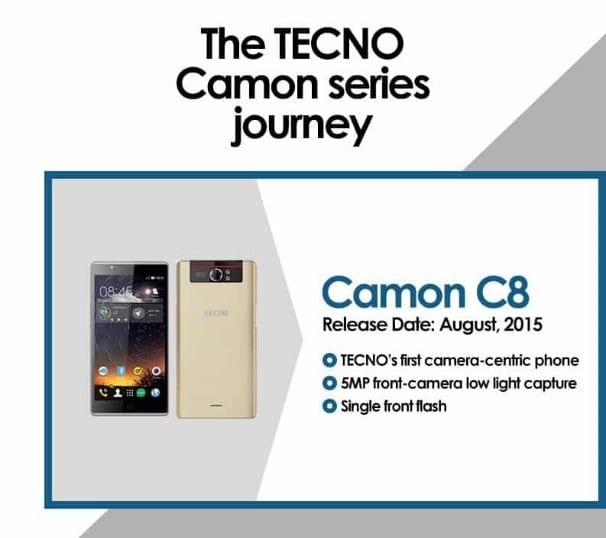 Then in 2016, we had the second generation of the Camon series - the Camon C9. The device features a 13MP front-facing camera, which is more than twice what is available on the C8.
March 2017 saw the birth of the third Camon device - the Camon CX, which features a 16MP selfie camera alongside a quad-LED flash to help brighten photos in low-light conditions. The evolution will then take a step backwards in January 2018, as the then-new Camon CM comes with a 13MP front-facing camera. Don't know if you know this quote - "minor setback for a major comeback"?
Just before the end of 2018, TECNO Mobile bounced back with the release of the Camon X and Camon X Pro. The Camon X packs a large 20MP selfie shooter while the Camon X Pro comes with an even larger 24MP selfie shooter.
From 2018 ending to 2019, the company launched the Camon 11 followed by the Camon 12 with dual and triple cameras at the back. It is suffice to say that we are now in the ERA of Multi-Smartphone cameras.