Imagine what it will cost you to hire a ride-sharing cab or a yellow cab to take you around town for a whole day. Add to that, you have no expectation of the kind of service you will get - delay in pick up time, increased cost during peak periods, drivers declining requests to traffic prone areas and short distances. All of these and more are frustrations people face every day.
As a result of this, and due to its commitment to provide an efficient transport solution, Gatatransport, a fast-growing Digital Transport and Logistics Company, providing Vehicle Rental, Logistics and Inter-State Travel Services within Lagos and to other states in Nigeria, launched its mobile app, GOGATA to make mobility and logistics easier.
Since inception in February 2018, Gatatransport has been focusing on ensuring safe and comfortable mobility to customer destination, while offering unbeatable rates.
With the Gogata App you don't need to own an SUV to drive one; You don't need to acquire a HIGH-END vehicle to give your loved ones a special treat once in a while; You don't need to have a LUXURY car to attend that high-level business meeting; You shouldn't be STRANDED when your vehicle is undergoing maintenance; You shouldn't be IMMOBILE when you are in town for a short time.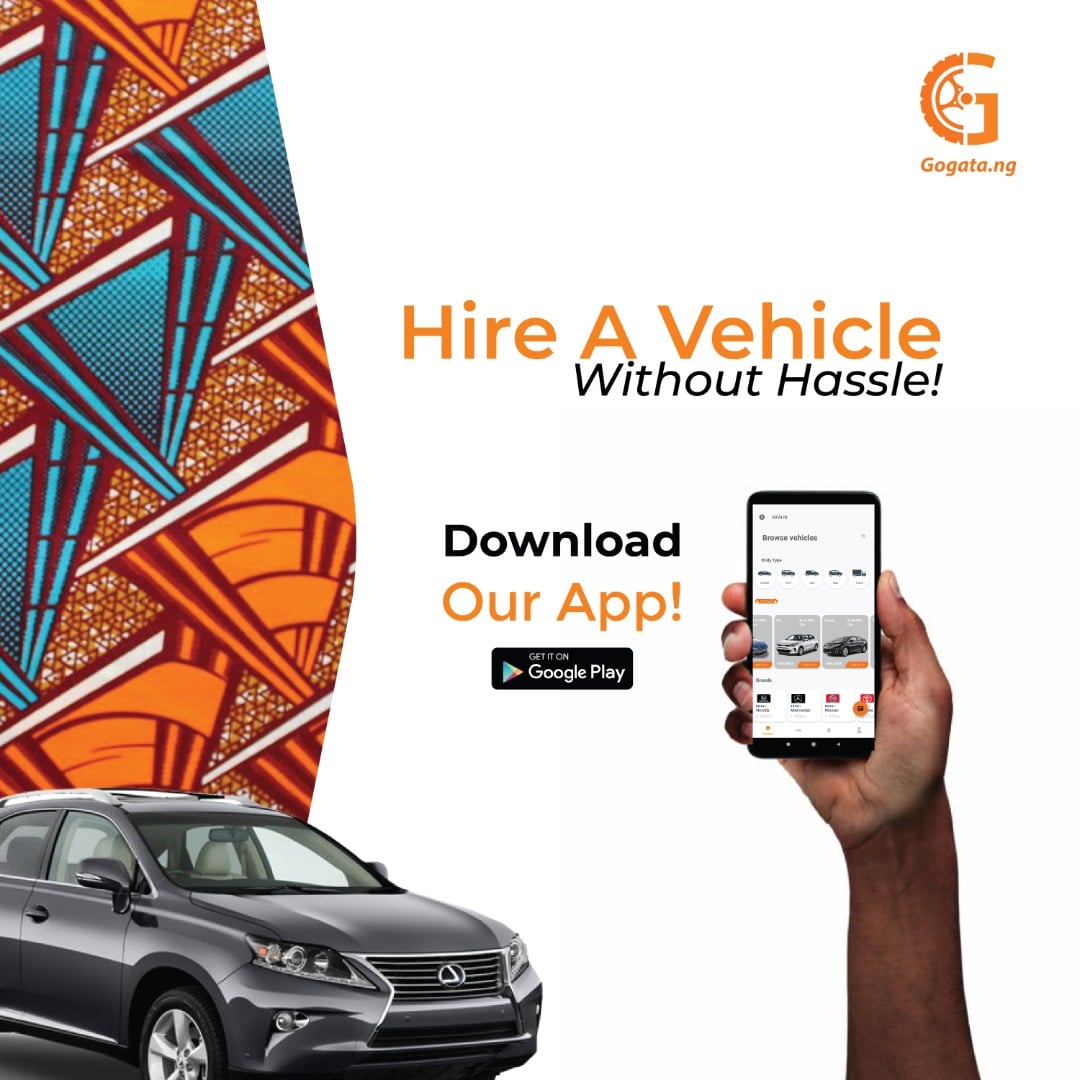 The Gogata App allows users RENT (to self-drive) or HIRE (with a driver) any vehicle of choice for as long as they need it, at the most affordable rate in town.
If you are planning a group trip for a wedding, excursion, school or work shuttle, airport pick up and drop off, company pool car, hotel charter, among others, the Gogata App is just right for you.
The Gogata app is a Vehicle Rental platform with a wide range of Vehicles – Sedan, SUV, Van, Bus, Truck, among others.
Beforehand, Gatatransport relied heavily on calls for bookings and vehicle reservations, even when its website was functional, which is till date. This resulted in too many calls with back and forth on vehicle hire pricing model because people preferred calling to book, than making reservations via the website. But with the introduction of the Gogata App, there has been a huge shift from call, to app booking.
The Gogata App was officially launched on the 16th of February 2020 when the Company marked its 2 Years Anniversary.
This App is a well-structured and regulated market place that provide opportunity for industry stakeholders to participate through Vehicle Partnership. With the Gogata App, you can turn your vehicle into an asset that generates revenue when it's booked by other users, while still using it for personal operations when it's idle on the platform.
The Gogata App by Gatatransport is set to pioneer an uncommon product within the fast-rising tech transport industry in Nigeria.
This is yet another fresh idea from the transport tech sector that promises to disrupt the status quo across ride-sharing, logistics and top travel and mobility platforms in Africa.
You can download the Gogata App on Google Playstore below.
https://play.google.com/store/apps/details?id=com.gogata.gogata