PricePally has helped families and businesses, in Nigeria, save up to 25% of their monthly expenses on food since it launched fully in November 2019. Pricepally.com is a sharing economy e-commerce platform that provides access to affordable, quality and nutritious food items.
Simply put, anyone can buy food in bulk or share bulk food items with other people online (your pallies) which helps save money compared to buying at retail price. You order foodstuff from the comfort of your home from PricePally, and we deliver to your doorstep! Saving more than just money but time also!
Why did we create PricePally?
Nigerians, especially those living in its urban cities, spend over 56.4% of their monthly income on food, which is the highest in the world. There are nine other countries that spend over 40% on food. Four of them are in Africa: Nigeria 56.4%; Kenya 46.7%; Cameroon 45.6%; and Algeria 42.5%. (USDA research).  This, added to the fact that there is an increased rate of road traffic in African cities, makes food purchase much more expensive than ever. We created Pricepally to solve this problem. Our vision is to solve this problem across urban African towns starting with Lagos
How to use PricePally
You can start shopping on PricePally right away using our website www.pricePally.com. If you want a more convenient and seamless weekly shopping experience opt for the PricePally mobile app which is available on Android and iOs.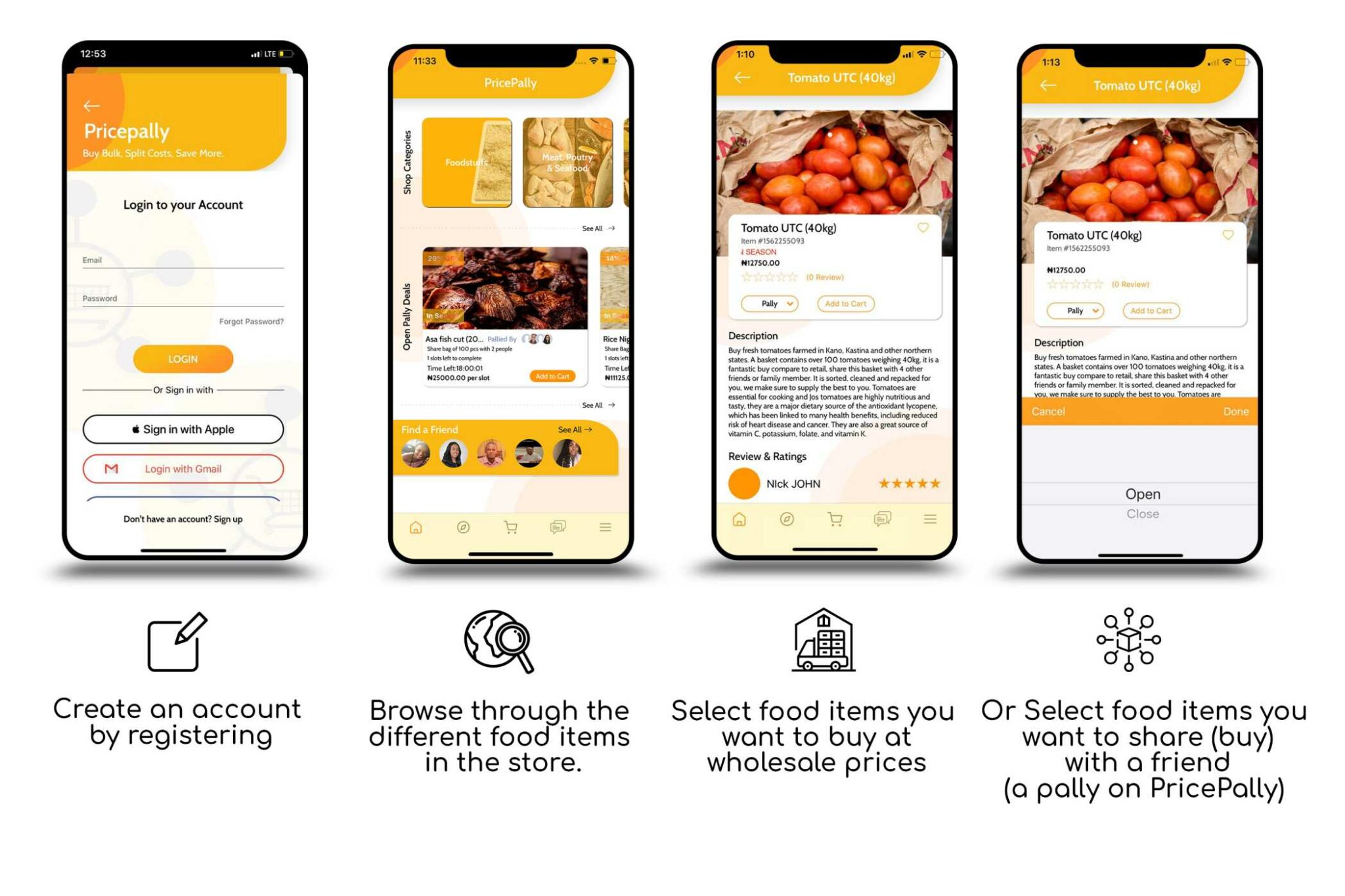 Create an account by registering
Browse through the different food items in the store
Select food items you want to buy at wholesale price
Or Select food items you want to share (buy) with a friend (a pally on PricePally)
How to buy and share bulk food with other people on PricePally
This is one of the fun features of PricePally. With this feature, you can buy bulk food items with another person (a pally), and this will increase the amount of money you save when purchasing food items.
There are two types of pally on PricePally— the open and close pally.
Open pally enables users to share any food item with the public, such that anyone who is online can join an open pally by simply buying a slot.
Close pally helps users share the food item with people they follow on Pricepally privately. Users can 1
Users can buy bulk by simply clicking add to cart or share by clicking on pally and following the simple instructions.
Who can use PricePally?
Anyone!
You can use it to buy food items for your home; colleagues at work can share food items on PricePally.
Have an upcoming event? You can use it to buy all the food items your caterers would be needing and ship it to them!
Grab this limited offer!
Get N1500 off your first order. Use "TECHPOINT" in your checkout.
Follow us on social media: @PricePally on Facebook, Instagram, Twitter
Customer Careline: Call 07045000137
Whatsapp: 07045000137