Isn't it unpleasant to have someone spying on you or looking over your shoulder while you're surfing the Internet? Don't worry; from now on, it will never be the case again. An innovative program, created by Utopia, will be available very soon. The software will be able to free itself from the surveillance and censorship that is usually found on the Internet. The future holds out its arms to you!
Your complete anonymity will be preserved during your work, thanks to this innovative and sensible solution. Freedom of expression and human rights are the leading causes of this interest, not to mention, of course, the security at a time of unprecedented surveillance and censorship on the Internet. Will we then see a repetition of George Orwell's 1984 script? The answer will become obvious with Utopia's exclusive software.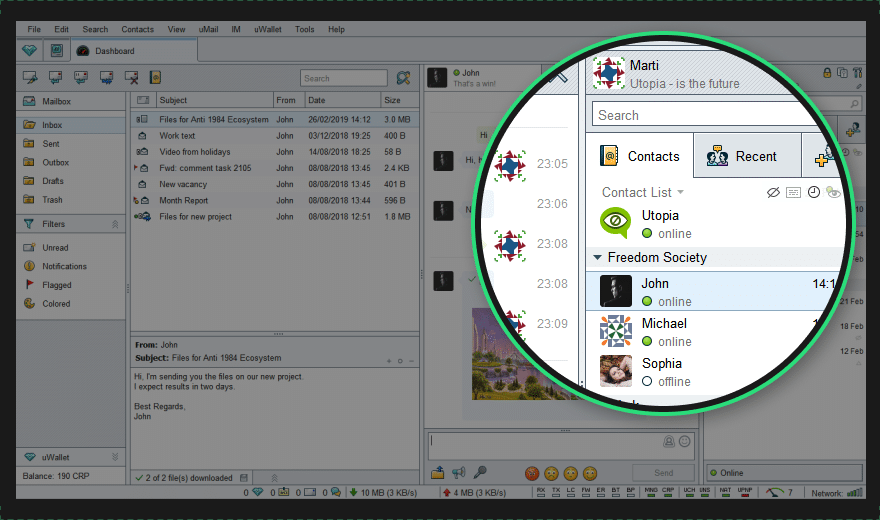 Big Brother is now out of the game for many Internet users. You will be able to taste the joys of surfing the Internet again like never before. The engineers have devised a platform that communicates in a way that differs from the other system. In George Orwell's world, computers exchange information with each other by sharing information between different servers. In the world of George Orwell only. A few explanations: Utopia's ecosystem functions as a decentralized peer-to-peer network, which eliminates the central server usually used to store data and transmissions. The security of your information will then be of the highest order, as only Utopia users are allowed to share it. Don't worry; this innovative solution is downloadable and suitable for the most familiar operating systems such as Windows, Mac OS X, and Linux. And for mobile phone enthusiasts, mobile applications will be available from 2020.
The program provides total anonymity, and this is probably its main subject. State-of-the-art technology is essential, and an alliance of the most advanced encrypted structure such as AES256 and Curve25519 preserves the encryption of your data, which is also used by default. This requires fewer actions, such as clicking or saving and encrypting. Life then becomes easier and faster.
The application provides an excellent offer of specific tools. Encryption of any data is enabled by default. From now on, no one will be able to see your messages, except of course yourself, thanks to the encrypted instant messenger, uMessenger. This instant messaging is entirely secure. About your mail too: uMail will help you by encrypting it instantly and is fully protected from any forms of spam.
Among the thousands of applications, instruments, and tools, one attracts our attention -uWallet. The payment system features which are being complete and encrypted by default will keep your information and data secure. As for privacy, the private browser called Idyll protects your identifiers, and your online activity will remain permanently anonymous.
uWallet is also designed for accepting payments on websites and making online purchases with built-in mineable Crypton cryptocurrency and Crypto Cards.
Crypton currency is mined by every user of Utopia Network who keeps his Utopia client running and online for participating in data transmission. The rewards are credited every 15 minutes after the generation of a new block. In order to boost the power and speed of mining, you can use integrated mining bots that can be installed on unlimited number of devices. The more mining bots you run, the more mining threads you have and the more Crypton you earn.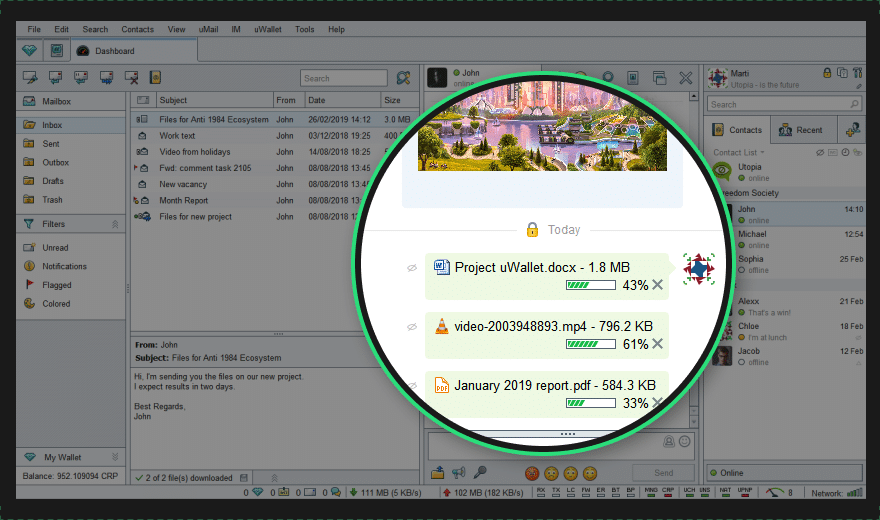 To describe the Utopia and its functions in a few words is almost impossible because the task is so great. The best advice we can give today is to try it. Don't worry about getting to grips with its products and tools: use is still effortless. The system is designed in such a way that no manual or instruction is required to get started. It will be possible for you to set up your network, run, and share files.
Utopia offers you an innovative technology composed of a decentralized P2P network, and you will then live the best experience possible. Your way of working will completely change. The Utopia ecosystem is a new type of tool and tool that is essential for many users and enthusiasts of safety and anonymity. Get ready, and try Utopia right now!