As part of its ongoing commitment to building the technology ecosystem and to ensure it competes favourably with developed countries, Terragon, Africa's fastest growing enterprise marketing technology company, recently convened young technology experts to train them on Google's Angular framework.
Riding on the theme: "Angular's Mindset", Terragon along Egghead.io and myCloudSeries took participants through cutting edge applications in code writing, building scalable web applications, building secure applications, using forms right and user experience in cloud deployment.
At the event, tech leaders such as Senior Software Engineer at Terragon, Kelechi Oti, Head Digital Banking at TeamApt, Simpa Saiki, Head Infrastructure and Security at SeamFix and Google Developer Expert in Angular and founder of Haibrid, Sani Yusuf all took time to train the young Angular developer community.
Oti stated that Angular Nigeria Community is the Nigeria community representing the Angular developers nationwide. According to her, Angular is a frame work built by Google to aid frontend development, therefore "we are here to talk about Angular and not just angular alone but everything that concerns the web," she said.
Though the Meetup that has lasted for over 3 years in Nigeria, the senior software engineer at Terragon revealed that the community has continued to grow from inception giving birth to some of the world renowned tech experts from Nigeria.
"We are growing and growing stronger every year. Today, we are gathering to learn how to build scalable web application, how to add security to web application and how to properly deploy Apps with user experience in mind," adding that "Sani Yusuf who is the Google developer expert and also the founder of Haibrid is also speaking , Saiki of TeamApt, Ewere Diagboya is also here to talk about UX," Oti said.
Oti further stated that Angular was built to combat the problem of scale . According to her, several enterprise developers who build applications that are scaling may have done that without Angular.
Apart from grooming talents and feeding them to the wider industry, Oti said, "the idea of the community is to grow together. People can grow individually but the growth has to trickle down to their work place as well as helping one another whenever one has difficult challenge building an app."
Also speaking on building highly scalable web application, Simpa Saiki said, developers usually always think scalability is about the hardware, servers and environment that they will deploy but it is more of a mindset.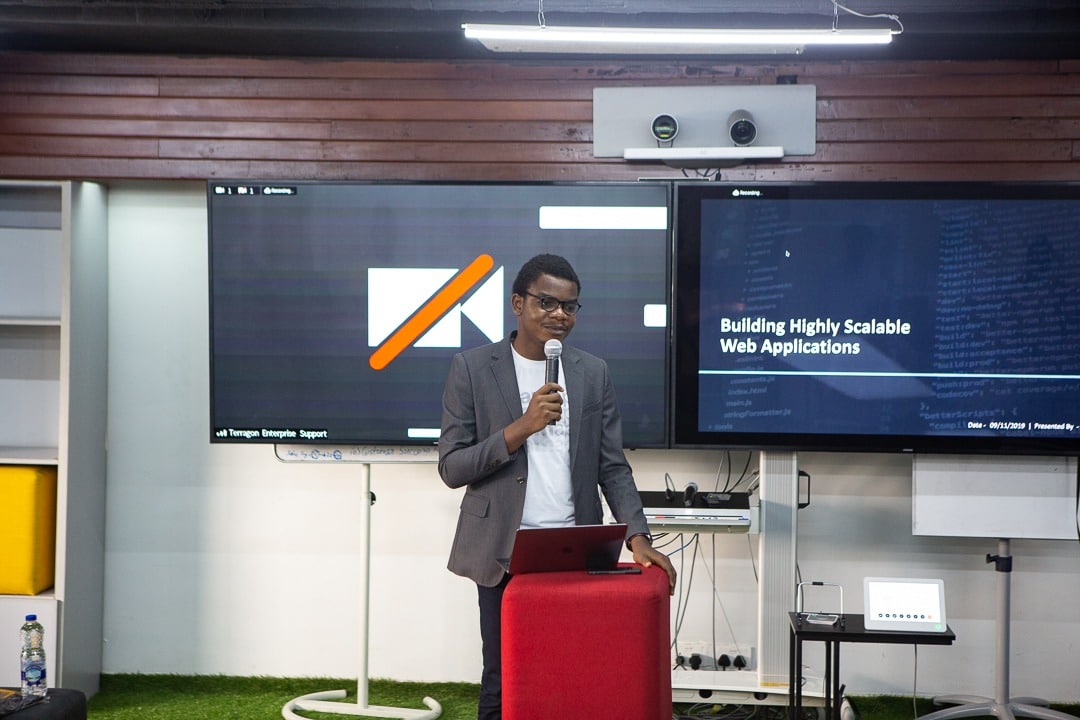 "Building highly scalable web application is more of a mindset, more of a how than where, so it is a matter of how do you build highly scalable application, what are the things you should consider when building your application. So, basically in building highly scalable application you are more concerned about the things that you should do when you are actually writing the code not necessarily about the environment you end up deploying the application," Saiki said.
A knowledge sharing platform such as this becomes more important as globally, Africa is seen as not being at the forefront of technology in terms of software and technology talent. The responsibility therefore is on industry leaders, to always drive thought leadership, impact knowledge and lead the way.
Terragon which started 10 years ago has offices in Nigeria, Ghana, Kenya, Mauritius, South Africa and India with more offices being planned in other continents; Terragon has invested millions of dollars in marketing cloud and data analytics technologies to lead innovation in enterprise marketing and cloud solutions in Africa.
At Terragon, "we see ourselves as an innovative brand, taking responsibility for the eco-system and trying to build talent and solutions for the future".
"In a continent of about 1.2 billion people across a landscape that may be larger than all other continents put together, it is often quite difficult to identify and reach people in Africa.
Our goal is to use data and technology to simplify this process of connecting brands to the African consumer through innovation on the mobile device".