Introducing Octa, A Fintech app that Gives You Higher Interests on Your Savings (And Why You Should Give It a Try)
The Nigerian fintech space has generated a lot of attention in the past few years with new entrants vying strongly for the consumer's interest with exciting features. One of such new entrants is Octa. Octa is an online savings and investment platform that allow users to save towards their dreams. Users enjoy higher interest rates while the lacuna of a poor savings culture in the country is being filled.
Octa, a subsidiary of Page Financials, is positioned to become a preferred choice for users by delivering an exciting and easy user product interface, competitive interest rates which rank higher than is obtainable in traditional financial institutions while also giving users the freedom to access their funds at no charge whenever they want to.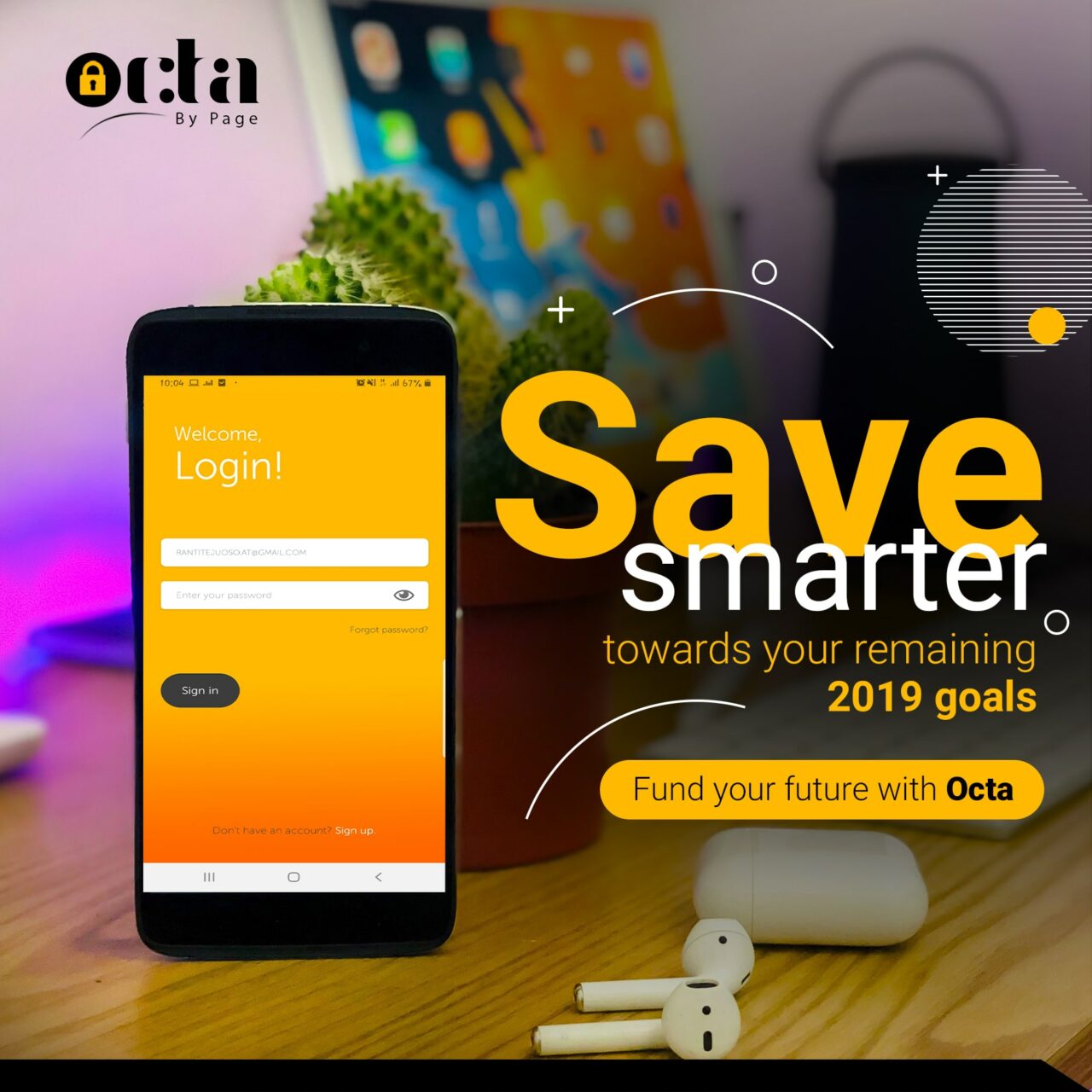 Why Octa is Perfect for you
Automated Savings
Octa takes the stress of savings or making transactions off you by automating the process to fit frequencies you are convenient with; daily, weekly or monthly
Multiple Goals
Users can create more than one savings goal for the different targets they have. Each goal enjoys a competitive interest rate.
Quick Save
This feature allows users to deposit bulk money that they do not want to spend.
Bank grade security
Your money is safe with Octa as it is warehouse by Page Financials.
Excellent customer service
You can reach Octa at any point of your convenience at any time, email, calls, WhatsApp and on social media. They are very responsive on all channels.
Flexible savings
You can choose how much and how often you want to save. You can pause, stop and continue your savings goal at any time.
Octa packs exciting feature along with a highly competitive interest rate of between 11-13% per annum.
Having in mind the need for security, Octa was designed to have bank grade user protection. This begins with a mandatory BVN registration process. With this, users are easily profiled and verified to mitigate against fraud. Octa's end to end process is safe, customer-friendly and convenient to use.
Octa is available for download on Playstore for android users and Appstore for iPhone users. To learn more, visit the Octa website .  
To use the product, all you need to do is;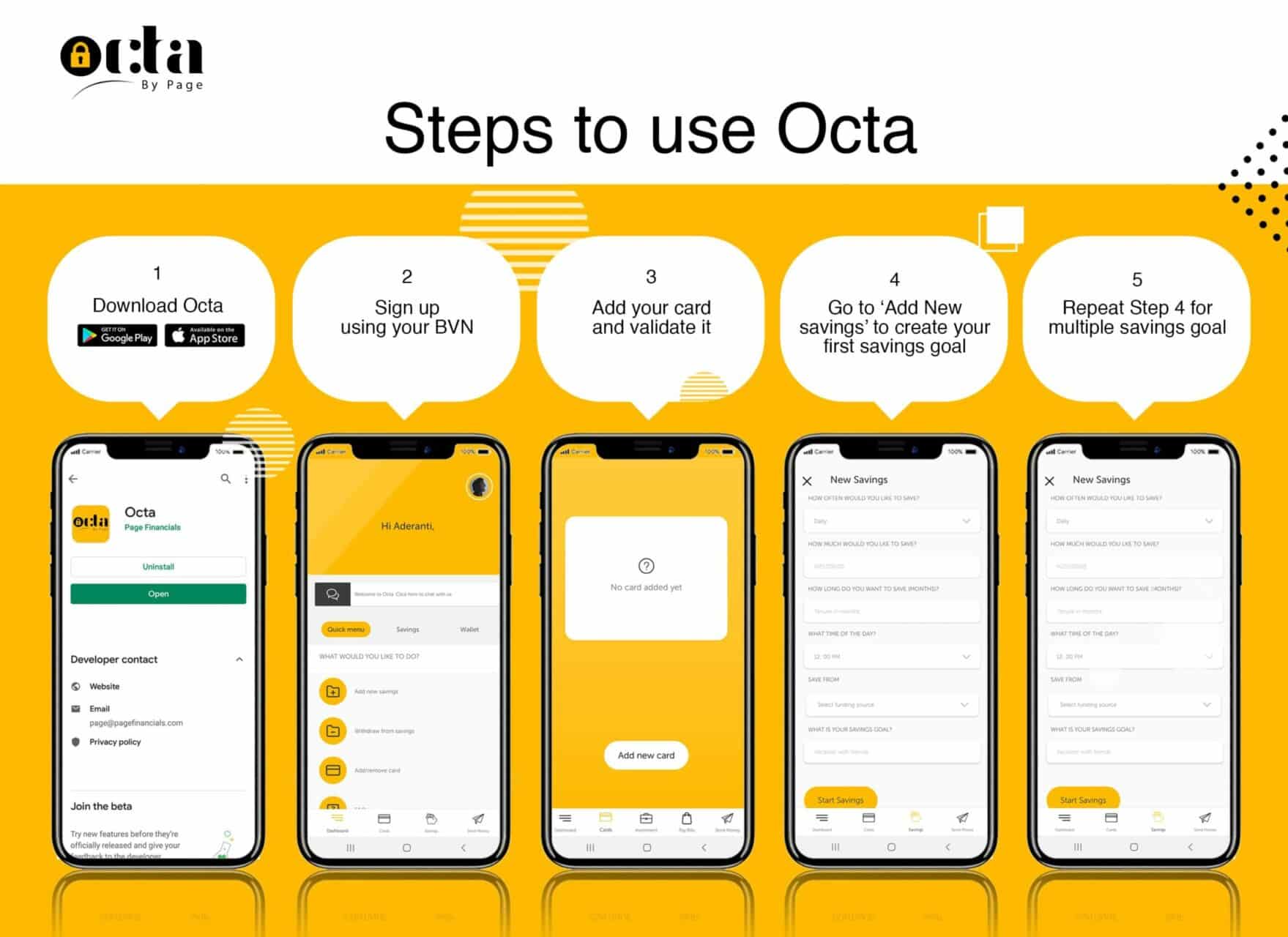 Benefits of Octa
- Mouthwatering interest that is above your bank's savings account interest
- It is an easier and automated way of saving
- You save what you're comfortable with and aligns with your money goals
- Octa helps you keep track of your savings
- It allows you to earn income unlike if you used traditional means (kolo, pot etc) or used a bank (when you think of bank charges and low interest)
- Easy account set up process; no need to submit burdensome details or visit any physical location. You can create an account on the go, it takes less than 3 minutes
- It helps you grow your wealth
- It is an adequate tool for financial planning and budgeting
- Octa helps you achieve your goals
- It gives you the opportunity to save towards an investment
You can't say you have a dream or call yourself a forward thinker if you're not saving using Octa. Are you ready to save and get higher returns, then download Octa and start saving. December is around the corner already!