QuickCheck was launched in 2017 by the company's CTO Luis Rodrigues to solve the problems of financial inclusion faced by Nigerians and improve access for the average Nigerian adult to credit facilities, without need for collateral, guarantors, queues, and paper.
After 2 years, QuickCheck is one of the Seedstars portfolio companies that employs over 30 people in Nigeria and processes nearly 2500 transactions daily. It already disbursed around 2 Billion naira in microloans ranging between 5,000 and 200,000 naira.
Today is a big day for QuickCheck. Its new app has been released and it has got a fresh look, with improved usability and functionality. This moment is not just about refreshing the brand and refining the app graphic interface, but it brings a brand new level of user experience. Together with the redesign, the app got a unique feature  — instant credit scoring. It takes less than 5 seconds for a customer to find out whether the loan application has been approved or rejected. Once the credit offer is accepted, the money is automatically transferred to the customer's bank account in less than 5 minutes while the same process in the traditional financial institutions takes days or even weeks.
The startup's new identity is more than a logo change.
"Currently, we are experiencing exponential organic growth and are closing a couple of strategic partnerships to get even closer to our customers, by integrating our technology and credit offering where they need it, within those channels they are already accustomed to. We strongly believe in the product innovation, and therefore, we invest a lot in the exploration of complementary products", Fabiano di Tomaso, CEO of QuickCheck.
With their tech solution, QuickCheck not only bridges the financial inclusion gap but also educates people about financial instruments and the risks related to loans and overindebtedness. Every day, hundreds of people from Nigeria can benefit from the speed and hassle-free access to credit — no papers, no queues, no collateral, no guarantors, just a smartphone and QuickCheck app available on Google Play Store.
How to Apply
If you live in Nigeria, need quick cash to settle emergencies and have an android device, all you have to do is
Step 1: Download the QuickCheck loan app for free
Step 2: Sign up to create an account
Step 3: Apply for a loan and instantly
Step 4: QuickCheck will run a credit scoring using its own algorithm. No collateral needed.
Step 5: If eligible, the cash loan will be disbursed to your account within minutes.
If you are not eligible, please wait 2 weeks and apply again.
The company team believes in the double-faced businesses — economically sustainable and at the same time, socially impactful one. Quickcheck's ultimate goal to ensure financial inclusion for every Nigerian through their digital financial services.
"FinTech solutions like QuickCheck have a huge potential to impact thousands of people in emerging markets. We already can witness how our mobile app impacts our clients' well-being and brings a new level of quality to their lives. This app relaunch is a crucial milestone for our business, as we would be able to expand our activities further in the country and region and provide more people with access to fast and reliable micro-credit", - Luis Rodrigues, CTO of QuickCheck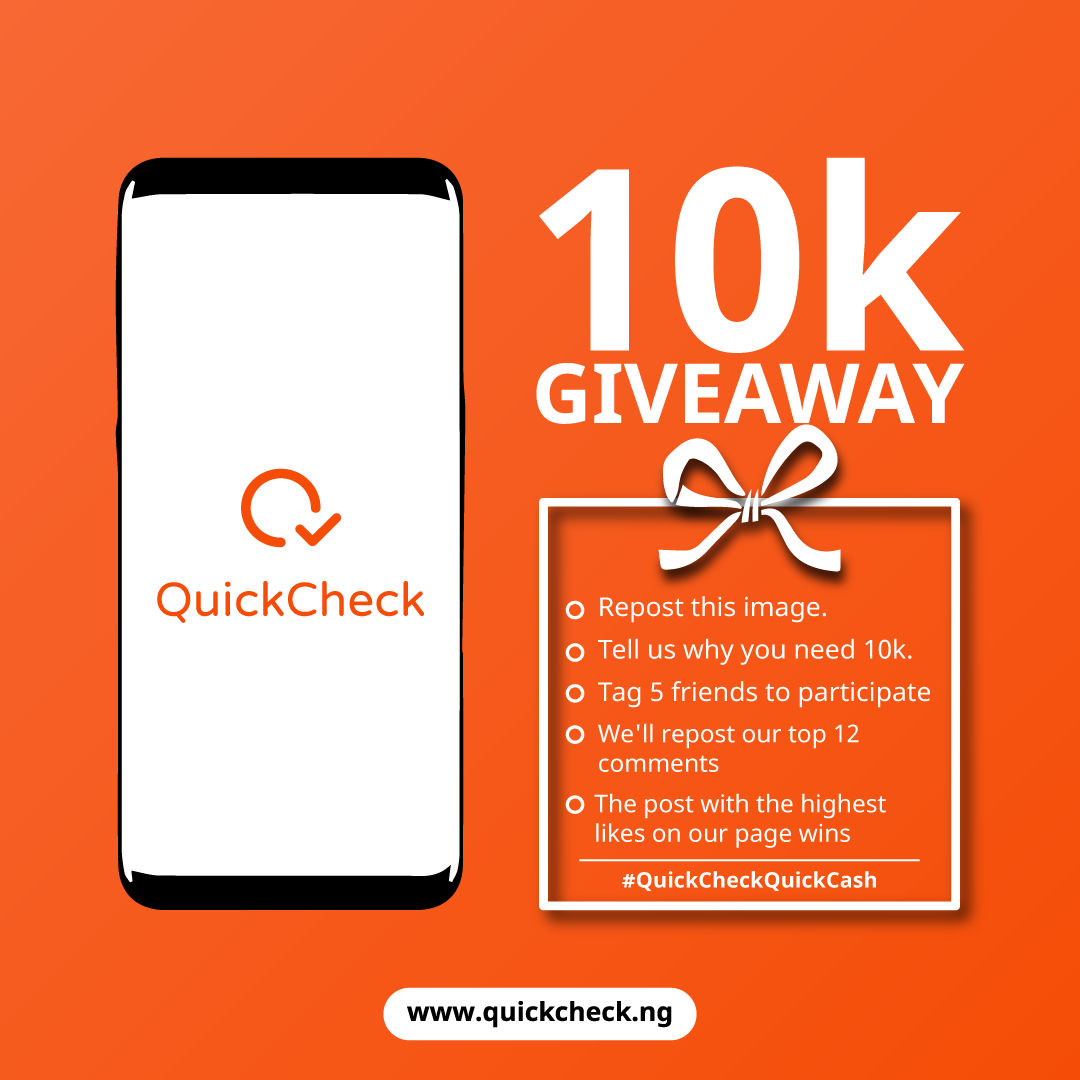 Ps: We will be posting about a QuickCheck Giveaway on Friday, on our Instagram page. Watch out and Follow @quickcheckng