Launched into the global market fairly recently, the Oppo A5s at first glance seems to possess the various features taken for granted in a typical smartphone. Considering the retail price of ₦69,900 and above in the market, that is the least it can do.
I decided to take a closer look at what almost ₦70,000 can fetch you in an Oppo smartphone these days.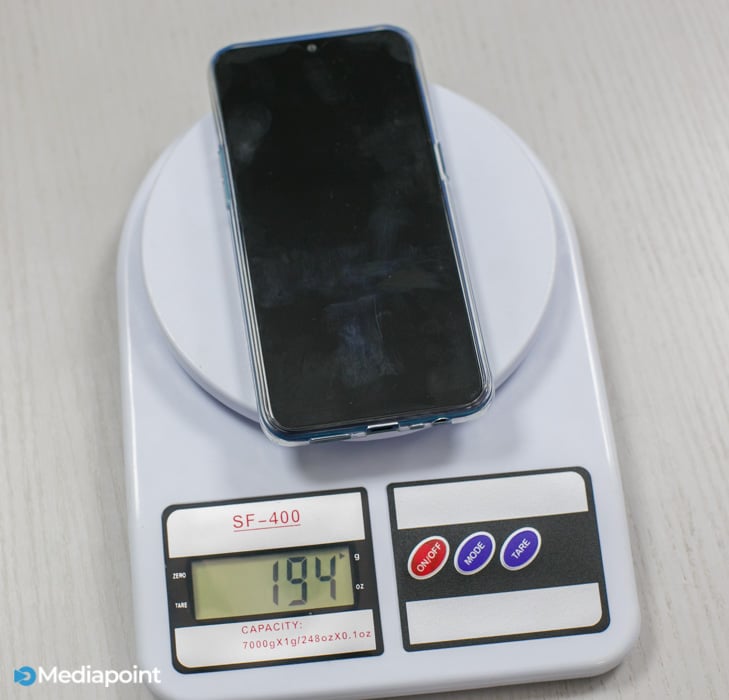 Weighing 194 grams — casing included — with a 6.2-inch screen, the Oppo A5s feels just right in my palm. It is not too light, but it can't be called heavy by any definition of the word. Its 16M LCD touchscreen at 720 x 1520 pixels makes the user interface look attractive.
It should be noted, however, that the phone does not come with earphones which is rather disappointing.
Camera
The dual 13MP + 2MP camera may not be the best in the smartphone market. But what it lacks in absolute perfection, it makes up for in the minimum required features a mobile camera needs to function in 2019.
Simply put, Oppo A5s portrait mode is wonderful for selfies, especially with its 8MP front camera. It tastefully blurs distractions in the photo so it can focus on the subject – you, in the best way possible.
The makers claim that with the current technology in artificial intelligence the camera will [eventually] adjust to giving you the most natural selfies.
This mode is obviously not advisable for group selfies beyond 2 persons per photo, unless you are feeling a little selfish.
Sticker mode definitely gets you into the selfie mood with large array fun characters/props to pose with. Even though stickers are not new, it is still a nice feature to have.
With the panorama mode, I got a chance to capture a wider view without the cost of getting a wide lens. After a couple of tries, I finally got the hang of it. It only gets about 300 to 340 degrees of panoramic views, but that is better than nothing.
Though video mode comes in its standard format and timelapse, timelapse may not be of much use to someone like me who would rather edit videos without the camera's direct input. Editing options include slowing down your video to speeds as slow as 0.25x or as fast as 2x the original speed.
It is worth noting that the flash feature comes with the presence of a fill light — the phone's flash-light enabled for taking photographs and videos. I thought this was an added bonus for the creatively inclined, but it is only accessible with the photo, video, and sticker modes. Sadly, the fill light neither makes an appearance in panorama nor portrait modes. A shame really.
After testing the camera flash in the dark, I can say that the flash and the fill light provide strong enough lighting where that is limited. The lighting look much better than expected given the limitations of the smartphone's camera.
Triple Layered Security
When it comes to security, the A5s does its best to keep its user's information safe. At the last count, I used three different security options simultaneously. The smartphone caters to the paranoid quite well.
Other than the 6-key passcode, I frequently used the phone's fingerprint option, as well as its face recognition feature. All these options are quick to set up and use within minutes of each other.
Face recognition and fingerprint locks are quite quick to open and sometimes face recognition opened so stealthily that it took some getting used to.
Gaming
One thing this smartphone excels at is gaming. Thanks to its 4GB RAM and 64GB internal memory, users will get seamless game play. Especially with highly visual first person games like Modern Combat 5 and FIFA Mobile.
Not once was I frustrated with the navigation or the seamless move from one app to another with the Oppo A5s. The phone also has a user friendly smart bar for quick navigations on the right side for the screen which needs to be opened with a left swipe.
The phone app supports smart search – used to search for contacts on the phone app with numbers. Very much like  older phones when one could dial 0 800 REVIEW and that would be 0 800 738439.
---
Suggested read: Oppo A5s; Unboxing and First Impressions
---
Speakers
One notable downside to the Oppo A5s are the speakers.
I would be generous of spirit to say that the speakers are not the best in the market. Compared to other smartphones like the Nokia 6.1, the sounds from the Oppo A5s seemed to screech out of the phone.
This may be why it doesn't come with earphones.
The volume is not as loud as one would expect for a smartphone with this price tag. Although this phone comes with the Music Party app pre-installed, I would not say it was built for the music lover in all of us.
No widgets or menu
After days of microscopic search, I could not find a menu or the widget control on this phone. The only conclusion I can make is that the manufacturers believe users will be content to store all their apps without a menu. Or a widget for that matter.
Phone Ergonomics
The manufacturers decided to position the speakers, mic, USB port and 3.5mm jack at the bottom of the phone. Some people may find it a bit too crowded, especially if three of the four features down there are in use. It is a minor inconvenience but nevertheless, it is a worrying one.
4G LTE Bands
Thankfully, the phone comes with 4G technology and caters to LTE Bands 1(2100), 3(1800), 5(850), 7(2600), 8(900), 20(800), 28(700), 38(2600), 40(2300), 41(2500). This is somewhat limited compared to other mid-range phones on the market.
Conclusion
In summary, I believe the Oppo A5s is an okay phone if you cannot afford an older, top brand phone with the same features.
Positives to note are its great security functionalities, the 4GB RAM that ensures seamless navigation, top-notch game play, and the camera's bright fill light and flash.
Negatives to consider are the smartphone's rather discouraging sound system, its  lack of earphones, and its rather not-so-original camera.
The current price tag seems to stem from the power of the 4GB RAM's operational speed to deliver a not-so-frustrating user experience.
Maybe that is what Oppo is hoping potential buyers will see in this phone.
Udoka Chiefe
Writer | Learner| Technologist
Interested in technology, law and new discoveries.
On January 22, 2022, be part of the largest gathering of innovators, startup founders, thinkers, programmers, policymakers, and investors in West Africa. Register free.