Africa's largest Intelligent smartphone makers, Infinix Mobility in the season of showing affection to our loved ones have taken it upon themselves to play cupid by turning love fantasies into reality after treating winners of their Valentine's Day activity themed "Infinix Xpress Love 9ja" and their spouses to a luxurious dinner date on the 2nd of March 2019 at Radisson Blu Hotel, located in GRA Ikeja, Lagos.
The Valentine activity which began on the 3rd of February 2019 was aimed at helping individuals express love intelligently in a bid to rekindle the passion in relationships and also inspire people of all works of life to think outside the box, be adventurous & experience the bliss of companionship.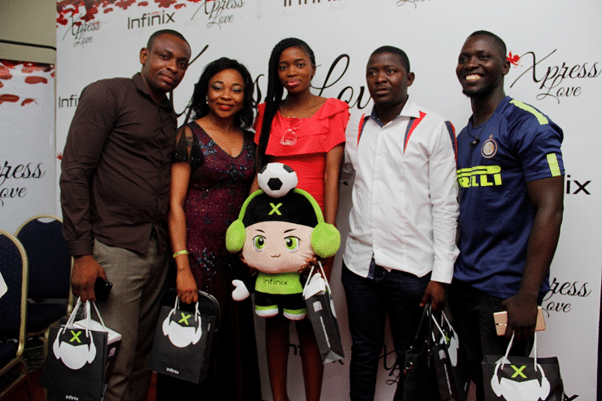 At the start of the promo, participants were instructed to go to any authorised store, buy any Infinix device from any authorised retail store, fill a specially designed cut-out card, take a picture of the cut-out card and upload on social media with the hashtag #XpressLove9ja or simply go on social media, upload a picture of their loved one and express love to them in the Naija way also with the hashtag #XpressLove9ja.
This activity lasted till the 13th of February 2019, after which the moment of truth arrived and winners were selected. Then on the 2nd of March 2019 came the evening to be remembered for as long as time remains an element of human existence, as the promo winners together with their spouses all turned out in ravishing outfits with a touch of red and pleasant smiles that signified elation all in sync with the motive of the gathering.
The hall within Radisson Blu Hotel was decorated with love quotes, love shaped light boxes, balloons like hearts and savory flowers as the couples were serenaded by a classic live band, participated in a set of engaging activities and given branded gifts alongside being presented with an array of local and international delicacies to enjoy.
It felt like the ending of a romantic comedy where everyone is genuinely happy to be in love and reminded of the importance of companionship. All this was made possible by Infinix Mobility, a brand that has structured its products to enable its users to live the smart lifestyle and consistently finds innovative ways to give back to its consumers.