Advances in banking and financial technology mean more efficient solutions in dealing with the demands of an evolving market. As a bank marked with an identity of innovation, Wema Bank is a proven incubator of inventions and creative ideas, traits that continue to remain the hallmark of its operations long after its establishment in 1945.
In proof of its promotion of software innovation, Wema Bank launched Nigeria's first digital banking platform, ALAT, in 2017. ALAT redefined experiential banking, winning several awards enough to gain Wema recognition as Nigeria's most innovative bank.
In line with its continuous support for the application of technology to society's problems, Wema Bank plans to unveil its very own hackathon tagged - 'Hackaholics.'
Hackathons are tech projects which bring together software developers and other digital creators to design solutions for everyday challenges. Every successful hackathon harvests new and impactful solutions that will drive business ideas and scale the heights of technology in today's world.
With Hackaholics, Wema Bank will pull together start-ups and young tech professionals to develop digital and computerized solutions that will alleviate financial, institutional and social challenges. Participants will be required to analyze the given problem areas, strategize, brainstorm and develop solutions that will be screened by a reliable team of judges.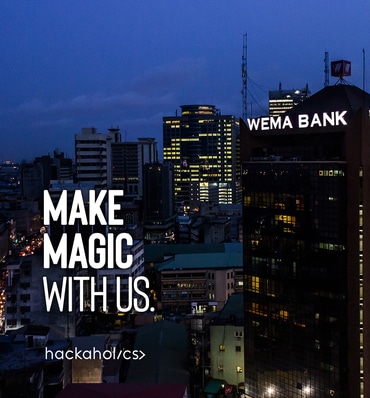 For the bank, the goal is to avail innovators, creative thinkers, and software developers the opportunity to convert their visionary concepts into winning solutions which will be nurtured into marketable software applications. Along with awarding creators of the best solutions, the hackathon will improve skills and re-echo the bank's passion to build a community of innovators working constantly to bring safer, more convenient and profitable banking to customers through fast and easy software solutions.
Hackaholic by Wema Bank will take place from 29th to 31st March 2019. Innovators, creative thinkers, developers and coding experts across Nigeria are all invited to register for the hackathon by visiting here on or before 12th March 2019.
You can key into the hackathon by following the conversations on social media through the hashtag #hackaholics.