The TECNO Camon Series has been one of TECNO's best smartphone Series, most popular for their camera-centric nature. This Series focused pretty much on delivering quality cameras, especially the front-facing aspect which has seen a whole lot of improvements over the years. And the fact that people take photos with their front facing camera more than they do with their rear one these days, has helped the brand rose to fame in Africa.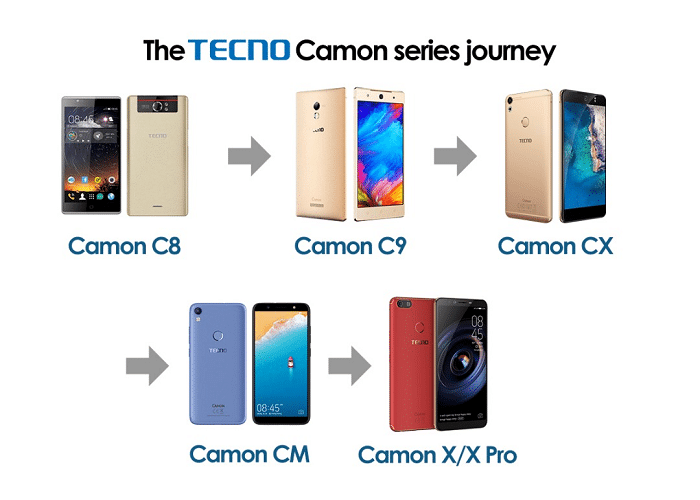 The Camon X/X Pro is the latest instalment in the Camon line which has taken a whole lot of work and improvements over the years to get here. First was the 2015 TECNO Camon C8 which had a 5MP camera with the ability to capture photos and record videos in low-light thanks to its front-facing LED flash. A year after that in 2016 came its successor, the TECNO Camon C9 packing more than twice the camera quality with a 13MP selfie camera along with an LED Flash and some few other features like deep skin beautification technology all aimed at delivering those perfect pictures.
Soon after in March 2017, TECNO Camon CX, a successor to the Camon C9 arrived with not one, but four rear LED-flash to brighten those low-light photos. The front facing camera also got a bump to 16MP with some customized filters.
In January 2018, the TECNO Camon CM was launched as the first TECNO Smartphone with the trendy 18:9 aspect. It also had a 13MP front-facing camera and of course, an LED flash. Just when we thought that was it for the Camon Series in 2018, they blew us away with the launch of the Camon X and X Pro. TECNO Camon X has a 20MP front-facing camera while the X Pro takes it up a notch higher with a 24MP selfie camera and a dual-LED flash.
Pictures taken with the Camon X and X Pro look so good which leaves one to wonder how the next instalment of the Camon Series will look like. There are rumours flying around already that the brand is working on the third Camon device this year, which will come in two Variants with key features such as AI-HDR, AI-Beautification, AI-Selfie, AI-bokeh.
If the rumours are anything to go by then we should be looking an overall faster device with an improved AI camera. However, we would advise you to take this with a pinch of salt as it hasn't been confirmed yet.
Now, asides from the camera which we all know is going to be exceptional on the next TECNO Camon device, which other specs do you think the next TECNO Camon device will have? and what name would it be given? TECNO Camon XL? TECNO Camon XS?  Let us know in the comment section down below.