Pan-African Financial Institution, United Bank for Africa (UBA) has announced the commencement of its chat bank 'Leo' on the WhatsApp platform. With Leo on WhatsApp, customers who are users and lovers of the app can now  perform basic banking services including checking their balances on the go, transferring funds, paying bills, among other services.
The Group Managing Director/Chief Executive Officer, UBA, Mr. Kennedy Uzoka, who expressed excitement about the development remarked that the bank is continuously working in line with customers' demand to ensure that banking services are made convenient and without stress.
He said, "This only goes to show that our resolve in continuing to deploy innovative solutions that place customers first, using cutting edge technology for their collective satisfaction and excellent banking experience is important to us. This recognition will further spur us to do more in meeting the needs of our customers with unrivalled services."
"Our recent launch of Leo in 13 other African countries is evidence that UBA has on its agenda, the objective of digital creativity especially in service for our trusted customer base across the African continent."
Also speaking on the new service, the Group Head of UBA's Online Banking, Mr Austine Abolusoro, stated
"United Bank for Africa is a technology-driven institution with vast knowledge in the business that we do and Leo, being a tested dependable and intelligent personality, will replicate on WhatsApp, the success it has experienced on the Facebook Messenger platform.  It is a solution that is from the customer's standpoint, easy to use by anyone regardless of your demography." "Leo is ready and waiting to help with any form of banking services," continued Abolusoro.
WhatsApp has been in existence for over 9 years, reaching more than 1.5 billion people in over 180 countries. The premium private chat platform has assured that there will be no spam messages as the development is to enable businesses serve their customers with useful and helpful information.
LEO is already present in over 14 African subsidiaries, including Nigeria, available in  three languages, and has now been rolled out to customers on WhatsApp. To use this service on WhatsApp, customers must add the LEO Whatsapp number: +234 903 000 2455 to their phone contacts, then search for UBA ChatBanking on WhatsApp to start enjoying the added convenience and ease of transacting with Leo on WhatsApp.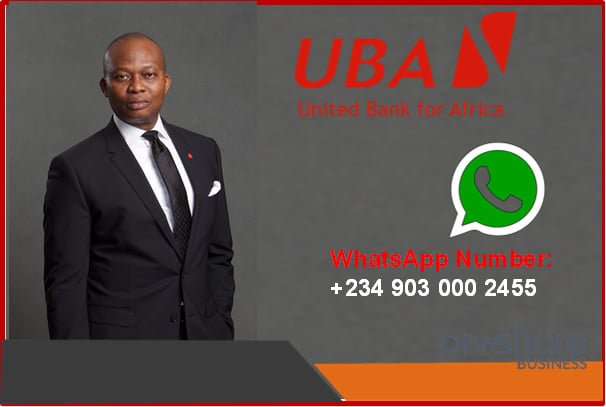 UBA is one of Africa's leading banks with operations in 20 African countries and in London and New York, with  presence in Paris. Adjudged to be at the forefront of innovation and convenient banking, UBA is one of the first financial services institutions on the continent to deploy Finacle 10x, a new information technology platform that boosts its services and electronic banking channels. Today, UBA provides banking services to more than 15 million customers globally, through thousands of touch points and diverse channels.