Nigeria, South Africa and Ivory Coast are the countries with the highest mobile and online reading populations in 2018
 Opera and Worldreader, the global nonprofit that believes everyone can be a reader, announce on International Literacy Day that African mobile users have spent more than 4 millions hours of reading books on their mobile phones in 2018. This milestone represents an increase of 32 percent from the same time period last year.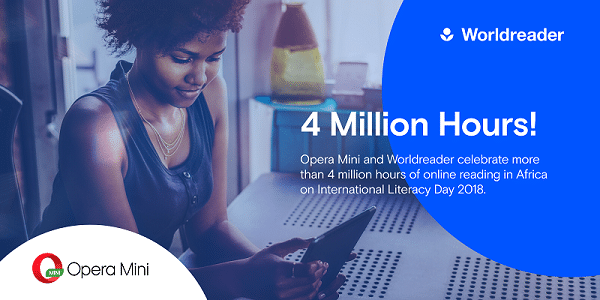 The partnership between Opera and Worldreader started in 2015 with the aim of bringing free e-books to millions of mobile users in Africa through Opera Mini, the leading mobile browser in data compression. The technology behind Opera Mini compresses text and images to 10 percent of their original size, reducing data consumption and the cost of data on a mobile phone and allowing users to spend more time reading and downloading their favorite books when using Worldreader. 
We are very happy to contribute to literacy in Africa with our Opera Mini browser as we give mobile users access to Worldreader's vast library," said Jan Standal, VP of Product Marketing and Communications at Opera. "Since we started this partnership we have added more than nine million new readers in Africa who now enjoy books from different genres such as romance, adventure and education, among others.
Affordability and Convenience key for mobile reading
According to the latest report of Groupe Spéciale Mobile Association (GSMA), "The Mobile Economy Sub-Saharan Africa 2018", at the end of last year there were more than 444 million unique mobile subscribers and 250 million smartphone users. These numbers represent a big opportunity to bring reading to millions in the Sub-Saharan region through technology.
We know that mobile phone affordability and the convenience of owning one are two big reasons why we are seeing more and more people accessing our e-book collection through their mobile devices in Africa", said Colin Mcelwee, Co-Founder at Worldreader. "Our partnership with Opera Mini is a perfect match, with Opera browser being the number one choice for mobile users across Africa, it provides an incredible opportunity to get people reading.
 Women read more than men
 A study conducted by Worldreader, called Reading in the Mobile Era, showed that 65 percent of mobile readers in Africa are men while 35 percent are women. However, women tend to spend 11.5 minutes reading on average while men read 6.5 minutes per session, making women more frequent readers.
Moreover, African mobile readers  prefer books related to love and romance, especially those that come from local authors and publishers. Below you can find a list of the most read books in Worldreader and Opera Mini in 2018.

Available for download
 Opera Mini is available for iOS and Android on App Store and Google Play store.
 About Opera
Founded in 1995 in Norway, Opera delivers browsers and AI-driven content delivery solutions to 322 million people worldwide. Opera is listed on Nasdaq under the OPRA ticker symbol.
About Worldreader
 Worldreader is a global nonprofit whose mission is to help the world read. The organization provides students and their families with a free digital library available on e-readers and mobile phones, complemented with a suite of reading support programs. Since 2010, over 6 million people across 50 countries have read from their digital library of over 35,000 local and international e-books. Worldreader works with device manufacturers, local and international publishers, government agencies, education officials, and local communities to help readers worldwide.
To read free books on your mobile phone, visit us . For more information on Worldreader, please visit our website.