… Offers Fast Internet Broadband for Business Growth
Leading broadband communications service provider, VDT Communications, has announced the extension of its service offering to blooming small and medium businesses, SMEs through its new product offering called - VDT SMEmpower.
Introducing the product to the media, the General Manager, VDT Communications, Bimbo Ikumariegbe explained that the new product was born out of the need to replicate the company's expansive profile and expertise on broadband communication in the Nigerian corporate and financial sector, to the growing Small and Media Scale Enterprises within the country.
"We want to replicate what we have done in the corporate world, servicing 23 banks across Nigeria and many other corporate companies. We want to offer these growing small and medium business the support they require to flourish in their various industries," Ikumariegbe said.
Speaking on the features of the product, the Marketing Communications Manager, VDT Communications, David Ese stated that the VDT SMEmpower is a dedicated internet service, nationwide offering 5 megabyte per second, zero down time connection for up to 10 number of users depending on the plan subscribed to.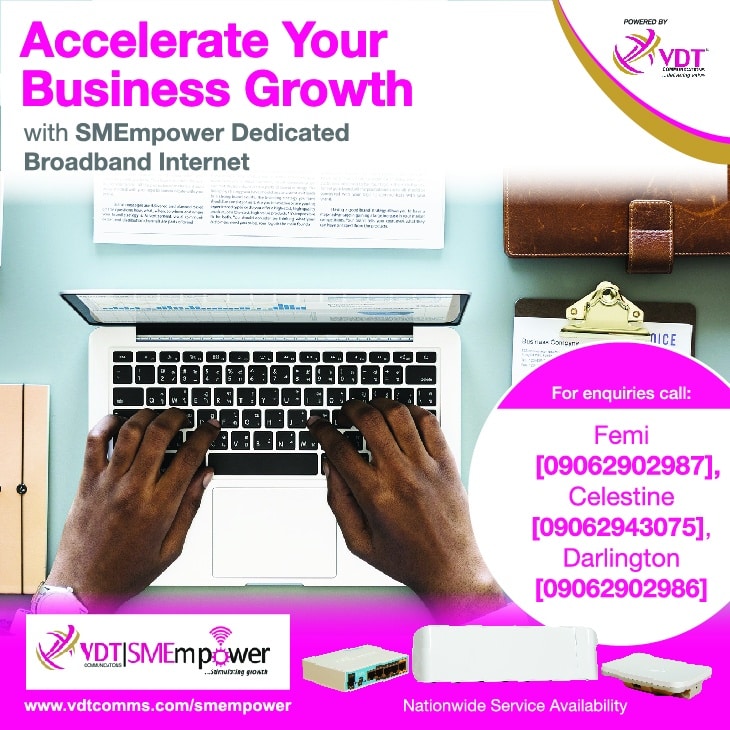 Ese explained that with VDT SMEmpower, small businesses can now have access to expert technical support to customize their internet solutions as they choose. "Surprisingly, this product is very affordable and would definitely reduce the cost of business in the long run," David said, stating that "with this internet service businesses can accelerate their growth through reliable and effective internet. Our service quality is world class. VDT Communications is ISO 9001:2015 certified and the first ISO 20000:2011 certified telecom company in West and Central Africa for excellent IT service management ."
VDT Communications services including SMEmpower is available in all 36 states of the federation  and the Federal Capital Territory and offers dedicated broadband internet solutions that is fast, secure, and reliable for use for critical applications including electronic commerce, e-mail, remote access and for all kinds  of data needs.
For More information visit: www.vdtcomms.com/smempower
Send an email to: [email protected]
Or Call Femi: 09062902987, Celestine: 09062943075 or Darlington: 09062902986.