MTN Nigeria and Microsoft Nigeria have signed a Memorandum of Understanding (MoU) to collaborate on the creation of sustainable and scalable initiatives aimed at driving growth within the Small and Medium Enterprises (SMEs) segment of the Enterprise Business in Nigeria.
The partnership, will leverage Microsoft's technologies and MTN's innovative expertise to create strong value propositions for the SMEs Segment. These propositions will speak to the needs of SMEs around capability development, access to markets and business networks across Africa; and address some of their challenges through the creation of innovative solutions.
The MoU signing ceremony which took place recently at Microsoft's office within Civic Towers, Victoria Island, Lagos, had top Executives from both Microsoft and MTN in attendance. The General Manager, Enterprise Marketing, MTN, Onyinye Ikenna-Emeka, expressed the company's unwavering commitment to the success of businesses, be they SMEs, Large Enterprises or in the Public sector. Recognizing the significant contributions of SMEs to the country's economy, Ikenna-Emeka conveyed MTN's strategic position of collaborating with SMEs to create bespoke solutions specially designed to help grow and sustain other SMEs in the country.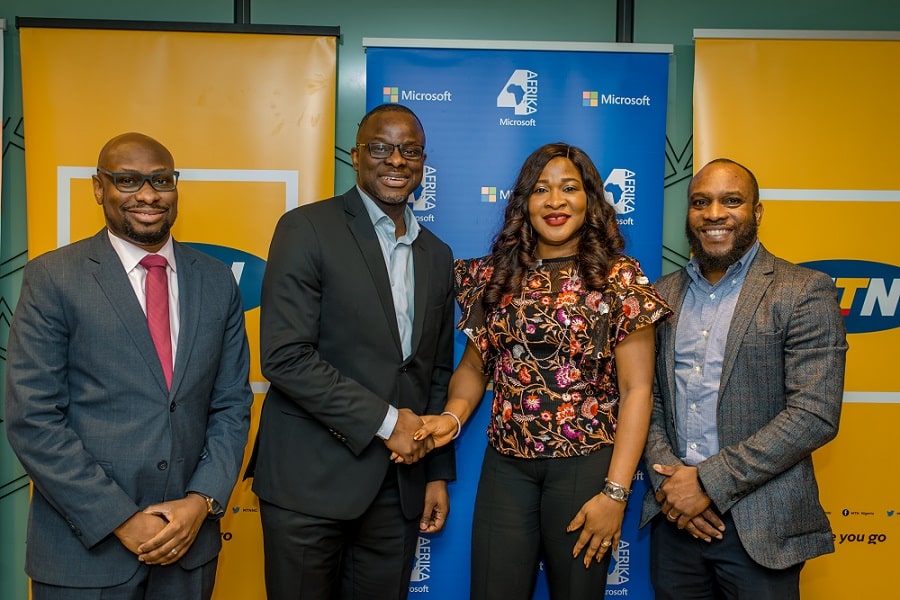 Speaking further on MTN's support of SMEs in Nigeria, Mrs. Ikenna-Emeka said "We launched the MTN Man-In-The-Box Initiative to further demonstrate our commitment to the development of businesses and ensure their sustained business growth". She stated that the Initiative was designed to create and sustain awareness for MTN's Enterprise Business and its focus to provide and facilitate access to technology, new markets, information and finance for SMEs.
In his remark, Country General Manager, Microsoft Nigeria, Akin Banuso stated: "Our approach at Microsoft has been one of empowerment and collaboration. We work with SMEs and as we learn from them, this makes us poised to provide tailor-made solutions to the challenges they face on a daily basis. We are excited about this partnership and looking forward to provide support to the SMEs through the Microsoft 4Afrika initiative. This means that we are able to empower them to digitally transform their businesses and be more productive and competitive."
Ikenna-Emeka reiterated MTN's belief that everyone deserves the benefit of a modern connected life.  By implication, every organization, whether small, medium, large or the public sector equally deserve the same benefit.  In bringing this belief to reality, MTN develops and delivers solutions that transform the operations of Businesses, thereby introducing efficiencies, improving productivity and promoting overall organizational effectiveness.
She also stated that MTN's vision of leading the delivery of a bold, new digital world to Corporate Nigeria is at the heart of all the company's activities, affirming that MTN is proud to be a Technology provider of choice to Enterprise Nigeria.
About MTN Nigeria
MTN Nigeria is Africa's largest provider of communications services, connecting over 53 million people in communities across the country with each other and the world.  Guided by a vision to lead the delivery of a bold new digital world, MTN Nigeria's leadership position in coverage, capacity and innovation has remained constant, since its launch in 2001. MTN Nigeria is part of the MTN Group – a multinational telecommunications group which operates in 22 countries in Africa, Europe and the Middle East.
About Microsoft
Microsoft (Nasdaq "MSFT" @microsoft) enables digital transformation for the era of an intelligent cloud and an intelligent edge. Its mission is to empower every person and every organization on the planet to achieve more. The 4Afrika Initiative is Microsoft's business and market development engine in Africa. Launched in 2013, it aims to unlock and accelerate Africa's potential to create technology not only for the continent, but for the world.  The initiative focuses on developing world-class skills, access and innovation, to empower people to turn great ideas into a reality, enhance livelihoods and drive Africa's digital transformation forward.