9mobile is living up to its identity as Nigeria's most innovative telecommunications company, with the launch of 9pay. This is an operator-billed payment platform for Google Play store users, launched in partnership with Google, and Bango, the leading global mobile payments company.
According to its Chief Product & Information Officer, Otuyemi Otule,
9mobile is happy to expand its mobile payment solutions in Nigeria, which has a combination of a highly unbanked and highly mobile-first population. He added that 9mobile's 9pay offers millions of consumers a means of making important financial transactions.
9pay can be used for a variety of things. If you are a local app or game developer, you will love this because you will find it infinitely easier to monetize your offerings.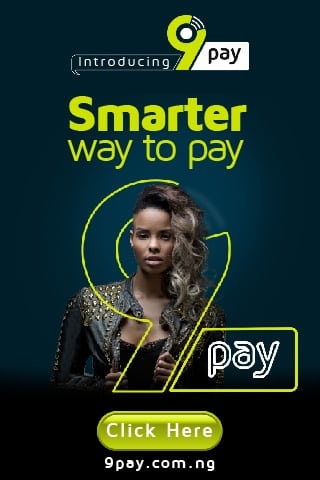 Not an app developer? This service is still of great value to you. With 9pay, you can pay for your apps, games and more, on Google Play store; transfer funds to a loved one or send money to your friend's bank account, and so much more.
Is 9pay an app, you may ask. It is not. 9pay is a payment platform as earlier mentioned, or an e-wallet. And It is super easy to use, simply follow these steps:
Select 9pay as payment option on Google Play Store or visit www.9pay.com.ng to create an account.
Create a pin and fund your account with your ATM card issued by any Nigerian bank.
Voila! You are ready to start sending and receiving funds and making payments.
If you are wondering where your funds go to, all funds are safely warehoused and monitored by the United Bank of Africa (UBA) plc.

No more "aunty no change" story when buying anything with cash. Just ask your merchant to transfer the change from their 9pay account to your 9pay account. The fun part is you can transfer this "change" from your 9pay account to your bank account and cash out!
So, what are you waiting for? Set up your 9pay account now and join the #9mobile9pay wave. Dial 200 or visit 9pay.com.ng for more information.