In February we reported that the Office of the Secretary General of the Federation(OSGF) had purportedly spent ₦65 million last year on maintaining its already existing website. Apparently the OSGF's website isn't the only recipient of a ridiculous amount in the same period for ICT.
A report by the Daily Trust has further revealed that despite allocating ₦20 billion to Federal Ministries and agencies on IT services and consultancy, majority of the websites of the Federal Government of Nigeria are in an inactive limbo.
These websites are either not updated, inactive, incomplete, innacurate, or just have blank pages and broken links that did not lead anywhere.
Some of the listed websites are;  National Biotechnology Development Agency (NABDA), Federal Ministry of Agriculture and Rural Development, Foreign Affairs Ministry.
And of course the OSGF's website that still remains 'dry' despite a ₦65 million maintenance fee.
The National Board for Technology Incubation (NBTI) and National Space Research Development Agency (NASDRA) -- agencies under the Federal Ministry of Science and Technology -- still do not even have an online presence.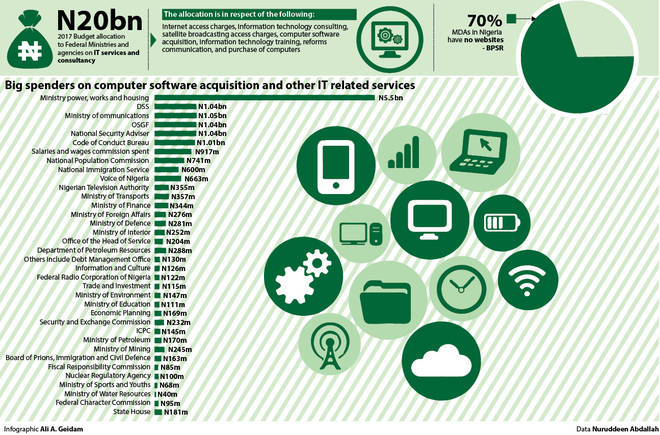 According to an infographic by the Daily Telegraph, allocations were listed under internet access charges, information technology consulting, satellite broadcasting access charges, computer software acquisition, information technology training, reforms communication, and purchase of computers.
In all these, there are some agencies and ministries that have regularly updated and functional websites.
Central Bank of Nigeria (CBN), Budget Office of the Federation, Nigeria Meteorological Agency (NiMet), Nigeria Electricity Regulatory Commission (NERC), Nigeria Communications Commission (NCC), Economic and Financial Crimes Commission (EFCC), Independent Corrupt Practices and other Related Offences Commission (ICPC), and Nigeria Deposit Insurance Corporation (NDIC).
And the ministries of Information and Culture, Communication Technology, Power, Works, Housing, and others all have working websites.
But in all, ₦20 billion is way too much money to spend and still have cogs missing in the digital wheels of any government.
The Bureau of Public Service Reforms (BPSR) had earlier stated that over 70% of ministries, departments, and agencies (MDAs) in Nigeria still do not have functional websites.
Recently, the National Information Technology Development Agency (NITDA) said it will approve all public IT projects before they can be executed. Let's wait and see if this new policy is effective enough to curb ICT white elephant projects.