How these career women defy the odds of religion and gender and are making names for themselves in a predominantly male dominated industry.
In the sweltering heat of noon, while the streets are abuzz with the sound of motorists and commuters, a group of people stand at an ATM queue. It is one of the newer, refurbished models of the machines, where customers can make cash deposits and transfers. Potential users itch with impatience, one of whom is a man standing behind a Hijab wearing lady. The man in question reads the woman's hesitation and orders her to leave the queue if she is unable to operate the machine.
She ignores him, waits her turn and then completes her transaction. As she turns to leave, the same man stops and requests that she help him with his. It turns out he is unable to use the machine. It's difficult to tell if his earlier rudeness was because she was wearing a Hijab or because she's a woman. Unknown to him, he had been standing behind a seasoned and educated electrical engineer, if he had known, perhaps he might have held his tongue.
A Female software engineer shouldn't be an oxymoron in 2018, but they are. There are quite a number of them yet not enough, breaking stereotypes and changing perceptions one source code at a time, to increase women participation in Tech and evidently challenge their status quo as the minority in those industries.
Enter Tomiwa, a married Muslim woman seeking to be all that she can be as a Software Engineer. In her case, the hurdles she'd have to contend with, are being a Woman, a hijab wearing Muslim and a doting Mother. According to her "There has to be a balance- as a married woman for instance, I have to work really, really hard at maintaining that balance, I don't want people at work looking at me like being a mother and married is some sort of shortcoming".
These are not roles you would easily find in Tomiwa's impressive resume. She is quite used to the surprised look of recruiters and in other cases, employers, when she's the Software Test-Analyst that walks into the room to be interviewed; Positive or negative, she adds, 'I don't really let their reactions or expectations influence me, I let the work I do, speak for itself" - and when the work speaks, this is what Yewande Odumosu, Principal Solutions Architect, Softcom says, 'Tomiwa has exceptional interpersonal skills.
She is a great team player and ensures everyone in the team is properly equipped to deliver as required. She is result oriented and ensures that whatever task she manages is done efficiently and in a timely fashion. She is always willing to go above and beyond for the success of any task and the team as a whole."
Tomiwa is more than happy to be working in one of the organizations with cutting edge employee practices, where productivity and deliverables are not shaped by gender roles. They instead allow their employees to prove themselves by attempting to provide equal gender opportunities. Tomiwa who is building a fledgling career, is particularly happy to be seen for her productivity.
At work, I have a dual role working as a Test Analyst & Systems Administrator, I especially like that the challenges keep coming.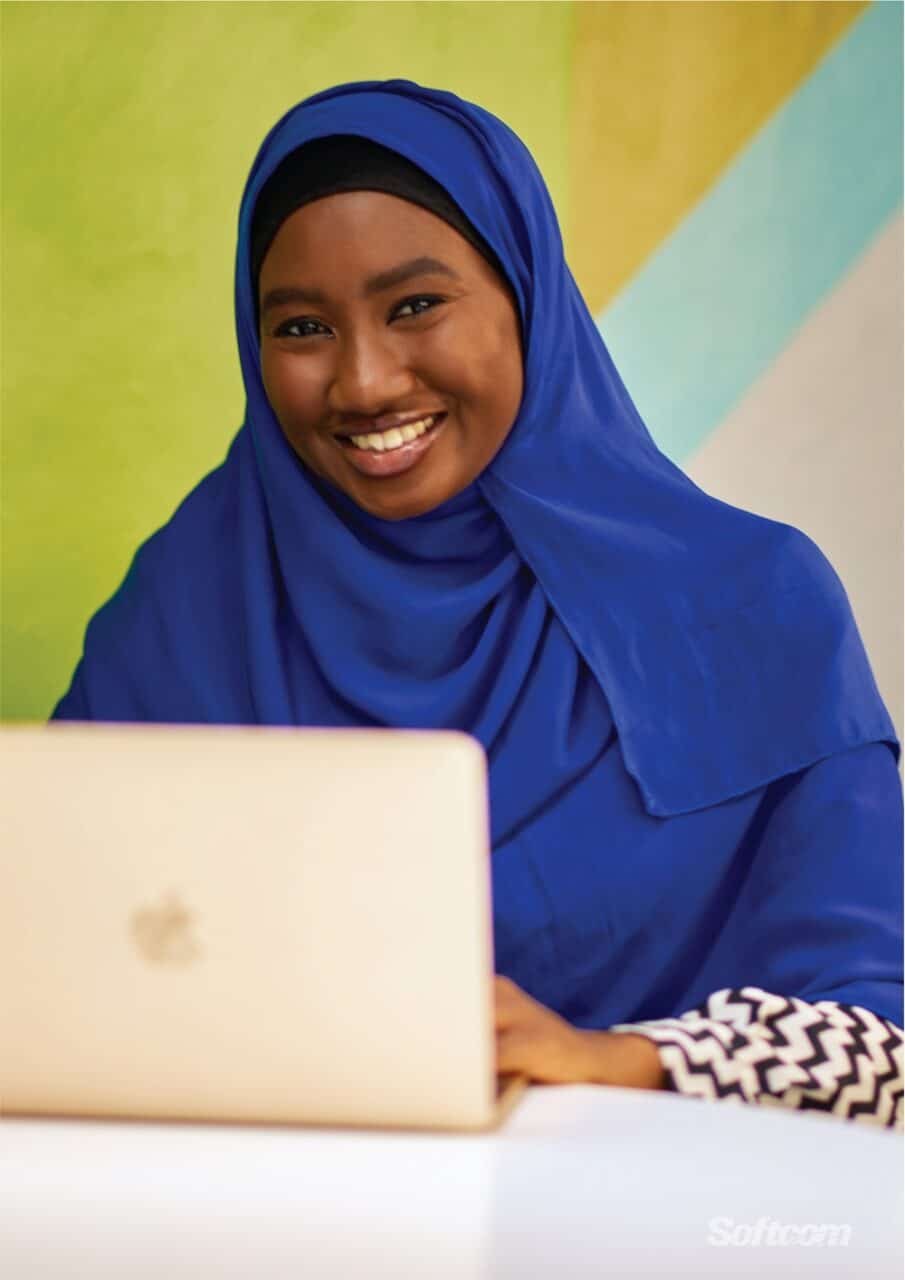 From speaking with Tomiwa, it is easy to tell that growing up in a home where chores and activity were never gender-specific reinforced the backbone with which she tackles the challenges of her career. This in turn, fuels her other dual role of being a working professional and a married, religious woman. Tomiwa describes her love for engineering as a zeal –
this is a feat I never considered impossible despite naysayers who were quick to point out that engineering is not a girl's job.
It is difficult not to admire the resilience and dexterity of Tomiwa watching her in her office space, surrounded by fellow Engineers and executing task after task. Tomiwa's Colleague, Kabolobari Benakole , UX/UI design lead agrees,
I can't quite imagine how the Engineering team would fare without Tomiwa... She mixes a rare grasp of engineering with the delicate art of a leader, ensuring every sub-team aligns with the overall goals of the Engineering team.

 

This place gives me a sense of career growth. I don't want to be in a position where I know it all. I like the feeling of overcoming new challenges. Here, we are allowed to dream and plan for the future so I'm not even thinking about exit plans.
The ATM incident earlier mentioned isn't a one-off experience for Tomiwa. The man in question is not the first person to make an assumption about her intellectual capacities as a woman but, she doesn't dwell on such things. On a daily basis, she is dispelling such perceptions by informing innovative changes with other female engineers and their male counterparts.
ISACA is an international professional association focused on IT governance, conducted a study of women currently working in technology fields around the globe. Several issues emerged in the study as particularly significant concerns: The two biggest barriers women say they face in the technology workplace are lack of mentors (48 percent) and lack of female role models (42 percent).
It's clear that women hunger to learn and benefit from the presence of other women in technology. But at the top of the list of barriers for women in the ISACA survey are "limited networking opportunities" and "lack of a strong professional network."
Every year, the International women's day celebration regales women with praises and congratulatory endearments. This year, it's a call to action. The time for platitudes is over. We must now see every woman in the full range of her capacities and achievements. Ernst & Young for example, is the first of the Big Four to assign full- time, partner-level leadership to diversity recruiting.
Ever since, the number of women in top executive management positions has increased by more than 20%. They also introduced EY Launch, a programme for ethnically diverse college freshmen, sophomores and transfer students, it builds awareness of accounting as a major and professional services as a profession.
At AT&T, they take on the challenge of diversity by creating a community with a culture of inclusion. We're talking over ten years of building employee resource groups (ERGs) and employee networks (ENs). ERGs are nonprofit groups that provide support, advocacy, education, mentoring, and more to women, generations, military veterans, people with disabilities, etc. With cross-functional diversity as a priority, ENs are more focused on business or professional development issues.
The workspace is clearly the most urgent and necessary environment to enforce the equal capabilities and opportunities between men and women. Women like Tomiwa exist to eliminate the element of surprise, proving that equal opportunities in the Tech industry is not merely on the horizon, but is gradually becoming attainable.
In admiration of Ire Aderinokun, Nigeria's first female Google Developer Expert, Aisha Bello, a virtual systems Engineer at Cisco Nigeria, Zainab Ahmed, a software Development Manager at Konga amongst other women in Technology, shattering the glass ceiling by being pillars of Tech and software engineering- an understated fact. in light of their achievements, Tomiwa only wants to do her best.
Soft com is a thinking Company that over the last 10 years, connected people and businesses with meaningful innovation for business and social impact.
Photo credit: Kosol Onwudinjor Photography