Over the past 3 years, I have interviewed more than 50 successful founders and CEOs within the Nigerian internet and tech startup space through my Founder's Table series.
A recurring theme that I have observed in interviewing them is that they all read. So in 2017, I started pooling together book recommendations from founders I interviewed. I also recently reached out to those who I had interviewed before 2017 and got their recommendations too.
What follows are 15 of the most popular books among the founder and CEOs I engaged. It is my hope that you can draw inspiration from them too.
This list will be updated periodically.
Advertisement
Zero to One
CEOs who live by it: Kola Aina (Emerging Platforms), Oluyomi Ojo (Printivo), Seun Onigbinde (BudgIT), Raphael Afaedor (SupermartNG), Iyin Aboyeji (Flutterwave), Adewale Yusuf (Techpoint.ng), Shola Akinlade (Paystack)
Adapted from notes Blake Masters took while attending PayPal co-founder and Facebook board member, Peter Thiel's CS183 lectures at Stanford University, the book gives valuable insight on building the future with startups.
---
Buy it on Amazon.
---
The Hard Thing About Hard Things
CEOs who live by it: Tayo Bamiduro (MAX.ng), Olaoluwa Awojoodu (CashEnvoy), Fikayo Ogundipe (ToLet.com.ng), Oluyomi Ojo (Printivo), Chude Jideonwo (RED), Shola Akinlade
Ben Horowitz, co-founder of Andreessen Horowitz and one of Silicon Valley's most respected and experienced entrepreneurs, offers essential advice on building and running a startup — practical wisdom for managing the toughest problems business school doesn't cover, based on his popular Ben's blog.
---
Buy it on Amazon.
---
Good to Great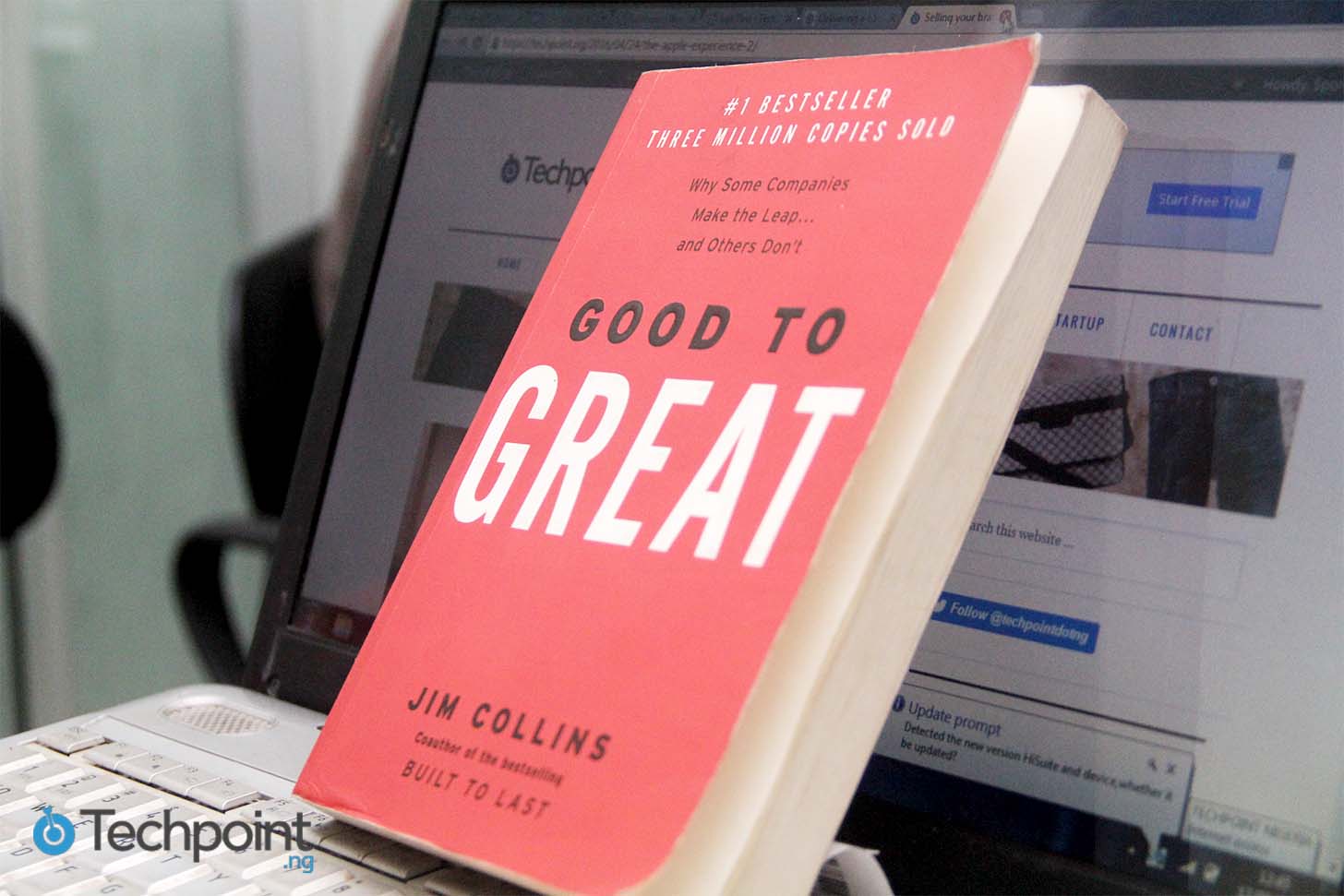 CEOs who live by it: Seun Onigbinde, Sheriff Shittu, Yele Okeremi (PFS), Chude Jideonwo
Good to Great is a management book by Jim C. Collins that describes how companies transition from being good companies to great companies, and how most companies fail to make the transition.
---
Buy it on Amazon | Konga | Jumia
---
Think and Grow Rich
CEOs who live by it: Chimezie Emewulu, Saudat Salami (EasyShop EasyCook, Olaoluwa Awojoodu, Tosin Eniolorunda
(From Tomas Laurinaricius): This book was written a very long time ago. First published in 1937, it has been recommended by many leaders all around the world. The author shares insights and success secrets from great minds of the 20th century including Henry Ford, J.P. Morgan, John D. Rockefeller, Alexander Graham Bell, Thomas Edison, Theodore Roosevelt, and more.
---
Buy it on Amazon | Konga | Jumia
---
The 7 Habits of Highly Effective People
CEOs who live by it: Chimezie Emewulu (Seamfix), Chude Jideonwo, Yele Okeremi, Raphael Afaedor
The 7 Habits of Highly Effective People, first published in 1989, is a business and self-help book written by Stephen Covey.[1] Covey presents an approach to being effective in attaining goals by aligning oneself to what he calls "true north" principles based on a character ethic that he presents as universal and timeless. (Wikipedia).
---
Buy it on Amazon | Konga | Jumia
---
The Holy Bible
CEOs who live by it: Collins Onuegbu (Signal Alliance, Lagos Angel Network), Tayo Bamiduro, Eyo Bassey (PayPorte)
This 1600 year-old book remains one of the best-selling and widely-distributed books of all time. Apparently, many Nigerian tech CEOs draw business inspiration from it.
---
Buy it at your local church or bookstore.
---
The Richest Man in Babylon
CEOs who live by it: Chimezie Emewulu, Dele Odufuye (Tsaboin), Abiola Olaniran (Gamsole)
(From Liam Tucker): Set in the ancient city of Babylon, this classic by George S. Clason is broken up into a series of short parables following a series of characters who are on learned journeys to acquire more gold. The book is for anyone wishing to learn or understand wealth (including how to make more).
---
Buy it on Amazon | Konga | Jumia
---
High Output Management
CEOs inspired by it: Mark Essien (Hotels.ng), Iyin Aboyeji, Raphael Afaedor
(From Google Books): This is a user-friendly guide to the art and science of management from Andrew S. Grove, the president of America's leading manufacturer of computer chips. Groves recommendations are equally appropriate for sales managers, accountants, consultants, and teachers–anyone whose job entails getting a group of people to produce something of value.
---
Buy it on Amazon
---
Built to Last
CEOs who live by it: Titilope Adewusi (9ijakids), Fikayo Ogundipe, Kola Aina
"This is not a book about charismatic visionary leaders. It is not about visionary product concepts or visionary products or visionary market insights. Nor is it about just having a corporate vision. This is a book about something far more important, enduring, and substantial. This is a book about visionary companies."
---
Buy it on Amazon | Konga | Jumia
---
How to Think Like a CEO
CEOs who live by it: Muyiwa Ogungboye, Dele Odufuye
Drawing on in-depth interviews, Benton identifies 22 vital traits that make a Chief Executive Officer (CEO)– the leader responsible for making decisions, guiding teams, selling ideas, managing crises and conquering the mountains before them.
---
Buy it on Amazon
---
Business @ the Speed of Thought
CEOs who live by it: Tola Ogunsola (MyMusic), Abiola Olaniran
Business @ the Speed of Thought is a book written by Bill Gates and Collins Hemingway in 1999. It discusses how business and technology are integrated, and explains how digital infrastructures and information networks can help someone get an edge on the competition.
---
Buy it on Amazon
---
Outliers
CEOs who live by it: Fikayo Ogundipe, Tosin Eniolorunda (TeamApt)
(From Goodreads): In this stunning new book, Malcolm Gladwell takes us on an intellectual journey through the world of "outliers"– the best and the brightest, the most famous and the most successful. He asks the question: what makes high-achievers different?
His answer is that we pay too much attention to what successful people are like, and too little attention to where they are from: that is, their culture, their family, their generation, and the idiosyncratic experiences of their upbringing. Along the way he explains the secrets of software billionaires, what it takes to be a great soccer player, why Asians are good at math, and what made the Beatles the greatest rock band.
---
Buy it on Amazon | Konga | Jumia
---
The Art of War
CEOs who live by it: Ifedayo Oladapo (Grit Systems), Abiola Olaniran
(From Goodreads): Twenty-Five Hundred years ago, Sun Tzu wrote this classic book of military strategy based on Chinese warfare and military thought. Since that time, all levels of military have used the teaching on Sun Tzu to warfare and cilivzation have adapted these teachings for use in politics, business and everyday life. The Art of War is a book which should be used to gain advantage of opponents in the boardroom and battlefield alike.
---
---
How to Get Rich
CEOs who live by it: Jason Njoku (iROKO), Olaoluwa Awojoodu
(From Google Books): Felix Dennis is an expert at proving people wrong. Starting as a college dropout with no family money, he created a publishing empire, founded Maxim magazine, made himself one of the richest people in the UK, and had a blast in the process.
How to Get Rich is different from any other book on the subject because Dennis isn't selling snake oil, investment tips, or motivational claptrap. He merely wants to help people embrace entrepreneurship, and to share lessons he learned the hard way. He reveals, for example, why a regular paycheck is like crack cocaine; why great ideas are vastly overrated; and why "ownership isn't the important thing, it's the only thing.
---
---
Execution
CEOs who live by it: Sheriff Shittu, Tosin Eniolorunda
(From Google Books): Larry Bossidy is one of the world's most acclaimed CEOs, with a track record for delivering results that has few peers. Ram Charan is a legendary advisor to senior executives and boards of directors, with unparalleled insight into why some companies are successful and others not. The result is the book people in business need today.
One with a highly practical framework for closing the gap between results promised and results delivered. After a long, stellar career with GE, Larry Bossidy became CEO of Allied Signal and transformed it into one of the world's most admired companies. Accomplishments like 31 consecutive quarters of earnings-per-share growth of 13% or more don't just happen. They result from consistent practice of the discipline of execution: understanding how to link the three core processes of any business together: people, strategy and operations.
---
Buy it on Amazon | Konga | Jumia
---
How to Win Friends and Influence People
CEOs who live by it: Eyo Bassey, Simeon Ononobi (SimplePay)
(From Google Books): Dale Carnegie's rock-solid, time-tested advice has carried countless people up the ladder of success in their business and personal lives. One of the most groundbreaking and timeless bestsellers of all time, How to Win Friends & Influence People will teach you:
-Six ways to make people like you
-Twelve ways to win people to your way of thinking
-Nine ways to change people without arousing resentment
And much more! Achieve your maximum potential—a must-read for the twenty-first century with more than 15 million copies sold!
---
Buy it on Amazon | Konga | Jumia
---
Are there any other books that changed the way you view entrepreneurship? Please share them in the comments section below.
---
Jan. 25: New Built in Africa episode – Selar: End-to-end eCommerce platform for Africa's passion economy

---
On March 25, 2021, Techpoint Africa will be hosting the brightest minds in decentralised finance/crypto at the Digital Currency Summit tagged "Building the money of the future" Click here for more details, registration and sponsorship. Location: Fourpoint by Sheraton, V.I. Lagos.
---
Comments