As part of the federal government's drive to boost job creation, youth employment and enterprise in Nigeria, the job creation team in the office of the vice president, working with relevant government ministries and agencies, is supporting the establishment of private sector led innovation hubs across Nigeria.
NENHub (Yola, Adamawa) is a result of this initiative with a mandate to serve as catalyst to move the Nigerian economy to become a knowledge driven and smart economy, capable of rapidly accelerating industrialisation by training and serving as talent acceleration point for young Nigerians in the North-east in technology driven sectors of the economy, including digital and innovative solutions, professional services, manufacturing and agro-allied sectors.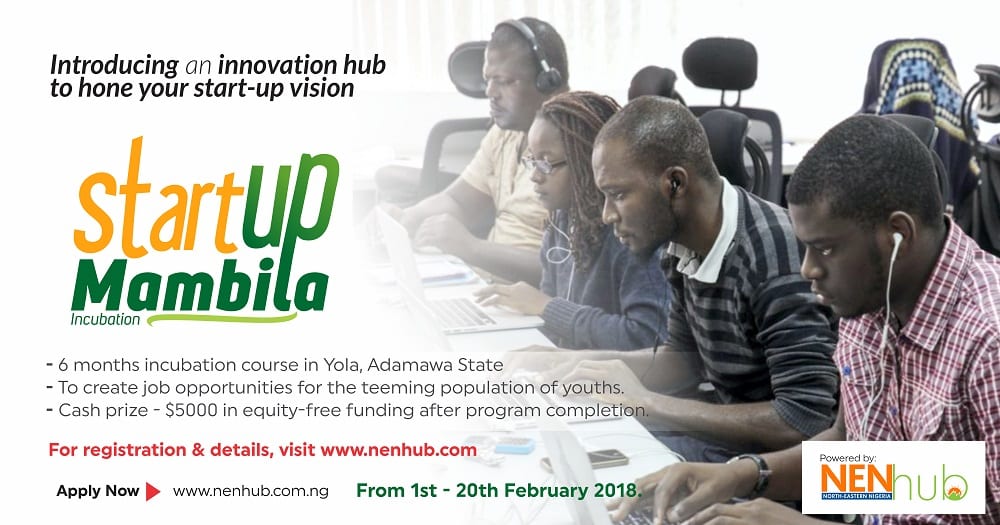 Among the proffered solutions to the plethora of challenges that plaque the north-east region in recent years, we consider youth empowerment as a sustainable course to curb the incidence of crisis and engender regional development.
The "StartUp Mambila" Project (organized by NENHUB with the support of the National Social Investment Programme (NSIP) of the Federal Government of Nigeria) seeks to increase regional activities with innovative clusters and encourage innovation across various sectors of the economy. We are engaging 25,000 Nigerians to be trained and developed as young creative talents, equipped and supported to meet the local and international demand for digital enterprise.
In actualization of our mandate we therefore call for entries into the premier StartUp Mambila an incubation program for tech startups in the early stages of enterprise development in the North-Eastern Region of Nigeria with solutions and ideas applicable to solving local issues and economic challenges.
StartUps will be incubated for a period of six months and provided a $5,000 equity-free funding to start their venture at the end of the incubation program.
StartUp teams are required to do the either of following:
 Own a startup in early development stage, not older than 3 years, with a solution that can be adapted for the development of the north-east region of Nigeria.
 Have an idea that can be technologically developed to tackle pressing socio-economic needs of the north-east region of Nigeria.
Objectives
  To fast track industrialization in Nigeria by attracting Venture Capital, manufacturing and service organisations
 To increase regional activity of innovative clusters and to encourage innovation across various sectors of the economy
 To create job opportunities for the teeming population of youths within a knowledge driven economy with innovation solution
 To establish Nigeria as an IT-driven professional services, manufacturing and agro-allied processing outsourcing hub.
How to apply
Interested StartUps should register at www.nenhub.com.ng from 1st – 20th February 2018.
All entries will be reviewed by the Selection Board who consists of carefully selected accomplished professionals from all walks of life.
Shortlisted applicants are expected to be on ground in Yola for the pre-incubation demo on the 22nd February 2018.