With more than 100 thousand downloads in less than two weeks, Opera News is on path to become the number one news app in Africa.
Opera Software announced today the official launch of Opera News, a new AI-powered app which enables people to access their favorite news articles and hottest trending videos. The release of the new app follows Opera's recent announcement that its AI-powered news service inside Opera Mini grew to more than 100 million active users in less than a year, showing an incredible interest in news globally.
Opera News is a news app with a powerful recommendation engine designed to keep you on top of all the things you love to read and watch. Opera News delivers a variety of trending news and entertaining videos and gets smarter with each use. In addition to delivering great content, Opera News can also save up to 80% of your mobile data use thanks to Opera's unique data-saving capabilities.
Opera chooses Africa First strategy
Last year, the company outlined plans to invest $100 million USD in the African market. Today, Opera announces further expansion of these plans by launching its "Africa First" strategy. This strategy means that Opera will develop and launch its mobile products first for the African markets. Opera News becomes the first product to be launched under this new strategy.
"Africa is an incredibly interesting region that will experience an enormous growth over the coming years," says Jorgen Arnesen, Global Head of Marketing and Distribution at Opera. "Our new strategy means we want to make the very best products for Africans, hence our priority on the region. "
According to Internet World Statistics 2017, there were 388 million Africans online as of June 2017. The internet penetration in African countries is growing fast with more than 14% growth year-on-year. The African region has proven to become the fastest growing region for internet penetration around the world.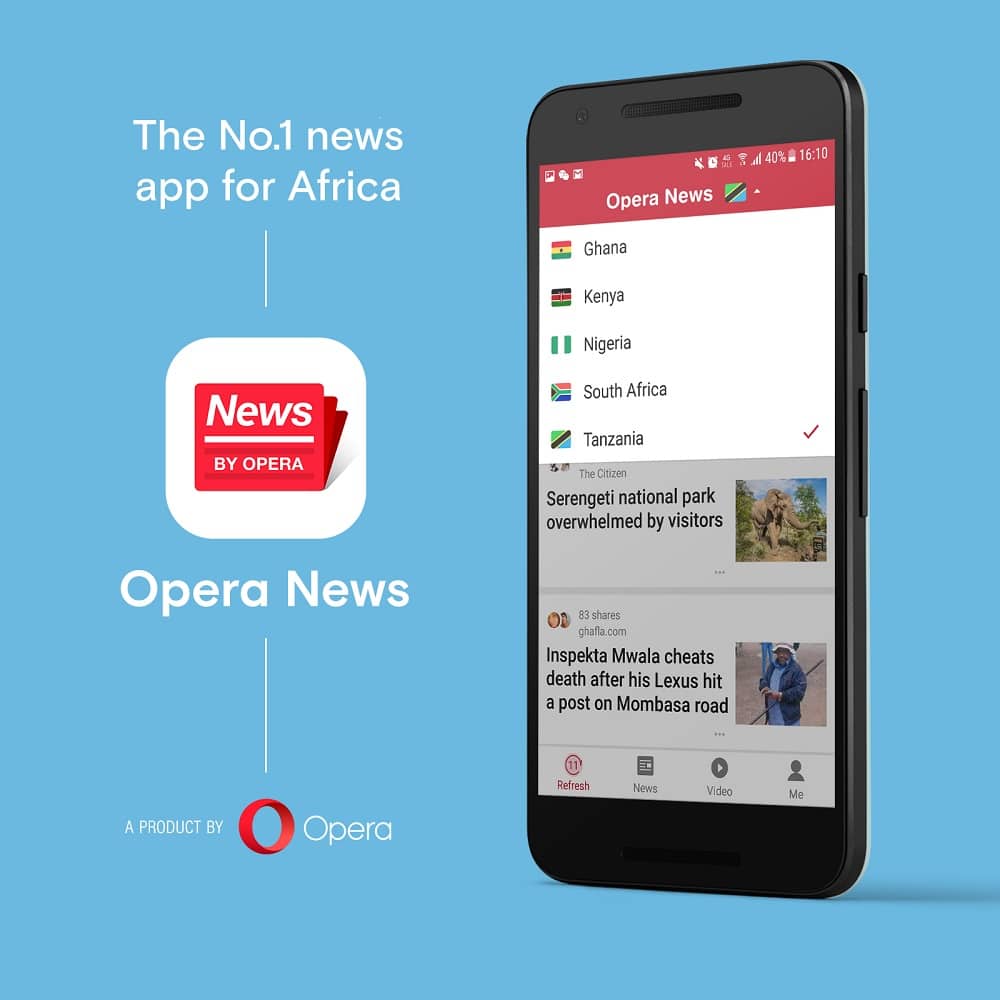 Most downloaded news app in Africa
Results from the initial test phase for Opera News indicate strong interest for the new app. After only two weeks of testing, the app has been very well received by mobile users in Africa. More than 100 thousand people have downloaded Opera News and it is currently the most downloaded news app in Africa.
" We are thrilled that so many people have downloaded Opera News even before it was officially released," says Arnesen. "The overwhelmingly positive feedback in reviews and the high number of downloads make us confident we are on the right track with Opera News."
Opera News is addressing a strong demand for improved access to news and content. During the launch period, Opera observed a strong appetite for local and international content, but the company has also seen that Africans love sports, especially football.
"African users are among the world's most avid mobile news readers," says Arnesen. "Users in Nigeria, Kenya, South Africa, Ghana and Tanzania enjoy browsing the web to read about their favorite hot topics such as sports, celebrities, arts and culture, politics and life-hacks. With Opera News, we bring a new type of tailored news experience to African users".

Available for download
Opera News is currently available for download on Google Play in Benin, Burundi, Chad, Ivory Coast, Cameroon, Guinea, Senegal, Republic of the Congo, Mali, Burkina Faso, Niger, Nigeria, Madagascar, Rwanda, South Sudan, Malawi, Zimbabwe, Uganda, Zambia, Tanzania, Ghana, Kenya and South Africa.
About Opera
Since its founding in 1996, Opera has been a pioneer in shaping the future of the internet. Providing faster and more innovative web browsers, Opera is the everyday browser of choice for more than 350 million people. Opera Software AS is a privately held company and is headquartered in Oslo, Norway. Follow our news at http://blogs.opera.com/news/. Opera, Opera Mini, O logo and Opera Software logo are trademarks of Opera Software AS. All other trademarks are the property of their respective owners.