Bluechip Technologies launches BluePrime, a market leading Analytics solution that delivers valuable insight into customer experience and satisfaction while using your products. BluePrime goes beyond just collecting your customer data from different source systems and consolidating it, It looks at trends, behavior, runs the data through high quality and tested business algorithms designed for the African market (but customizable), compute and present the data in a highly visual format for easy access and assimilation.
Combining advanced Business Intelligence skills and proprietary Customer Analytics business rules,  BluePrime provides organizations with never before possible access to key customer behavioral information, which can be used to make strategic decisions to ensure customer retention and increase customer acquisition/product embrace.
Main Features Such as would beat your imagination
Actionable Data
From our churn prediction engine to features like our profitability predictor, we provide all the insight your people need to improve their numbers.
Diary Manager
Sales people can add things to this timeline format to ensure that they know what they need to be doing at all times.
Sentiment Analysis
Find what's happening on social media and make use of the sentiment to make your social media tweets acquisition focused.
Campaign Engine
Sending bulk, yet personalized messages has never been easier for your people. Templates are created and the rest is as easy as clicks.
Personalized Reports
All the information & insight important personalized for each team member's hierarchy in the information flow.
The Event
The event is going to be a network and product launching kind with guest panelist to discuss on the topic: to speak on the topic: Role Of analytics in Digital Transformation
Date :  8th December 2017
Time :  5:00 pm
Venue : Intercontinental Hotel Lagos, Plot 52, Kofo Abayomi Street,Victoria Island, Lagos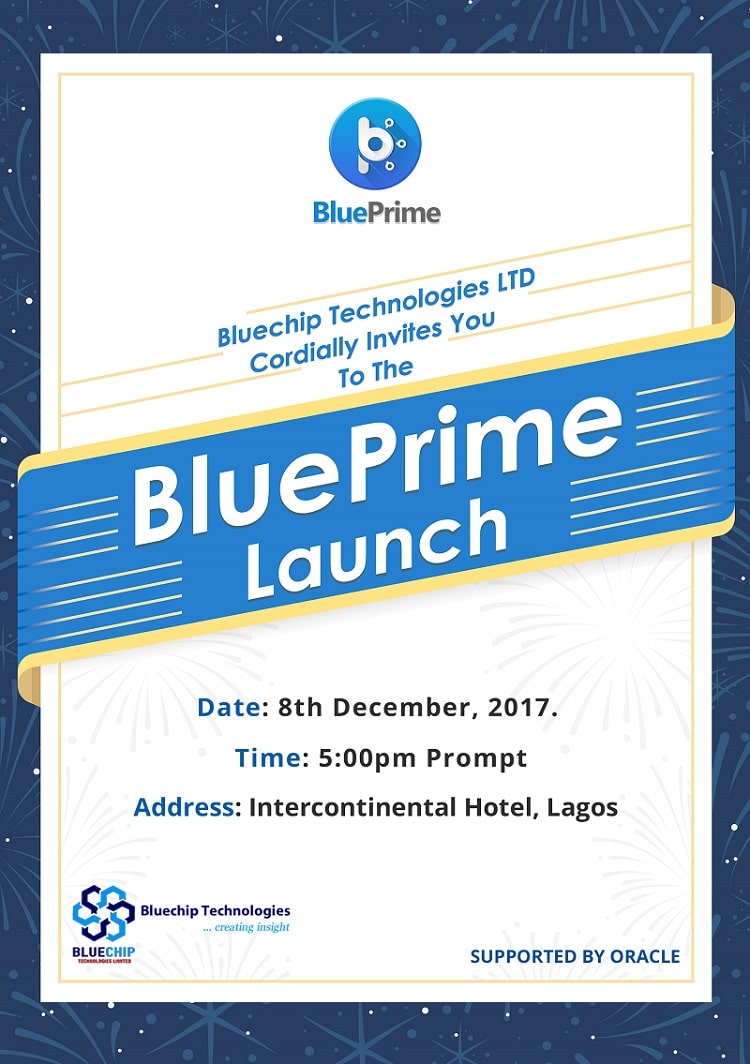 The panelist would include
Bayo Adekanbi (MTN Nigeria)
Ken Dibor (Oracle Nigeria)
Folorunsho Orimoloye (Union Bank Plc)
Kazeem Tewogbade (Bluechip Technologies Ltd.)
Event proudly supported by Oracle