GenesysIGNITE is an annual event that seeks to congregate technology hubs from all parts of the south-east and south-south regions of Nigeria.  Its main objective is to discuss latest technology trends that impact the regions and to proffer strategies for unearthing benefits in the various sectors of the Nigerian economy at large.
The event will also promote innovative business solutions and ideas, currently propagated in the form of Startups, within the region…culminating in Startups pitches from qualifying Startups, during the events demo segment. Participating startups will be exposed to potential investors during the event. Graduates, undergraduates and budding-entrepreneurs will have the opportunity to pitch their startup ideas to a panel. The top three innovative ventures as selected by a panel of reputable judges will be granted a seed fund of USD10, 000.00 (ten thousand US Dollars) each in cash and support.
This inaugural event has, as partners, key stakeholders in the technology space including:
The Office of the Vice President- responsible for Innovation & Entrepreneurship
Federal Ministry of Science & Technology.
Tech giants- Google, HP, Dell/EMC, Microsoft & IBM
The International Community- the German Consulate, delegates of New Economy & Startups, German Industry and Commerce and other government functionaries
Media and numerous online platforms
Event Details – GenesysIGNITE:
Date:   15th December 2017
Time:  10:00am prompt
Venue: Office Complex, Tenece Group, Enugu Lifestyle and Golf City (The Centenary city), Enugu State.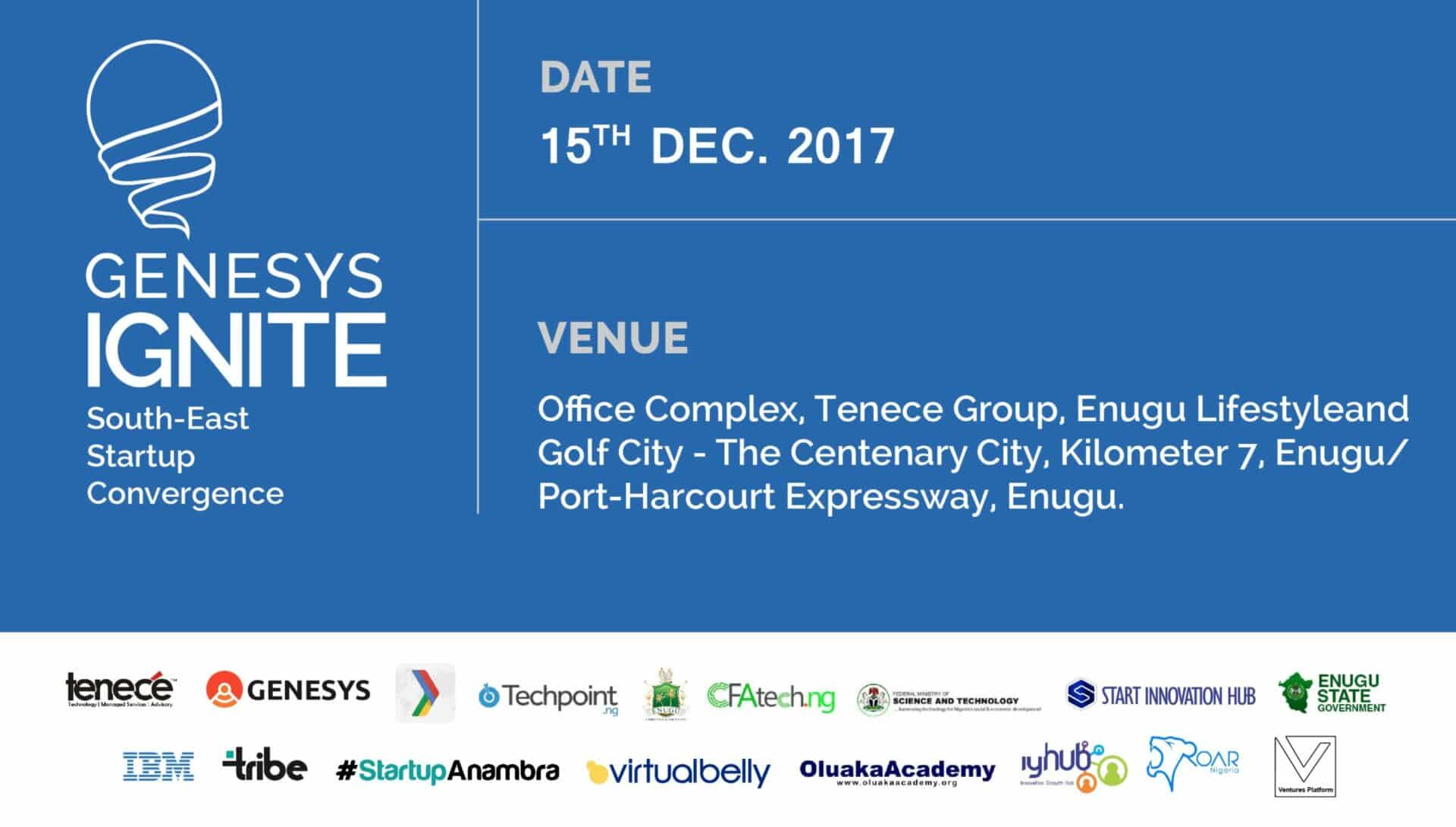 Speakers
Afolabi Imokhuede - Senior Special Assistance to the Vice President, Federal Government of Nigeria on Job Creation and Youth Employment
Prof. Umaru Garba Danbatta            - Executive Vice Chairman and Chief Executive Nigerian Communications Commission (NCC)
Ernest Ndukwe - Chairman, Openmedia Communications Limited, Nigeria
Ingo Herbert -   Consul General, Federal Republic of Germany Lagos, Nigeria
Hanson Johnson - Country Mentor, Google Developer Groups, Nigeria
Ndidi Nwuneli - Managing Partner, SAHEL Consulting and Advisory Limited
Kingsley Eze - Managing Director/CEO, Tenece Professional Services Limited
Panelists
Prof. Benjamin Ozumba - Vice Chancellor, University of Nigeria Nsukka Nigeria
Prof. Pat Utomi - Founder/CEO, Centre for Values in Leadership (CVL)
Kola Aina - CEO/Founder, Ventures Platform Nigeria
Pius Okigbo Jnr - CEO, InfoSoft Nigeria Limited Nigeria
Chukwuemeka Fred Agbata Jnr. – Presenter, Tech Trends on Channels TV (Moderator)
GenesysIgnite is brought to you Genesys Technology Hub in collaboration with CFAtech.ng.
About Genesys Technology Hub
Genesys Technology Hub, an initiative of Tenece Professional Services Limited, is an ideas, creativity and knowledge-based platform designed to drive innovation, productivity and economic output in Nigeria – with a focus on the south-eastern region of the country.
Aimed at undergraduates and early graduates, the Hub was created to serve the following purposes:
A Centre of learning and innovation in the area of digital technology
The nucleus of a community of talented individuals whose innovations will fuel a technology revolution; changing the way business is done in Nigeria, and opening up a whole new sector of the economy to the kind of growth that will have a far-reaching impact on the Economy of the southeast.
An enabling environment for startups in the tech industry, to expand their horizons and gain access to markets and resources that would otherwise be out of their reach.
In the past three years, Genesys has been building capacity for training young tech enthusiasts in the southeast, as well as supporting young entrepreneurs with tech-based business ideas. In this regard, over 150 young tech enthusiasts have successfully gone through the hubs intense technology training programs, and 4 Startups have been incubated so far.
The hubs recent activities have gained a lot of attention, as Genesys Tech Hub was shortlisted by the Federal Ministry of Industry, Trade and Investment as a possible recipient of US$1million grant to support Techpreneurs, under the World Bank sponsored Growth and Employment (GEM) Project. They also recently visited Berlin to initiate strategic collaborations with successful Tech Hubs in Germany.
Location of this technology power-house in Enugu state has proved strategically advantageous as the key ingredients (cosmopolitan environment, a large number of tertiary institutions, huge population of youths, access to private venture capitalists, proximity to major industries and markets in south-eastern Nigeria etc.) to build a viable Tech Ecosystem, similar to the Silicon Valley of the United States exist in this part of the country.
The ultimate objective is to build a sustainable and effective model that would exponentially drive economic productivity in the region and Nigeria as a whole; through youth development.
To learn more about Genesys Technology Hub, visit http://www.genesystechhub.com  
Register to attend GenesysIgnite at http://www.genesystechhub.com/genesys-ignite