On Sunday, October 15, 2017, Rochas Okorocha, Governor of Imo State honoured Jacob Zuma, President of South Africa in Imo State. The series of event entailed naming a road after Jacob Zuma, giving him a merit award and the most baffling of all, erecting a ₦520 million statue of the South African President.
I found some of the mostly plausible reasons behind Governor Rochas' decision on social media.
https://twitter.com/goodwoman_/status/920368536719065089
Is Jacob Zuma helping Rochas Okorocha of Imo State Launder Money? Hmmmmm, I am digging!

— Jackson Ude (@jacksonpbn) October 15, 2017
Nigerians are one of the most intelligent people in the world but periodically we choose the dumbest ones to rule over us. Rochas

— Imoh (@ImohUmoren) October 15, 2017
Putting things in perspective
In a sane country, Imo people will be on the streets asking Rochas to resign or be impeached. They would be ready to recall HoA members.

— Olúseun Onígbíńdé (@seunonigbinde) October 15, 2017
https://twitter.com/Bhadoosky/status/919535958676115457
In Imo State, billboards surfaced around the town after the Governor shook hands with Obama in USA in 2015, he reportedly spent N600 million on a Christmas tree in 2015 and now N520m on a statue for a foreign President, yet still owns pensioners and workers several months arrears pic.twitter.com/UXVB89xbVd

— World Publicist (@IsimaOdeh) October 15, 2017
https://twitter.com/ebuka_akara/status/919637367056687105
https://twitter.com/_obuteaku/status/919439370217811969
And then there were jokes; we don't know whether to cry or laugh
When we talk about CLASSIC & UNDILUTED buffoonery,

PDP has Ayo Fayose

APC has Rochas Okorocha

They are both Governors

1 - 1 draw. 😂😂😂😂😂

— Bankole Adebayo A. (@AdeBanqie) October 15, 2017
We don't have constant power supply in our country but yet, Jacob Zuma's statue suit still manages to be perfectly ironed 😭😭😭 pic.twitter.com/vBpjXeiwOK

— Angels in Heaven 🧚‍♀️🧚‍♂️ (@badgalmaddie_) October 16, 2017
https://twitter.com/elnathan_john/status/919553889543782402
Good morning to all everyone except people from IMO state, go and collect your good morning from President Zuma. Your birthright has been sold.

— Thirst Delivery (@ThirstDelivery) October 16, 2017
The beginning of lost Twit-battles
Rochas erected a statue of Jacob Zuma in Imo

This govt & making Nigeria a subject of international ridicule pic.twitter.com/wAx6o97Fxh

— Lérd Chigbo ā (@itschigbo) October 15, 2017
You can't tweet such but you can erect a statue that brings cheap shot on the nation.We can't even win a twit-war wit South Africa anymore

— EYAN PATAKI (@dewalenoni) October 17, 2017
Note to the next governor of Imo State
Dear Next Gov of Imo State, on May 29, 2019, your first official assignment is to pull down the insult erected by Okorocha in Owerri

Thanks

— MaskUpNigeria (@iameneji) October 17, 2017
Vote for the next imo state governorship candidate that campaigns to pull down this statue.... pic.twitter.com/ko64PiHyJJ

— Wale Gates (@walegates) October 17, 2017
https://twitter.com/KelvinOdanz/status/919658543753687046
 There's more where that came from
https://twitter.com/ogbeni_opa/status/919824452287942662
https://twitter.com/ogbeni_opa/status/919844760893960192
After the national uproar caused by Governor Rochas' actions, he came out to say that he owes no one any apology. While we continue to question our choices of elected leaders, here a few other interesting topics on social media this week.
The tale of an African superhero
This week, Marvel released the full official trailer of their much anticipated movie, Black Panther. Watch it below.
The trailer created so much buzz on social media globally. And since the movie is about an African superhero, it made sense for Africans to join in. Here are few of their reactions.
Not impressed
https://twitter.com/SKaneunyenye/status/920633009782624259
as an east african fuck the black panther movie, lupita the only one resembling my part of africa,all the other black hollywood elite greedy

— jennieOOOO (@jenicorndildo) October 16, 2017
We wish!
https://twitter.com/160DAVINCI/status/921129383007420416
First of all a new black panther trailer is out go and watch and see the greatness that's wakanda, something Nigeria can be

— Uti uzumaki/kenpachi 😎 (@iamDOPE_jas) October 16, 2017
Wakanda just reminds me of Nigeria with so much resources(Vibranium and Crude oil(+others) but we corruption instead of Black Panther.🤷🏽‍♂️ https://t.co/CPrXds7WuY

— Eromosele (@aeleo92) October 16, 2017
The new Black Panther trailer reminds me of how Nigeria should have developed if we weren't burdened with corruption since our independence

— Ede-Boy (@TdotSalami) October 16, 2017
Kinda hope Black Panther kills the term "third world country" especially since so many people stay thinking AFRICA is a country

— Siân (@Sianerz90) October 19, 2017
Some famzing too
https://twitter.com/kwapiv/status/920408782034710528
Black Panthers will be out in cinemas from February 16, 2018. Check out more comments on the movie here.
#RedeemAdebowale
Recently, due to a Facebook post termed "disrepectful" by the management of the Redeemers University, Adebowale Adedayo, a student of the school was expelled a few weeks before his graduation.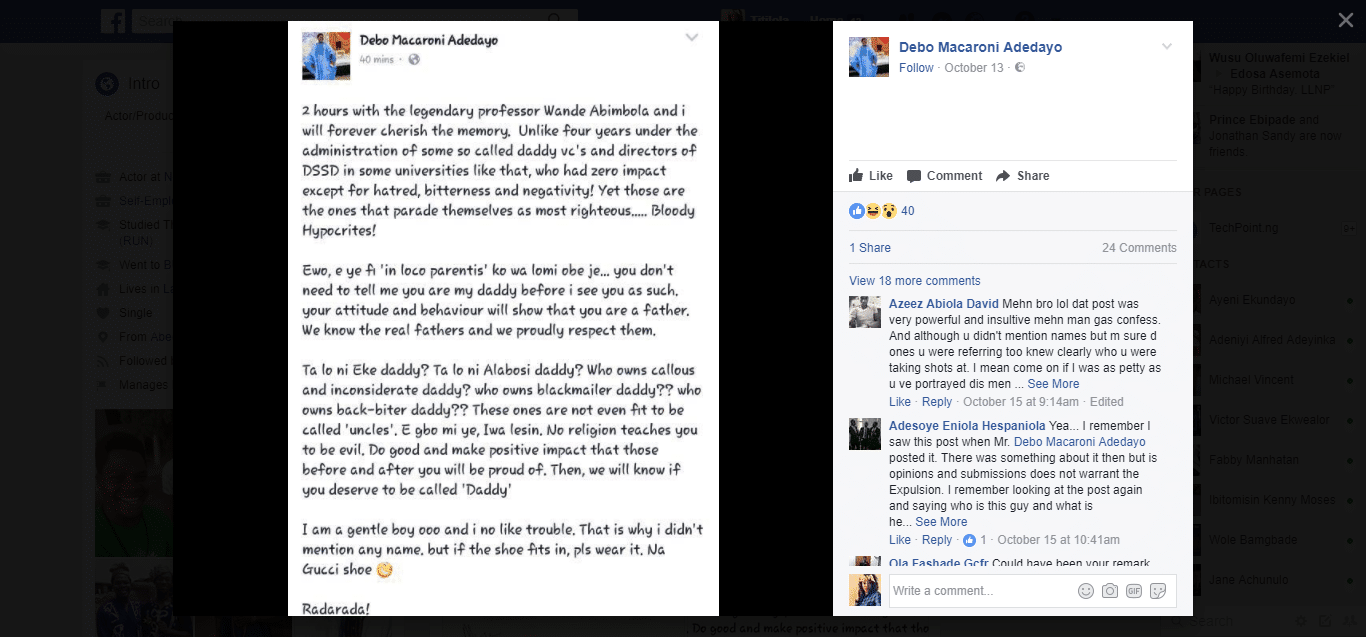 Adebowale, popularly known as Mr. Macaroni, is also an actor and when the news of his expulsion broke, Nigerian celebrities took to social media to appeal for the reversion of his expulsion.
#RedeemersUniversity PLEASE live up to your name. Be an example of a truly Christ-like Uni. Don't Condemn. Forgive and #RedeemAdebowale.

— Banky Wellington (@BankyW) October 16, 2017
So i am pleading on behalf of Adebowale. Please take his future into account. Please remember the amazing things he did over those 4 years and don't bury him over one thing that has displeased you. He's clearly a bright student. #RedeemersUniversity #RedeemAdebowale

— Adesua Etomi-Wellington (@AdesuaEtomiW) October 16, 2017
Please use this hashtag to help this boy. Please. He should just be given his degree at least! #RedeemAdebowale

— The (@DamiElebe) October 16, 2017
Others joined in too
A Muslim attends a Christian university, does his best to represent & promote the university well; he shouldn't be expelled #RedeemAdebowale

— Omawumi O (@ormainy) October 16, 2017
Pls pastors of RCCG! Stp making us members ashamed! Y'all r behaving like d Pharisees n scribes of Jesus time! #RedeemAdebowale #Hypocrites

— DUCHESS👸🏻OF👸🏻LEKKI (@Faithysia_blunt) October 14, 2017
If you attended Redeemers University, you'll know that it's unethical to expel Debo Macaroni.#RedeemersUniversity #Redeemadebowale

— Onyi Bobo Oku 💥 (@UZOOR_LEE) October 16, 2017
The young and brilliant man only expressed himself on his own page on social media #RedeemAdebowale #RedeemAdedayo

— simisola (@symi_sorlar) October 14, 2017
Dear Redeemers University, please redeem Mr. Macaroni.
The beat thief?
This week, MSE Gang, a Nigerian record label accused popular musician, Olamide and his crew of stealing their beat produced by Young John. Apparently, the beat was allegedly stolen and used by Davolee--YBNL's newest artiste. #OlamideStoleOurBeat trended on twitter.
Some people believe it was just a publicity stunt
https://twitter.com/BimboOAKS/status/920744977382199297
https://twitter.com/onjawo247/status/920793870660767744
While some were disappointed
https://twitter.com/uncle_Teey/status/920728080066465793
https://twitter.com/uncle_Teey/status/920728399865434112
Olamide's fans had his back
https://twitter.com/Queenreemah/status/920752165999796224
#OlamideStoleOurBeat so twitter don turn police station... Oshisco

— LABI | (@Labi_Knows_Best) October 18, 2017
Where did you keep your beat before #OlamideStoleOurBeat

— Proper Lagos Boy (@ProperLagosBoy) October 18, 2017
#OlamideStoleOurBeat Nope, he probably showed you how to use it.

— AJ 🇳🇬 (@aj_sings) October 18, 2017
He stole your beat??? Go to the nearest police station 😋😂😂😂

— ¥K Manny🇬🇧 (@Yeancah_adeola) October 18, 2017
Unknown crew self dey form cool cat!! #OlamideStoleOurBeat make o@olamide_YBNL no use beat for him songs gan na hit!!! Fuck MSE

— Olayimika FreshBone (@Freshbone_NG) October 18, 2017
In my opinion, the whole debacle was just MSE Gang's way of promoting their new single.