Infinix Mobility is rewarding fans and customers as the country celebrates Nigeria @ 57 on the 1st of Oct.
The brand introduced the Infinix independence reward for all Infinix customers and those purchasing 'Infinix Note 4 and Note 4 pro'. The Infinix Note 4 and Note 4 pro was recently launched as the brands BIG smartphone of the year, the sophisticated smartphone features a stylus 'Xpen', Xcharge, 4500MAH battery, XOS 2.2 and it guarantees users 5minutes charge for 250 minutes talk time.
Infinix customers and fans can win big during this campaign. The BIG wins include 7 '43inch Television' for 7 customers in 7 cities. Infinix is also offering 14 Synix standing fans to customers from the raffle draws, which will take place once every week in Lagos, Port Harcourt, Abuja and Ibadan on the 21st and on the 28th OF September 2017.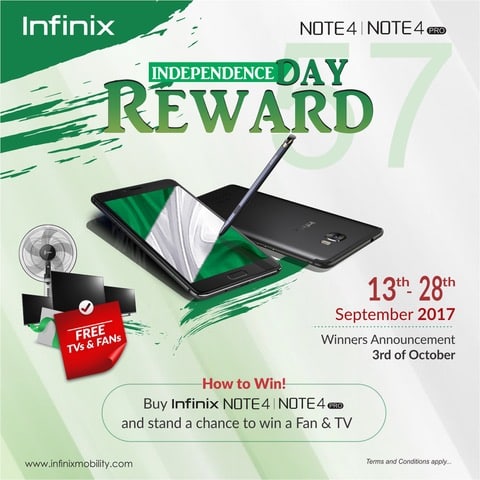 All Infinix Note 4 and Note 4 pro customers who purchase from the 13th till the 28th of September qualify for the final raffle draw to win the 7 Television sets.
To participate in the campaign online customers/fans must use the hashtag #Infinixng57;
1.      Watch the raffle draw LIVE on Facebook on the 21st & 28th
2.      Tag friends to watch the LIVE Videos on Facebook
3.      Drop a comment during the LIVE broadcast
All participants must be following Infinix on Facebook InfinixNigeria,
Twitter @InfinixNigeria & Instagram @InfinixNigeria. Visit http://www.infinixmobility.com/ to discover the Infinix Note 4