'Minimum Viable Product (MVP) is that version of a new product which allows a team to collect the maximum amount of validated learning about customers with the least effort'. -- Eric Ries
If you don't know Eric Ries, he is the author of the popular book The Lean Startup. The two phrases I love about this definition are 'validated learning' and 'least effort'. This means building your MVP should take minimum physical, mental and financial effort to build, which should also be a learning experience.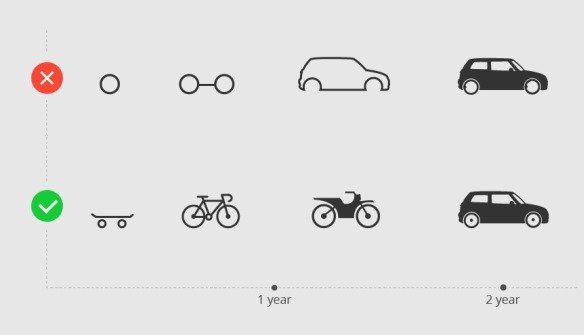 When building a tech product, it is tempting to want to build a perfect product from day one, but please don't try. This is because you will miss the opportunity to get the initial user feedback that is necessary to build a great product. Companies like Facebook, Amazon, Google and Aliexpress have evolved over time based on what they've learnt from their users.
If you are thinking of building a tech product, here are some low cost ways to build your MVP
Building a waiting list with sign up forms
Dropbox, Buffer and Paystack are examples of companies that have used this method. In the case of Dropbox, they created a video that explained how file synchronisation worked, this got them thousands of subscribers to their waiting list (which was a sign up form).
Nigeria's Paystack also used a waiting list to get the list of prospective merchants before the product was fully built and that served them well.
WordPress/Blogger blog
When we were building the first version of our website at offkrent, our aim was to build an online hostel management portal where both student and hostel managers can manage their booking.
But we quickly realised that the market has to be educated to use this product. Which was why we started with an online hostel booking website, which even then was built using WordPress so as to validate the business model and to learn what our users want.
SMS automation
At times, all it takes to get customers to use your product is a text messaging system, especially if you are a service-based business. You will be surprised at how many sales you can get using SMS as a tool for customer acquisition.
The best way to use SMS automation for customer validation is to combine it with online/offline sign up. Let's say you want to build an online marketplace for hotels, you can sign up multiple hotels and then use SMS to send them clients and start making your cash from there. I mean all this people really care about is that you bring them clients.
Offline subscriptions
If you can't build an online sign up form, one other way to get early user details is to use a print-out form where you can ask the prospects to fill their names, contact address and any other details that are necessary to let you learn more about the user and the product you are trying to build.
I recently listened to the story of how Jovago (now Jumia Travel) started in Nigeria by signing up close to 500 hotels even before building the website, just to validate the business model and to fully understand the market.
Remember, customers will always forgive you for making little mistakes. In fact, Facebook's early stage mantra was 'move fast and break things' which means they will tolerate some level of bugs to build things as fast as possible in order to put it in hand of their users to test. So get your MVP running and start learning.
About the Author
---

Tope Alao is the co-founder of offkrent.com, Nigeria's leading online hostel booking platform. You can connect with him on Twitter via @alaotope160.