Civic Innovation Lab, the latest technology incubation hub to launch in Abuja, finally announces the application for its accelerator program called Civic Accelerator Program (CAP).
CAP is a 3-month program that supports early stage enterprises with solutions to critical social issues. The program will enable entrepreneurs to launch innovative and scalable social ventures that solve civic and environmental issues in Nigeria.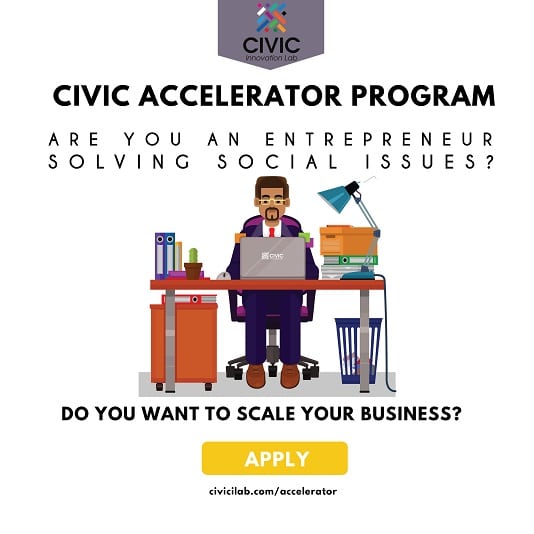 Serving as a tool for development, growth and support for early stage startups, CAP will provide value through training, consultancy, and productivity management strategies that will enable the startups scale and attain sustainability.
Who Should Apply
The Civic Accelerator Program is for early stage ventures who have groundbreaking solutions to social and civic problems. We are looking for creative teams with innovative technology solutions that address our common problems as a society.
All applicants should possess the first quality and one or more of the others:
●     Entrepreneurs/ventures whose business model is built around providing solutions to social, cultural or environmental problems.
●     Innovative and scalable businesses whose solution utilises a digital or technological element.
●     A business with a sustainable model. We believe that in order to make a true long-term impact, a viable plan for revenue streams must be created.
●     A team with relevant experience and complementary skills as well as a high degree of commitment. We believe that the capacity and commitment of the team is the most essential to achieve the vision.
What the Civic Accelerator Program Offers
Trainings
Our program's curriculum is led by experienced individuals who have demonstrated significant entrepreneurial success, remarkable leadership, and business acumen. These are individuals who are committed to accelerating the impact and financial sustainability of social enterprises.
Access to Networks
Startup ventures will receive access to a robust network of professionals ready to assist with projects. Tailored support will be offered within the areas of marketing, law, accounting, bookkeeping, financial modelling, pitching and more.
Networking Opportunities
Startup ventures in our accelerator program will be able to expand their networks at our weekly networking mixers, where they will meet with influencers, executives, investors, donors, public officials, policymakers, and business leaders.
Office Space
Startup ventures will become members of the Civic Innovation Lab throughout the 3-month accelerator program. Startup ventures will get provisional membership perks and benefits which include the use of our co-working desks, WiFi, printing, mailing correspondence, conference room, meeting space etc.
Peer Learning
An important component of the program is building a trusted network of like-minded entrepreneurs. Startup ventures will get the opportunity to learn from one another, find solutions, and share challenges, resources, and successes.
CIL Team
The Civic Innovation Lab team will be providing assistance to the startup ventures, for the duration of the program, by helping to make timely connections with potential clients, policymakers, government officials and mentors.
Workshops
The startup ventures will have free access to some of the Civic Innovation Lab's regular workshops on topics relevant to entrepreneurs and small businesses. These workshops will allow startup ventures in the accelerator program to gain more insight into the process of building a scalable business.
Access to Investors
After our 3-month program, and a successful pitching session at the Demo Day, finalists will have access to the Civic Innovation Lab's networks, connecting them to potential investors, partners and mentors.
Application Details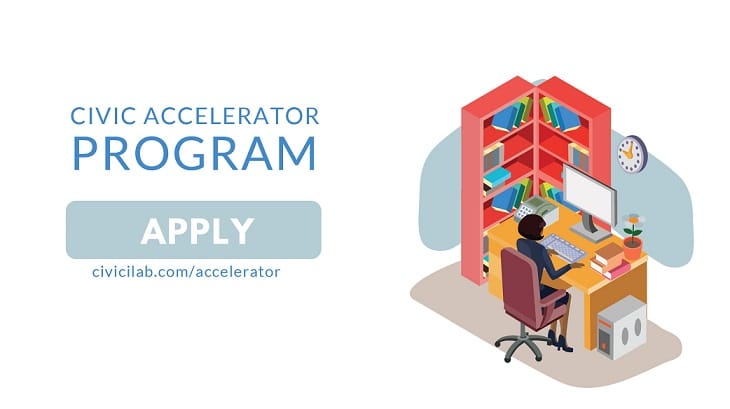 ●     Application to the Civic Accelerator Program closes on the 4th of September, 2017.
●     Selected ventures will be notified by September 15, 2017.
Click here to apply for the Civic Accelerator Program.