Unemployment remains one of Africa's biggest macroeconomic challenges. The threat is not peculiar to Nigeria alone as it continues to be a scourge in the developing world. While culture, economy and seasonal fluctuations are often categorised as causative agents, technology will play a major role in the liberation of the continent from the grip of unemployment.
In a previous article, we mentioned how Insidify is attempting to tackle the bane of unemployment and un(der)employment in Nigeria. The approach appears to be more holistic rather than just solving a part of the problem. Their concern with tackling un(der)employment related issues is premised on ensuring productivity for both the job seeker -- who has no idea of where to seek verified job information -- and the employer -- who lacks the requisite infrastructure to get the right people on board and to manage them efficiently & affordably.
Back in 2015, Insidify was simply a career company with a website that aggregated verified jobs online and offline bringing them to one place for the everyday job seeker's delight. However, it appears that Insidify has now morphed into an HR technology company, using innovative technology to empower both African employers and jobseekers. Insidify HR Suite is Insidify's flagship product.
Insidify HR Suite
Insidify HR Suite helps businesses source, hire, onboard, manage, appraise and develop their human capital. "Our HR suite is an end-to-end automated solution designed to help businesses affordably solve the human capital under-productivity problem they currently face today," Seun Obatuyi, the Head of Operations at Insidify, told us.
"There are actually only few complete HR Suite products on the global market, most of them aren't built for local companies and they are usually so expensive, it's unreasonable for African SMEs to consider buying them since they'll have to pay in foreign exchange. The lack of affordable technology that is built with the nuances of the African business in mind is yet another obstacle African businesses face in their quest to be prosperous and employ people.
A Human Capital Management Solution like Insidify HR Suite is essential to ensuring the survival of African businesses. We believe that when African businesses are able to sustainably manage their precious workforce, they will be able to grow to employ even more people, and thus reduce unemployment on the continent", Seun continued.
With over 10,000 employees currently on Insidify HR Suite, the growing subscriber base of the product attests to the impact the company is currently making. Perhaps there's indeed something special about the Insidify HR Suite after all. At this time, Insidify HR Suite includes three component products -- StaffStrength, SeamlessHiring, SeamlessTesting and StaffClass -- but each of them can be licensed separately without having to buy the entire suite.
StaffStrength

StaffStrength is one of the most complete Human Resource Management Software we've come across.
Some African companies currently manage their staff using unsustainably expensive software or Excel spreadsheets and paper dossiers. With all the spreadsheets and paperwork going on, employers can easily get caught up and lose track of what really matters the most - managing their people and their happiness. StaffStrength HR Information System electronically manages employees' staff data making it easy to search, update or analyse employee records.
Since HR functions are quite wide, there are other modules on StaffStrength such as Payroll, which automates a company's entire payroll process; and Employee Self Service, which empowers employees to view their profiles, apply for leaves, loans and requisitions, track their KPIs, and more in real time; and Performance Appraisals which simplifies the process of evaluating and documenting employee performance electronically.
SeamlessHiring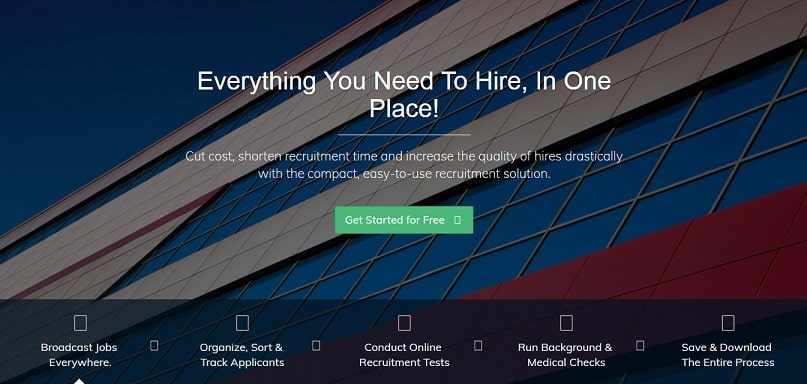 Especially with the peculiar nature of Africa's unemployment, companies need a tool to cut through the clutter of poorly qualified candidates and find the best people from the crowd of applicants they receive. It's also important for employers to institute a very efficient and automated system that makes the hiring process easy. Often times, this isn't the case -- the task of finding the best employee in a multitude of application is usually laborious and inefficient. Basically, this is what SeamlessHiring is designed for.
SeamlessHiring is a robust e-Recruitment technology platform that manages the entire process of recruitment. With SeamlessHiring a company can broadcast jobs on over 10 job sites to reach a large audience, sort and filter candidates using an Applicant Tracking System (ATS), conduct remote online tests, interviews, background checks, and medicals from one central solution.
From what we experienced, The major advantage here for companies is that their recruitment turnaround time is drastically reduced while they have the assurance that they are recruiting the best-matching candidates for their jobs, at an affordable cost.
StaffClass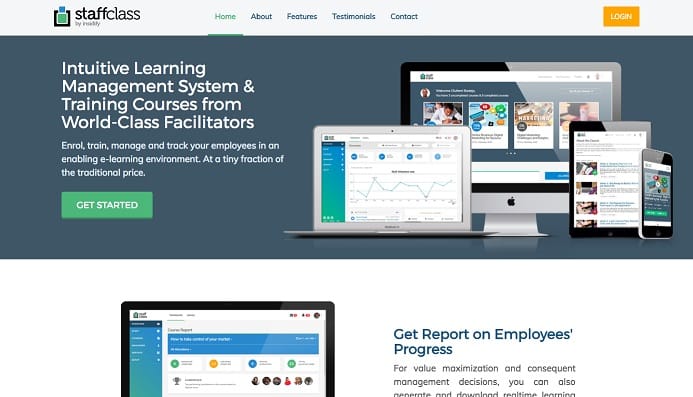 As the cost of running a business keeps rising today, costs associated with traditional training methods are often one of the first to go when budgets are being streamlined.
StaffClass is a combination of an intuitive Learning Management System (LMS) and Effective Training Courses. With StaffClass, companies can set up, track and centrally manage learning activities across their organization. Management wants to make sure that modern learning methods are successfully adopted across the relevant depth and width of the organization.
StaffClass lets employers track employee scores and performance, time logs, in-class contributions etc at several levels – individual, departmental, division etc.
What really pulled us in on this one is its Custom Course Content Production feature that allows employers create their own courses outside the thousands of Ivy League courses StaffClass already offers in collaboration with global content providers.
We've reviewed the three interesting products that make up the Insidify HR Suite. Will Insidify be able to achieve its commitment to solve the under-employment and under-productivity problems among African job seekers and businesses respectively? Our fingers are crossed as we watch the young tech company.