If you listen to Emeka Okoye talk about Nigeria's tech ecosystem, you may wonder if he has a beef with the new generation of tech players but he doesn't. Rather, he is passionate about the ecosystem.
The debate on whether or not Nigeria has a functional tech ecosystem has been ongoing for years. If there truly is an ecosystem, are we wired properly for growth? Is the current ecosystem sustainable? Do we have a strong foundation? How much tech is produced locally? Are we going to have a Silicon Valley model in the foreseeable future?
There is a lot of uncertainty around the local tech ecosystem. This is why one of the panel sessions at Techpoint Inspired is themed, "Building the Nigerian tech ecosystem & the role of mentorship in entrepreneurship".
Some of us are not aware of the intricacies of this ecosystem. A better understanding would guide our thoughts and actions moving forward. Omotola Omolayo will do justice to this session with a cross-section of expert panellists. They will also talk about the evolution of the tech ecosystem in Nigeria.
Speakers
Speakers on this panel include:
Victor Asemota
Victor is the CEO/ Principal Consultant for SwiftaCorp. With over 20 years industry experience in enterprise applications consulting and implementation, information security and transaction systems, Victor is one of the founding board members of SWIFTA and co-ordinates all group activities and new initiatives.
Emeka Okoye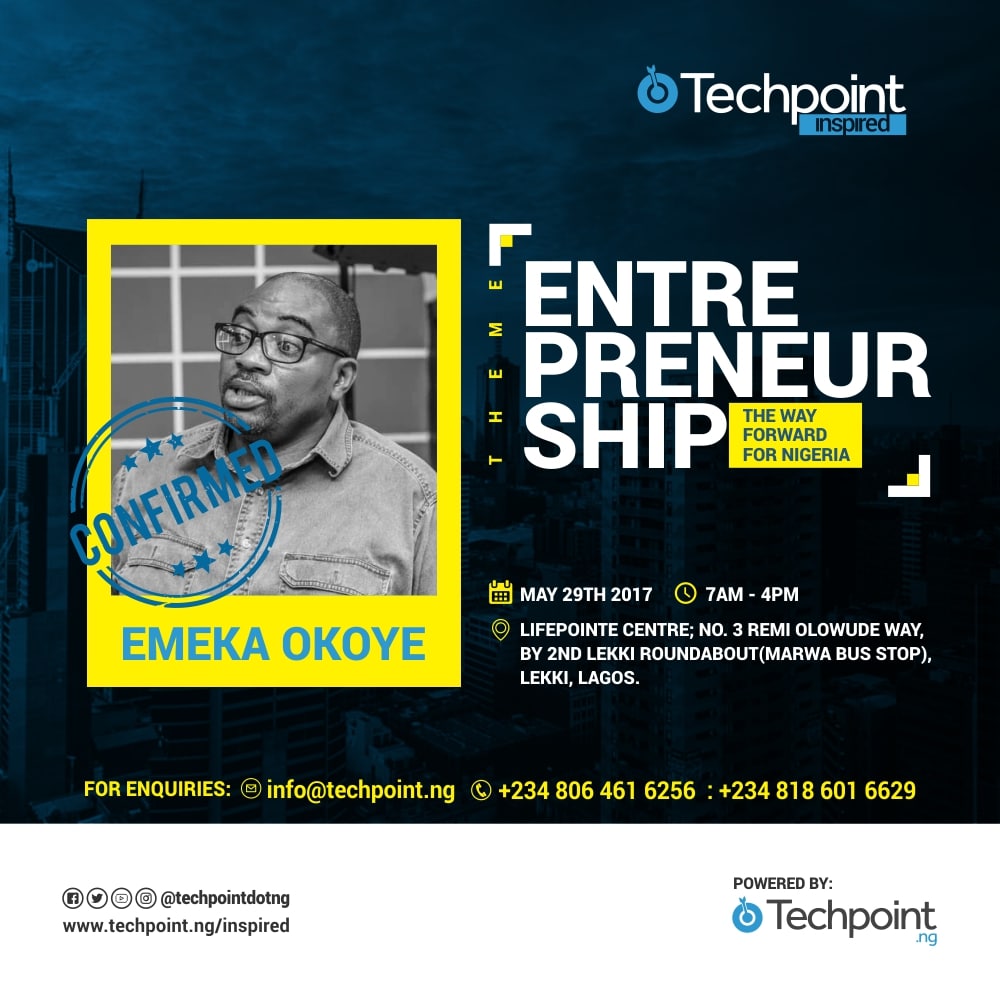 Emeka has over 17 years of progressive experience in web, semantic, enterprise & mobile software development and Project Management including strategic technical analysis. He also has a grasp on architecture design, planning and product development using object-oriented approach.
Emeka co-founded Nigeria's earliest startup (ngex.com,1996), built Nigeria's first financial website (IBTC,1996) and built Nigeria's first Internet Banking app (1997). He was also the project lead for Nigeria's first eCommerce website (xeroxnigeria.com, 2000), built Africa's first mobile app for crowd-sourcing election data (Revoda,2011) and Semantic Architect for Africa's first semantic web portal on music (MusicInAfrica,2012) and so many other "firsts".
As major stakeholders in Nigeria's tech space, Victor and Emeka will advise Techpoint Inspired attendees on how the tech scene emerged in the first place, how far we have come and the roles mentors play in entrepreneurship. They will be sharing with us, from their wealth of experience, how we can move from where we are now to where we ought to be as a nation.
Techpoint Inspired takes place on May 29, 2017. Registration is still ongoing. The lineup for this event is amazing, and we hope to see you there.
If you have any questions for Victor and Emeka ahead of the event, feel free to send them in below.
---
Sponsors make events possible. If you're interested in learning more about sponsoring Techpoint Inspired, shoot an email to events@techpoint.ng.