NowNow, the platform that lets you make and accept cashless payments, with a superior mobile app, lives up to its reputation as a mobile payment industry leader. It is an easy way for consumers to transact at vendor sites as well as make peer to peer transactions. The NowNow app is the most advanced in the mobile wallet based terminal market in Nigeria at present.
As the demand for convenient ways to transact continues to increase, consumers have become reliant on the benefits of cashless transaction through mobile which is fast becoming the way to pay.
Put simply, not accepting mobile payments means lost sales. Many entrepreneurs and small businesses find traditional point of sale (POS) solutions with credit or debit cards too costly, overly strict, and limiting. However, NowNow promises to change all that with it's clever smartphone app that allows sellers accept mobile payments and consumers make payments just about anywhere, any time.
Yet NowNow is more than just a mobile payments platform. Several other functions are included. In addition to the point of sale, mobile wallet and peer to peer transfer options, NowNow users can also get rewards in the form of loyalty points on every transaction.
Gain insight into all the benefits, plus learn to use the NowNow App, in this comprehensive review.
Installation and Account Set-Up
First things first, it's FREE to download! It's also really simple to install; just search for 'Now Now App' in Google Play store, or visit: www.nownow.ng and click on "Available On Google Play". To sign up, enter your phone number, after which a secure Mpin would be sent to your phone, enter that and fill out your profile details i.e Name, date of birth to Mpin activation which are security features and your account is created automatically. The reassuring thing here is that won't take you up to ten minutes to download and set up your NowNow account.
Functionality, Look and Feel
The app boasts a really user friendly user interface, fast loading speed and details a feature rich display at a glance without looking cluttered or requiring you to waste time swiping to find a feature. Navigation is as simple as a tap over a feature to access its functions. And details four sections for your account details, data or airtime purchase, bill payment and other transactions.
Sending and Receiving Money
Send money by adding beneficiaries or direct to recipient's mobile number (for registered recipient's), bank account or by scanning over recipients generated QR code. Request money by entering recipients name, phone number or generating a QR code to the amount needed. The app integrates with your phonebook contacts to list active users for peer to peer transfers. Transfers are instant.
Funding your wallet
You get multiple options to fund your wallet as is convenient to you. Either fund your wallet directly using your ATM debit/credit card, paying into the NowNow account at registered banks or with listed agents. Registered banks and agents are listed in the app and updated regularly. Just tap on either bank or cash feature to view details. You can also withdraw cash from listed agents and your account will be updated.
Transaction charges and Security
Transfers to any bank account attracts a charge of N100 and all transactions pass through a secure verification process that requires a pin and token to authorize. Funding your wallet and sending to NowNow wallet users attracts zero charge.
Rewards
As a bonus you get 5% cash back on the value of every airtime and data you purchase credited to your wallet. Also, every completed transaction avails you the opportunity to select discount coupons from a variety of offers redeemable from merchants based on the value of your transaction. The higher your transaction value, the higher the rewards you get.
The NowNow App is suitable for all consumers seeking convenient ways  to make payments at merchant stalls, markets, pop ups etc on the go and hassle free. It's the perfect way to transact using your smartphone and with it's growing list of features and accounts, NowNow is well positioned in the battle for mobile market in Nigeria.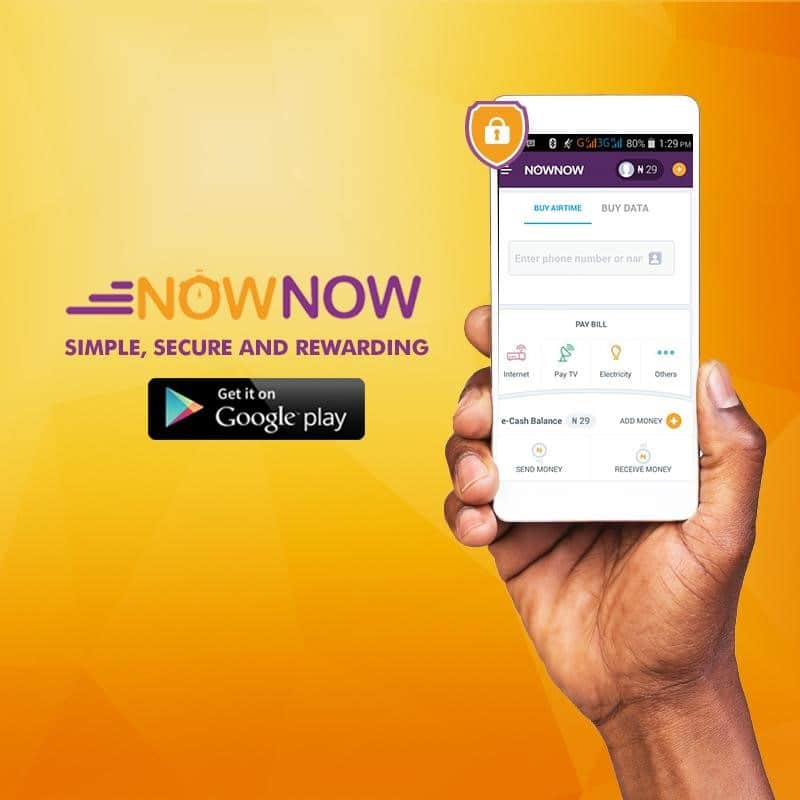 Download the app now right HERE or visit nownow.ng to find out more products, services and offers.