Recently, there was a conversation on the future of the Yabacon cluster on Twitter by Mark Essien. This generated conversation and traction online. But today, Yaba4Tech is a reality, organised by Tomi Davies and Mark Essien. The first edition kicked off yesterday at Switch.ng office space on Montgomery road in Yaba.
What do we need to do to make Yaba the most attractive place to start a tech company in Nigeria?

— m_e (@markessien) April 20, 2017
in details: Do u know that an average computers science student in Yabatech and unilag don't know that there is tech hub in yaba

— New Things (@elanolng) April 20, 2017
We want to have regular tech meet-ups in Yaba. First one is tommorow, at @SwitchExpress office by 5pm. Topic: Fundraising

— m_e (@markessien) April 26, 2017
The event is scheduled for last Thursdays of every month and it would be hosted at different offices within Yaba, according to the convener. You can host one as an ecosystem player by filling the form here.
Tomi Davies, fondly called Tomidee, in a private chat, explained that the purpose of the event is to re-emerge a community where people get to connect and interact with each other in a more intimate way which can give birth to an inclusive ecosystem.
This is not the first time Tomidee is championing a movement to get people closer and build the ecosystem as he was the chairman of Mobile Monday Nigeria, a monthly meetup that kick-started the conversation around building the Nigerian ecosystem and saw the birth of decent amount of startups that are rocking Yaba and Nigeria now.
Bosun Tijani and Femi Alonge pitched Co-creation hub at one of Mobile Monday meetups.
Yemi Johnson met Tomi Davies for the first time yesterday and couldn't sleep until he penned down his thought about him, titled: A young man in an old body.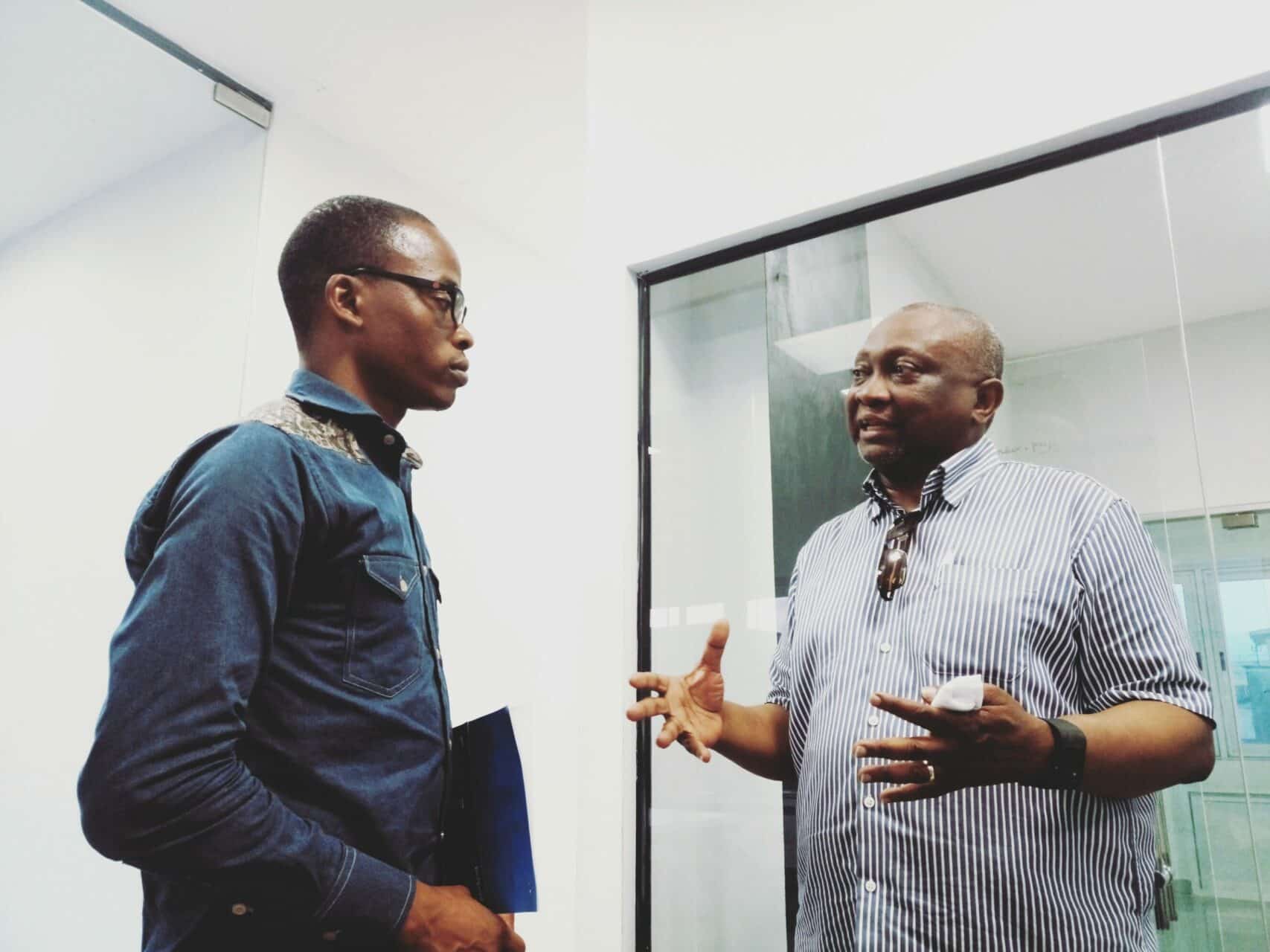 A young man in an old body
Those are not rap lyrics. This is about a remarkable man called Tomi Davies.
On my first encounter with him, I was torn between a young man in an old man skin or hippie father way past his 60s. I am yet to decide, but those who have met him will say he's a sharp man that has got his ears to the ground.
To invest in millennial, you have got to know what's cool with the millennial cult, and this man keeps up with the times.
He shared an anecdote with me about how he met a young lady at his niece's wedding and she was astounded that he spent a greater part of his time on Snapchat. She remarked if he was a teen, to which he quipped back to the girl's surprise and said, "I guess I should go back to Instagram now."
The first time I met Tomi Davies was at a meetup event for entrepreneurs and Yaba tech insiders to truly network and share their thoughts on Fundraising and other things. This was a joint collaboration between Mark Essien, the hotels.ng CEO, and Tomi Davies.
Days before the event Mark had shared how the event will be held and I thought that it was truly novel to shift away from the speaker-type event where some "influencer" that knows stuff stands in front of a large audience and chatters away, and the audience members never being fully impacted.
I would later get to find out in my conversation with Tomi his ideas behind why this was the right way forward.
Tomi is no stranger to tech events and meetups. One could say he invented these things in Lagos. He was the co-host of Mobile Mondays many years ago and he built a vibrant community of tech enthusiasts.
The community has come a long way from there, but things have not particularly changed. I distilled Tomi's reasoning for jumping on Mark's tweet as this: the community must grow. People must network. There's no growth without networking and he backed up his assertions with Silicon Valley references.
The kind of references that have gone from being true to just plain common sense. This was the reason why Tomi chose to depart from this style that incubation hubs in Lagos made popular. A panel of speakers that just talk, and people that just listen and go home after. No networking was done and knowledge is still not accessible.
I can tell for a fact that Tomi's approach worked. Out of a dozen meetup events that I have been to excluding meet & greets, none of them has actually brought about the number of interactions I had on that day. To my greater surprise, I was astounded by the knowledge of the things that I knew that I was able to share on that day. Somethings as simple as they are, they just work.
I caught up on Tomi's conversations with a bunch of people that sought his advice on actionable things they should do, and from his responses, you could tell that he did not talk the talk. He walked the walk. He spoke about growth in a near nuance manner that you did not get bedazzled with metrics or elitist jargon words, but you came out knowing the things you had to do.
Obviously, I had a few things to pitch in there after. I guess he was the appetiser for the possibilities many of these young startup entrepreneurs had and I stepped in to serve the main course.
If I were to describe Tomi in a few words, I will say Tomi is like a cocktail that you have never drank. He's a mix of all the unknowns. He's got a meek face and passionate voice. He knows how to win a room, and hold a conversation at the same time. He's the kind of man that only experience can make - a man filled with stories.
In 2013, Tomi described a medical condition he had that could have led to serious complications but for a popular Nigerian neurosurgeon who actually took his case and treated him for a third of the cost, his previous hospital had tried to treat him for. But before he left the conversation he mentioned 3 things a man must forget in life:
His age
His grievances
He would not say the third, and he trailed on a different conversation so I asked him again. He urged me to check his Twitter for the third.
Number 3: Your past.
I followed him shortly after.
---
The reality
My question now remains, can Yaba4Tech do what Mobile Monday, Developer Parapo by Cchub and many others failed to do? Will this new gathering be sustainable enough to resurrect the dwindling Yaba cluster? How much of traction can be achieved from this?