Skye Pearl, the women empowerment initiative of Skye Bank, is set to host a FREE WEBINAR featuring some of the leading lights in Nigeria's Tech space including Eyo Bassey, MD Payporte Technologies, Agada Apochi, MD Unified Payments (Pay Attitude) and John Obaro, MD SystemSpecs (Remita). You can participate by liking the Skye Pearl page at dig.ng/skyepearlng.
Titled "Technology Adoption: The New Normal for Business Optimization and Economic Growth", the webinar will examine how use of technology can power business performance and growth. Happening on Facebook LIVE at 1PM on THURSDAY MAY 4, 2017, it will provide the rare opportunity to interact with three top-level Tech industry insiders, and have your questions answered.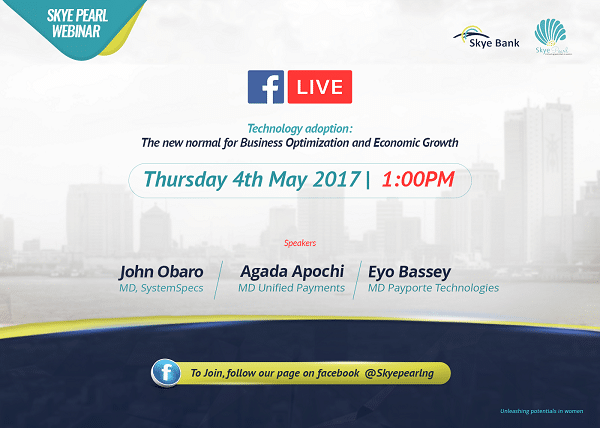 With its current GDP contribution of 6%, Tech is now recognized as Nigeria's fastest growing industry, showing strong annual growth and investment figures dwarfing the rest of Africa. Many Nigerians now see technology as the key to unlocking increased growth and performance in their businesses and careers.
In addition to useful information about how you can leverage technology to scale and optimize your business, you will also get valuable answers, growth hacks and insights from three of the biggest Tech hitters in the Nigeria.
To take part in this FREE webinar hosted on Facebook LIVE, Like the Skye Pearl page at and get access to watch and participate.